The wonderful Alessi of
Alessi's Ark
fame is set to release her new album
Time Travel
in April thorugh Bella Union, and we thoroughly recommend you get it. In the meantime, get your eyes around this lovely guest article from Alessi.
Up, up and away in the North
Hey! While on tour visiting the north of England, I was pointed in the direction of a wonderful chocolate shop/tea room called 'Cocoa', run lovingly by Kate and Anne in Sheffield. You can find local handmade truffles, old fashioned sweets, ice cream and quality chocolate bars from all over the world.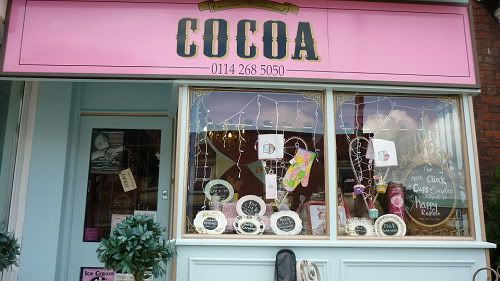 You can find Cocoa here : 462 Ecclesall Road Sheffield S11 8PX Pop inside! From 'Cocoa', you're just a stroll from the peaceful botanical gardens and a short wander from The Rude Shipyard (at 89 Abbeydale Road) for books, fine coffee and homebaked cakes and breads. I recommend their almond tea too! Not too faraway, in the middle of the North York Moors stands a beautiful venue named 'The Band Room'. I was fortunate enough to play at The Rude Shipyard and The Band Room last July and I would recommend you visit them both! The people that run them both are so warm and welcoming. The Band Room was built for the Farndale Silver Band in the 1920s and is a 100-capacity wooden room with magical, pure acoustics and a cosy, homely atmosphere. Fifty pence of every ticket sold at the venue goes to the local Abbotson Trust for Music Therapy which provides funding for innovation and research into the healing potential of music therapy for children and adults with special needs. You can visit the venue's site here
http://www.thebandroom.co.uk
to see what shows they have lined up and really make a trip out of your visit. There are lovely, reasonably priced farmhouse B&B's and country inns in the area so you can recharge your batteries and breathe in the fresh air after a fun evening at The Band Room.