We here at
The 405
love our art. So much so that we decided to continue on with our
Guide To
series by providing all you budding gallery-goers and art enthusiasts with this pocked sized guide to Galleries and Museums from around the world. Don't expect to find any obvious choices here though. If you do so happen to check out any of these awesome places listed, please let us know about your adventures!
Lazarides Gallery, London
Lazarides Gallery continues to defy the categorization as "graffiti" and "street art". By representing photographers, sculptors, agent provocateurs "and even taxidermists", Lazarides has consistently pushed conventionally held notions of art shows while keeping a keen eye on emerging talent.
Monster Children Gallery, Sydney, Australia
If you ever plan on taking a trip to Sydney then you have to stop at Monster Children Gallery. From well curated group shows to photo shows, Monster Children is a Gallery staple from our friends down under!
Museum Het Domein, Sittad, Netherlands
One of the best characteristics of Museum Het Domein is the books they publish as part of an exhibition. With past shows including the likes of video director Anton Corbijn, Kim Gordon, pro skater Ed Templeton, Clare Rojas and street artist Swoon, Museum Het Domein has quietly been on the most outstanding contemporary institutions in the world over the past decade.
Yerba Buena Center for the Arts, San Francisco, California
In what was said to once be one of the seedier parts of San Francisco, The Yerba Buena Center for the Arts is a premier contemporary art area presenting films, performance and visual art.
Choque Cultural in Sao Paulo, Brazil
Choque Cultural proves that the worlds art scene is becoming more culturally aware on a rapid basis, regularly showing off international talent - like Tara McPherson and Gary Basemen while keeping their street cred with local Brazilian artists like - Titi Freak and Calma.
Black Rat Press, London
This small, square room gallery hidden behind the back garden of Cargo in Shoreditch, London showcases both emerging and established street artists.
ROJO Barcelona, Spain
ROJO is an independent creative consortium dedicated to the support of contemporary arts. The creative headquarters are located in Barcelona, but its network stretch internationally into its exhibits, TV channel, and print media.
Ooi Botos Gallery, Hong Kong, China
Maximizing Hong Kong's notoriously tight public space, Jonathan D Solomon built the Ooi Botos Gallery in the commercial heart of Hong Kong, smack behind a busy market. Intricate moveable walls on the upper level give the gallery extra flexibility.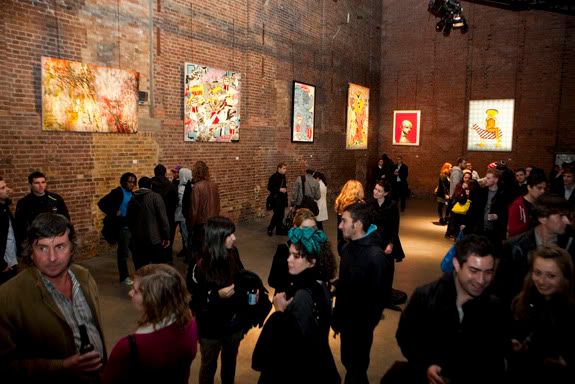 Village Underground, London
The Village Underground gallery is one of East London's best kept secrets. Hidden in the backstreets of Shoreditch, the Village Underground boasts a remarkable capacity that has held some of the biggest names in street art from Adam Neate, Swoon, Banksy, Know Hope, Herakut and Elbow-Toe.
Lazy Dog, Paris, France
The Lazy Dog in Paris is a bookstore packed with books and magazines about graphic design, motion graphics, graffiti, music and everything artsy that you could lay your eyes on! They also carry exclusive tees, vinyl toys and limited edition silkscreen prints from taste-making artists, many of whom who have exhibited in their art gallery downstairs. Magnifique!
Elms Lesters Painting Rooms, London
Situated in the heart of London's Theater Land, this Gallery is housed in a unique building, which has played host to icons of film and theater throughout its history. With creators such as Jose Parla, Futura, and Anthony Lister on board this spot will continue to stand the test of time.
Okay Mountain, Austin, Texas
The first thing you need to know is that you don't have to go to Austin, Texas just for South by Southwest. 405 favorite Michael Sieben and friends opened this gallery and immediately highlighted the liberal bastion of Texas, with shows by Ryan Bubnis, Jason Jagel, Cody Cochrane, Porous Walker, and Jay Howell.
Pictures on Walls, London
There is no other place in the world with a roster like Picture on Walls, purveyors of one of the best print shops on the earth. The no-frills name suggests exactly what you're getting and then some.
111 Minna Gallery, San Francisco, California
111 Minna is a rare treat in San Francisco' bustling financial center. Always offering solid shows of both emerging artists and bigger name solo shows, Minna is one of the hottest spots to catch new art, grab a drink, and hear fresh beats from one of their many visiting DJs. What more could you want?
Brooklynite Gallery, Brooklyn, NY
The openings at this super hip gallery in Brooklyn successfully align the perfect components to throw what feels like a well thought out house party, music spinning, drinks flowing, a good crowd, and most importantly solid art.
Museum of Modern Art, NY
One of the world's top museums, the MoMA is the real deal and needs no introduction. If you're in the Big Apple before the end of April 2010, you have to make it here for the Tim Burton exhibit.
StolenSpace Gallery, London
Could the UK have any more amazing places for art? Well yes we do and it's named StolenSpace. Always offering top-notch artists, StolenSpace is a must-see in London. The aim of StolenSpace has always been to show work from artists they really believe in and think deserve your time, not just names you've heard of.