"If you don't make fucking honest art, you're not a fucking artist."
It's not every bitterly cold Monday morning you get to eat Haribo and drink Pussy Juice (the energy drink, you dirty perverts) in Kensington with LA's freaky Princess/hood rat Drew Barrymore, Brooke Candy. Blissfully hung over and playfully fidgety from casually hanging with Kanye the night before, the larger than life (but minuscule in height) peroxide weave swinging rapper stole my heart immediately just though opening her mouth and revealing her high-pitched Disney-ghetto accent as she bounced into the room.
After cameoing in Grimes' video for 'Genesis' sporting the clearly all too common pink braided, science-fictionesque angel-warrior getup, the internet attention and appreciation for her feminist lyrics and radical videos went understandably viral. With songs like 'Das Me', 'Everybody Does' and 'I Wanna Fuck Right Now' it's clear that Brooke Candy has the likability, the talent and the balls to run rings around mainstream female rapper sell-outs. For arguments sake, let's call one of them 'Ricki Binaj'.
I've never before gone into an interview and not known in some shape or form of how it would go down… until now. I wasn't sure whether she'd be difficult, rude, refuse questions or want to beat the shit out of me. The reality of it all is, is that Brooke Candy is incredibly passionate and genuine about music as an art form, desperately wanting to make a difference to how women are viewed in the music industry. I believed every single syllable that moved past her lips. After speaking to Brooke, I felt that the constant backlash and abuse she receives from being called the 'C word' (controversial) is completely ludicrous. The only reason herself and her music is controversial is because she's brave enough to do it and more female artists should be following in her stiletto shaped footsteps.
When did you start rapping?
When I was like, 16. It was just because I grew up on Hip-Hop. Like, my brothers would listen to all rap music. Err, 2pac, Biggie, Petey Pablo, fucking…Xzibit. Erm, Eminem, Method Man, Wu Tang. Like pretty much everything. I was raised on that, so it's just very natural. I could rap along to every fucking song I heard, I could always rap along. It wouldn't matter how fast it was, I could always rap along. It was always something I loved, I dunno, it was just natural. The ability was just within me, so it just happened naturally.
I don't really think there's any female artist doing what you're doing at the moment. Just saying what you think. You're not afraid to tell people straight and you completely disregard sugar-coat subjects like feminism. I feel that the music industry needs more of it. What message you trying to put out with your music?
Thank you, I feel the exact same way. I'm trying to maintain my integrity through my message. I want to have a message. I don't feel like other rappers do. I don't really know what fucking blueprint they're going off of, they're really to me just speaking gibberish. I don't feel like you should make music unless you're going to touch people.
I grew up on rap but my favourite musician is Amy Winehouse. She's dark as fuck, sad, she had so much emotion and power in every song she made and it's so different from rap music. Along with Biggie, she's my favourite artist of all time. She was someone that inspired me because she was herself. She was fucking depressed and she put it out in her music. She was putting out a message, saying what the fuck she wanted and it touched people. It fucking touched me. Her music brought me out of a really dark place, I can honestly say that.
If you're in a position, like where I'm in, there's a lot of responsibility that comes with it. Young people are looking up to you. You need to teach them something fucking positive, you need to teach them something. If you're not teaching them anything then what the fuck are you doing in this industry? You're just a damn stupid puppet, bla, bla, bla. Honestly, go away.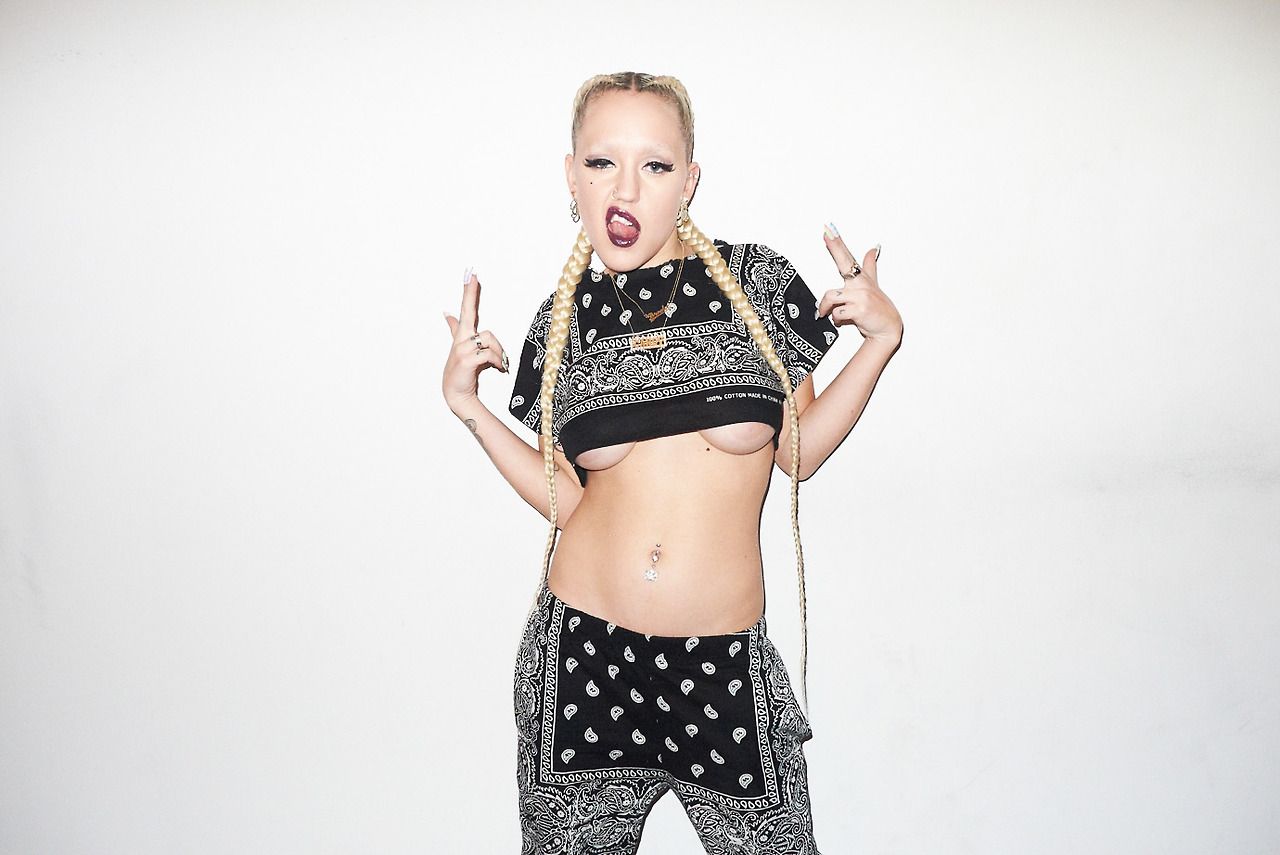 Talking of Amy Winehouse, if you could pick the ultimate female super group to be in, who would it consist of?
Oh, this is a good one. Ok, Courtney Love, Amy Winehouse, Missy Elliot, Me. And then I'd have one more… Lil' Kim.
What a super group.
Amy would bring it together. Missy would be like on the beginning like [impersonating Missy Elliot] 'Yo, it's Missy' and then at the end she'd be like 'Missy'. Amy would be the one doing all the melodies. Me and Kim would be like switching off rapping and Courtney Love would just be on stage doing stupid shit. And then there'd be a breakdown. It would appeal to every listener; there would be something for everyone.
You're pretty well known for your style, what's the inspiration behind it?
Mmm, I don't know. Right now, just to keep it really simple, I'm really into black and white and wearing them in weird, geometric patterns. I don't know, I take inspiration from my lifestyle. When I perform, if I look scantily clad it's because I was a stripper and I feel comfortable with my body so I want to fucking flaunt it. I take inspiration from my friends. One of my friends designs clothes for me so we collaborate. I don't really take inspiration from high fashion designers, but I respect them and I love them.
I really can't say, it's just natural. I can't control what happens, it just comes out. I will tell you this; I'm not someone that uses Tumblr for inspiration. I always use it to post my own photos. People always get that confused, that's fucking weird.
If I look into it, I guess right now I'm taking inspiration from certain pop stars in the 90s. Like when Christina Aguilera was totally pulling looks from the black community. She was pulling styles form a lot of different fucking cultures in a cool way, where it wasn't rude. She had an afro, different coloured braids, dreadlocks, facial piercings and she was like really sexy. Kind of like a punk-pop star in a way. I'm taking inspiration from all my favourite female musicians.
You collaborated with Charlie XCX, do you have any other collaborations coming up? Or is there anyone else you'd like to collaborate with?
Well, I'm just finishing my mixtape now. That's out in April. Actually, I want to collaborate with Courtney Stodden. Google her, she's the shit.
You've sold out your show tonight, what can an audience expect from you?
A crazy fucking show. When I'm performing live on stage I really feel like I'm in my element. Out of everything that I do, I feel like that's my strongest point even if others disagree. That's when I feel like I'm getting out all my energy and aggression. I'm just being me. I exhort so much damn energy. I interact with the crowd so much. Crazy shit has gone down with the crowd before.
I have two issues: I feel like when you say 'fans', you're putting yourself above everyone and that's just weird. Also, when you play a show and you back off of the crowd you're putting yourself above everyone. If you don't interact with the fucking crowd who's there to fucking see you, and they love you, and they've paid fucking money to see you and you don't give them a fucking show- what are you doing? What's the point?
I like to just go as hard as I can. I have a message which is different to other female rappers and I also want to put on a live show that's different. There's no other women who's going really hard. I just want to go as hard as I can and put out a message whilst doing that. People want a message. They want to feel good. They want to believe in something and when they come to your show, they want to see something that amazes them. Otherwise, what the fuck are you doing?
What do you think is the hardest thing about breaking through in the music industry?
Honestly? Everything. Just the fact that this industry is very formulaic. There's a formula to the industry and I'm trying to break the formula, which I know has worked. People have broken the damn formula and made it. It's just triple, quadruple as hard.
If I followed the damn formula and did everything they said, if I never said anything about feminism and never rapped about gay people then I'd probably be a fucking star by now. But because I decided to stand for what I stand for, I'm not. I'm just taking a road less taken.
But it's the right road…
It's the fucking right road! It's the honest road and how can you live your life not being honest? I'm just being honest to myself. My art has to be honest. If you don't make fucking honest art, you're not a fucking artist.
You can visit Brooke Candy be heading here.