She wrote and featured on Icona Pop's double-platinum certified 'I Love It', blew 2014 apart with Clueless wet dream 'Fancy' (receiving two Grammy Award nominations in the process) and is now assisting the legendary Gwen Stefani in writing for her next release, but Britain-born Charli XCX is a bona fide candy-coloured success in her own right too.
Despite being crowned Billboard's 'Hitmaker of the Year', and having pop hit 'Boom Clap' in the heartbreaking Motion Picture The Fault in Our Stars, she doesn't do it for the rankings. "Chart positions and awards and stuff like that are all added bonuses but not something I strive for," the singer says.
It wasn't always easy for Charli - her first gigs were at warehouse raves in London - and unlike what it seems, she didn't just turn up on the music scene to be granted instant prosperity by the chart fairy - her first album 14, wasn't commercially released. Like many artists we seldom hear about, kick-starting her career was far from easy, but after her official debut True Romance dropped, her hard work started to pay off. And it's clear she's here for the long haul - Rolling Stone named the new album, Sucker, the best pop album of 2014.
Now released in the UK, Sucker sees Charli create effortlessly cool pop music, which is legitimate cool as far as she's concerned: "I've learnt that trying to act cool is dumb, because acting cool is boring when you can just have fun and be kind and wild and electric." Charli is living proof that having creative control is the key to a top ten tune, even if that's not her goal.
Charli shares her thoughts on the music industry, Rita Ora, flirting with teachers at school and of course, the new album Sucker.
The track 'Sucker' is about the music industry, which isn't always easy to get into. How did it all start for you?
I was signed when I was really young. I was playing at these warehouse parties in London and record label A&Rs started coming down to the shows at 3am to check out my set. I was signed and then left to develop for a few years before releasing any music, which was good for me. I have always had to fight for my ideas and for my voice to be heard from a young age, but have also been lucky to have people at my label who have always been very supportive of my vision and me. I know that's not always the case with major record labels, and even though there have definitely been ups and downs my label know that I need full creative control to be able to create at all - and so we have an unspoken agreement that they let me do my thing and that's it really. The title Sucker is my finger pointing to all of the people who don't really understand the above - to the people who don't think I am capable, the people who think that all female singers are just puppets who stand on stage and dance about to pop music, to the people who doubted my vision as an artist but are now here to reap the awards. I hold a grudge. But there have always been people in the music industry who have had my back and I feel blessed to have been able to work with them.
Was there a defining 'breaking it' moment for you?
I don't know, I mean for me it was just putting out my first album, which technically wasn't breaking the music industry at all because it didn't really sell anything substantial and only my true fans really went and got it, but for me it was just like, "Yes, I'm here and I care about this music and this is me." I'd never had that before.
You've said you see your music in colours, and True Romance was purple, what colour is Sucker and why?
Sucker is definitely red and pink in colour. It's very powerful, in your face and bitchy. It's annoying and bratty and wild. It's feminine, aggressive and beautiful at the same time. It's the colour of Barbie, pussy, lipstick and blood.
What is it like having Sucker released in the US so far ahead of the UK? Are you excited about its release over here?
Of course. I'm so excited for my album to finally be released in the country I'm actually from. It's so annoying when things get released at different times... it's all to do with logistics and stuff like that and it was just better timing for me to release the album now over here. I'm so sorry about that because I wish the UK fans could have been able to get it last year.
'Boom Clap' reached number 6 in the UK chart, how did that feel?
I mean, good! I don't do what I do for chart positions - but yeah it felt nice. Chart positions and awards and stuff like that are all added bonuses but not something I strive for. Of course it was nice to be recognised on that kind of a scale though.
Was 2014 as crazy for you as it looked?
Yes. There was a lot of crying and mirror smashing behind the scenes but it was so worth it. 2014 was trippy and weird and wonderful and amazing and I had the best time. I want to take over the world one small step at a time and 2014 felt like the introduction to that.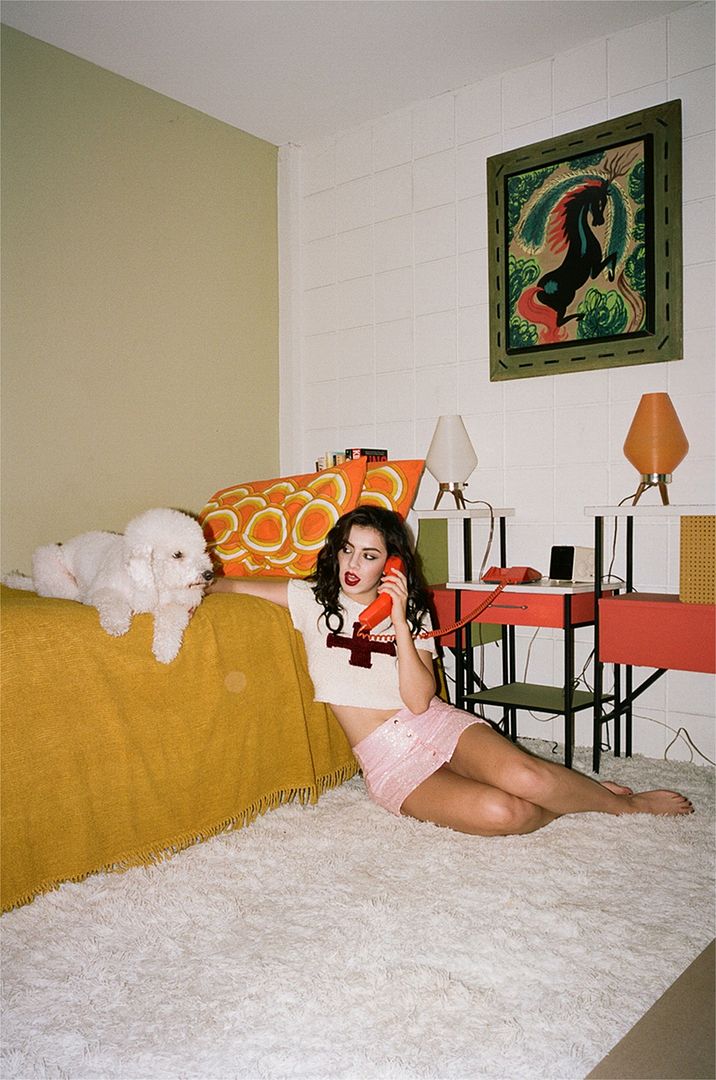 You've said you're more self-aware than you were when True Romance came out in 2013, but in what other ways have you changed since then?
I mean, I just grew up I suppose. I think you're always growing as an artist and as a person, but I feel like I just learnt a lot about myself and the music industry in that space of time. I've become more of a business woman. I've become more of a bitch but that's a good thing. I like bitchiness in a positive way you know. Being a boss. Being powerful. That doesn't mean being mean. I've become more confident in myself and my ideas and I don't worry what people think or say about me. I'm here to have a good time, not to pose, you know. I want to live, like really live and be free. I've learnt that trying to act cool is dumb, because acting cool is boring when you can just have fun and be kind and wild and electric. That's how I feel right now. I don't know if that makes sense?
'Doin' It' with Rita Ora - what was it like working with her?
Rita is such an incredible person. She's genuine. She's so real. She also has such an amazing voice and is such a talent. I've had fun working with her because we're just like on the same wavelength. She's awesome. I have so much love for her.
You write all of your songs, what do you think of the many artists in the industry who don't?
I have like, absolutely no problem with that. If you're a rockstar, you're a rockstar and that's the end of it really. It's funny though, you know, how much it matters. I'm always like talking about it, but sometimes I think what's the point? Because people are still like, "Ohhhhh you write your own songs, really?!" as if I'm lying or something. I have sung songs, which I haven't written, like 'London Queen' was basically totally written by Justin Raisen. I just loved the song and wanted it so bad and I was like dude I have to sing this because this is me! You know, personally for my own sanity it matters, but the truth is I don't think it matters at all, as long as you put on the best show of your life and mean it, who cares.
You've made it to the top ten, you've been crowned 'Hitmaker of the Year' by Billboard and 'Boom Clap' hit platinum status, what would you like next?
More videos. More albums. More songwriting. More champagne.
You've already got dozens of collaborations under your belt, like Weezer's Rivers Cuomo, Stargate, Iggy and Icona Pop, but what's your dream collaboration?
I don't know, I always get asked this and I give answers but I don't really have a dream collaboration - like, I just like people and don't like people you know. I mean, working on the Gwen Stefani stuff behind the scenes, as a writer was a total honour because she's a badass and I'm so thankful to have been involved in that. But as like a featured artist or something - I don't know. He's dead but... Marc Bolan?
Where would be your dream venue or festival to play?
Any high school prom from any movie. Or Glastonbury, which I played last year and lost my voice before I went on stage but still had the best time ever.
What were you like at school? Did you break the rules?
I was a nerd to begin with. I really loved learning. Then I started getting a little bratty and talking back and not going to the classes I deemed 'unimportant'. I would sometimes flirt with teachers. I was never successful.
What advice would you give to your 16-year-old self?
Don't stress, chill out and don't pretend to be someone you're not.
Sucker is out now in the UK. Read our assessment of it here.