"We met at a crochet class" is not something you would expect to hear from this brash LA duo. Bonding over their love of threading and classic rock, Lindsey Troy and Julie Edwards formed Deap Vally. With their own brand of blues-rock taking the music world by storm, Deap Vally have proved with their recent singles, 'Gonna Make My Own Money' and 'End of the World', and their incredible live performances, that girls can rock just as hard as guys.
The pair recently completed a string of massive gigs supporting Muse in Europe. When we caught up with Lindsey from the band, they had just arrived in Latvia, having played to around 7000 people in Estonia the night before:
"The shows have been fucking awesome. Muse are such nice guys and it's been an honour opening for them. They've been so hospitable and really good to us."
Prior to this, they had just come off a UK tour supporting The Vaccines, alongside DIIV, where they said the crowds were "equally awesome" but not exactly what they were used to: "It was a bit of a different audience with The Vaccines. They were a lot younger - lots of really excited teenage girls. We haven't really played to that kind of crowd, except maybe in our home town." Playing such huge shows so early in their career may seem quite daunting but the band have taken it in their stride and have continued to impress audiences with their heavy, feisty performances: "The first show I was a little nervous but it went well and last night I wasn't so nervous. It's funny - you do it once then the nerves are gone."
Troy and Edwards both share a mutual love of classic rock bands, such as Led Zeppelin and Black Sabbath - the influence of which can be heard particularly in the fierce riffs. Much has been made about the noise generated between the two of them on stage and it's safe to say that they are not your average girl band. "I guess we kinda shattered the image of a stereotypical girl band. We just love playing rock and roll. I mean we write the music we want to hear, which is rock and roll."
While their lyrics may sometimes allude to female independence, with 'Gonna Make My Own Money' being a prime example, the elements of influence from classic rock bands have generated a pretty big male following. "We have a female following but more on the male side. It's great though cause the younger girls really responded to it, especially at The Vaccines shows. They were so sweet. They would come up to us and say "You're so inspiring, we want to start a band now."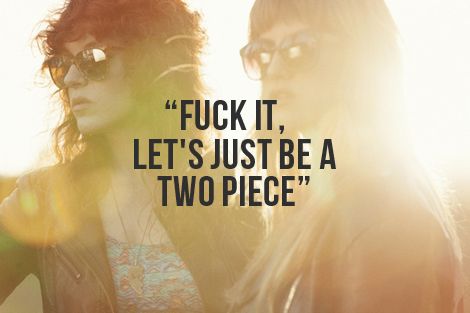 However, the band was not initially intended to be a two-piece. In fact, the original plan was to be a three-piece, "like three girls playing rock and roll" as Lindsey said, but the bass player they had been rehearsing with also played in another band and it didn't work out in the end: "We did a session with a bass player and our first jam was called 'God's Country'. But she was busy touring with another band and the dynamic between the two of us just seemed to work best so we thought fuck it, let's just be a two-piece."
With the ever-increasing hype surrounding the band, we eagerly await the release of their debut album, which they intend to finish when they get back to the States will hopefully be released this spring. Lindsey told us about their main plans for next year: "Just finishing the record and a lot of touring. The tour actually kicks off in India - we're playing a festival there with Anthrax and Motorhead and loads more. We're really excited cause we've never been there before. Then we'll be playing lots of other festivals and we're playing with The Cribs in London as well."
2013 looks set to be a good year for the girls, with bands like Deap Vally, Haim and Savages leading the new 'girl power' resurgence and what makes it even better is the diversity of them all.
Deap Valley will be on tour throughout February in the following cities:
Fri 22nd London, Brixton Academy (NME Awards Show)
Sat 23rd Sheffield, Queens Social (with Drenge)
Sun 24th Birmingham, Rainbow (with Drenge)
Tues 26th London, Dingwalls (with Drenge)
Thur 28th Brighton, The Haunt (with Drenge)
Fri 1st Mar Bristol, Thekla (with Drenge)
Sat 2nd Middlesborough, Empire (with Drenge)
Mon 4th Glasgow, King Tuts Wah Wah Hut
Tues 5th York, Fibbers
Wed 6th Manchester, Deaf Institute (with Drenge)
Thu 7th Liverpool, The Shipping Forecast (with Drenge)