We're struggling to get in touch with Eleanor Friedberger. She is on tour and is about to leave her hotel in Washington State and drive over the border to Vancouver, yet when we call her, we get an outgoing voicemail message which says, "Hello Eleanor, this is Al Stewart."
We have planned to talk about Personal Record, her second solo album and follow-up to the well-received Last Summer, which sees her branch further out from the string of richly varied and challenging records she has made with her brother Matthew as the Fiery Furnaces.
When we finally connect it's a concern that we might have to rush the interview, however, as you might expect for someone who manages to string words together at a wonderfully fast pace in her songs, Eleanor talks so quickly that we manage to get through all of the questions with ease. First things first though, how did a senior Scottish singer-songwriter of 'Year of the Cat' fame, end up as her voicemail greeting?
"Oh, Al Stewart," she laughs. "I always forget that he is there! I've never met him but a friend of mine knows him and got him to record that."
This friend turns out to be the musician and novelist Wesley Stace, who has recorded extensively under the name John Wesley Harding. It transpires that Wes, as she calls him, has made a significant contribution to the writing of Eleanor's new album. The pair first met at a Dylan tribute concert and it turned out that Wes was a fan of the Fiery Furnaces, although she "wasn't really familiar with his work." Initially he sent some lyrics from a novel he was working on which featured a fictional band, and he asked Eleanor to write the music, a reversal of what she had been doing in the Fiery Furnaces.
"Yes, we wrote a bunch of songs together," she says. "It's funny to see how it has been received, because for a long time nobody had any idea that I had written songs with him. I think the songs feel like they are coming from me 100%, so it has become a funny thing to reveal that anyone else had any hand in the songs at all. He didn't have anything to do with the recording, there's a whole other group of people responsible for that, but I can imagine writing more songs with him because we complement each other really well."
Keeping the partnership low profile was relatively easy as the songs grew out of email conversations between the pair and they didn't meet up during the writing process. However, they still kept it quiet, even when a lot of the songs made it into Eleanor's set as she toured throughout 2011.
"Yeah, we were playing nearly half of them on that tour, although that was out of necessity because I decided pretty early on that I wasn't going to play Fiery Furnaces songs," she explains, "and there was a long gap between when Last Summer got finished and when it came out, and that was when a lot of these songs were written. I went and performed it on my own as well, in record stores and so on. I'd never done that before, and it also seemed like an interesting way to write new songs."
Eleanor notes that the long gap in time, coupled with a new writing partner, gave her new influences to draw on. "I started listening to a lot of music that I traded with Wes when we first met, and he introduced me to the aforementioned Al Stewart for instance. I mean, I had heard of him but he pointed me in the direction of the good numbers, you know," she laughs, "and I started listening to people like Bridget St John, Duncan Browne, I'd never gotten into the Incredible String Band and I listened to them a lot - a handful of old acts that were new to me, but were an influence."
Although DFA associate Eric Broucek has produced both of Eleanor's solo albums, there is a slightly more organic feel to Personal Record, perhaps because of these folk influences. It still comes across as one of the most accessible, most pop, records that Eleanor has put her name to. Musical signposts appear throughout; Soft Machine, Sparks and 'Come on Eileen' all get mentioned in the lyrics. Was that a deliberate contrast to the overly personal ones on her debut?
"That was very deliberate," she laughs. "I wanted this to be different to Last Summer, which is very specific and very specifically about me. I wanted this album to be more timeless which I hope it is. I wanted this one to be not of a place and time."
On the song 'Echo or Encore' she sings that the music has enveloped her like a new lover, and she has described this new material as "love songs to music," that feeling when you hear something great for the first time, or how shared love of music can make you feel close to someone. She is non-committal when I ask who some of the songs are about. 'When I Knew' is about "several girls. Each verse is about a different girl, though it's no-one you know!" she tells me, and she doesn't actually have a Sparks record that glows in the dark, though that does seem quite plausible.
Pressed about why she's widened her reference points this time, Eleanor "partly" agrees that she'd had enough of revisiting her own memories and turning them into song. "But also I had people constantly saying, oh these songs are so autobiographical and so personal," she adds. "'Personal' was a key word you know, so I thought it was clever to actually call an album that, and in this case ironic because the songs aren't just about me. I wanted to write an album that was more in the spirit and tradition of singer-songwriters, and sure, it would have details about my life, but I wanted it to have just a broader appeal. And the fact that I wrote the songs with somebody who is, dare I say, an expert in that field, he really helped me with that."
The new album's cover also has an overhead shot of her swimming face down (by Moses Berkson, who she describes as a "great photographer", and with whom she had also worked on the Fiery Furnaces video 'Navy Nurse'), whereas Last Summer had a black and white portrait of her face. It is true that Last Summer is ironically a more personal record than Personal Record, with exact place names and scenarios recreated in detail; a hedonistic day at Roosevelt island, an evocative trip around Manhattan's garment district and a rambling visit to a bicycle repair shop are amongst some of her memories that made it into song.
"I guess if I remember them they're special," she says. "They are significant to me, but maybe just because I remembered them, for me that was part of the theme of Last Summer - it was about remembering - about how you remember things." It was important for her for her first solo record start from that kind of point: "I wanted to be speaking from the perspective of where I was and how I was feeling when I first started trying to play music in front of people - which was when I first moved to New York, so that's the reason why most of those stories are from there. I wanted it to sound like it could've been my first album. I thought of it as a fresh start, and it has been like starting over in a lot of ways."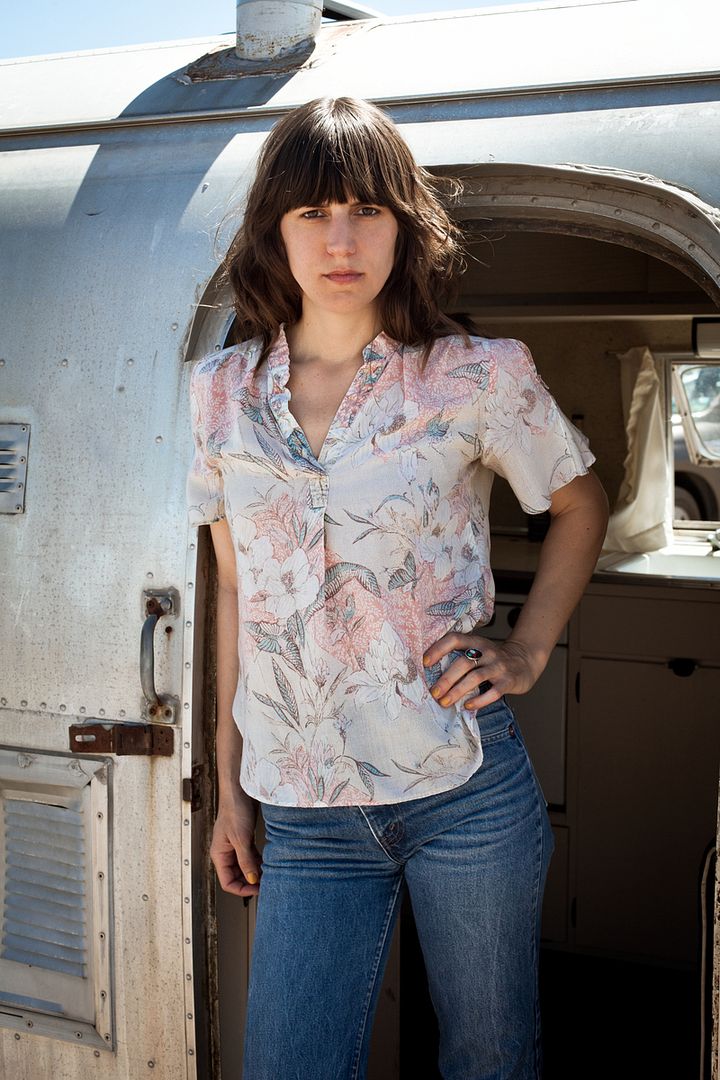 We touch on brother Matthew's prolific solo career, which includes releases such as an eight album vinyl box set with each one featuring a different instrument and this year's 45-track Matricidal Sons of Bitches which was released with accompanying baseball cards. "Yeah, it's hard to keep up," she laughs," but I have all of his records."
There are, of course, massive differences in the dynamics of the Fiery Furnaces and Eleanor's solo work, as she explains: "Well, in the Eleanor Friedberger band I'm the boss and in the Fiery Furnaces we are partners so there's a lot of compromise going on. When you're doing your own thing you collaborate, and I'm collaborating with other people all the time but at the end of the day I get to make the decisions. Whereas with my brother we both have to try and be happy so, there's a lot of compromises going on I guess."
You can't ignore her promising use of the present tense to describe the Fiery Furnaces. Can we expect her to be doing something at some point in the future with Matthew again? "I'm sure," she says, without actually sounding that sure. "We haven't made any plans but it seems hard to imagine not doing something."
For now, it seems Eleanor should focus on her solo career, as she reflects on the difficulties of launching all over again as a solo artist. "It is more difficult, things have changed so much," she says. "We had a lucky couple of years when we first started, we had a bit of a buzz surrounding us. Now it is so competitive, there are so many more bands it's just hard to compete, especially on the road as the shows are much smaller than they ever were. I'm not complaining, it's just different now.
"I would like to see what it's like in a regular band where the focus isn't just on me, but yeah, it's just like my name...People say, 'oh, what's your band, who do you play with?' and I say 'Eleanor Friedberger' and it just sounds, you know, it doesn't have a ring to it, it's just a funny thing, it would be nice to feel like I was part of a real gang, not just me."
It's probably hard to feel like part of a real gang when the gang members keep changing due to other commitments. Her current touring band is no exception, as she describes her newest troupe: "I met this woman, Cassandra Jenkins, who comes from a bluegrass family where she grew up learning the banjo. Her backing band are called Icewater and they combined to be my band, and they're great, music school guys, really good. Although when I come over to the UK at the end of August I'll have different people. The band will be David Brewis and one other guy from Field Music, and a couple of other people."
It turns out that "David Brewis is a fan of mine I guess," she says modestly," and Marc Riley from BBC6 Music put us in touch, so I'm grateful to him for that." It's easy to forget that Eleanor (and her brother) are technically English, with English passports, but they clearly have a good relationship with the UK. "I have an English passport and I feel like I should take advantage of that, and I've spent a lot of time there, I've lived in Scotland, but I haven't been there much lately so I'd like to be over there more."
As our time runs out, one final obligatory silly question gets asked. What music is Eleanor going to listen to on the long drive to Canada? "Oh gosh, I don't know! Well this is embarrassing, I just downloaded Lindsay Buckingham's big 80s hit 'Trouble' - I wanted to listen to that," she laughs. "I was thinking about it yesterday and I didn't have it on my iPod. So that's one thing I'm going to listen to!"
Eleanor Friedberger's new album, Personal Record, is out now in the UK and Europe on Merge Records.