Last month we premiered the beautifully surreal video for Emilie Nicolas' compelling electro-pop gem 'Pstereo'; however, in the lead up to her debut LP Like I'm a Warrior's UK release we were keen to find out a little more about how Nicolas went from unknown music student to household name, in her native Norway.
Having already had the privilege of spending quite a bit of time with her album, a similar rise to prominence this side of the North Sea seems near guaranteed. Nicolas recently described it as an album about "suppressed anger and intricate relationships". To my ears it's all about growing up - steeped in nostalgia, but with glances to the future - all the while it is littered with huge pop hooks, glittery electronics and waves of warm reverb. Simply put, it is stunning.
So the debut album Like I'm a Warrior is out next week (6th July), can you talk to me a little about what went into the making of this record? The places, people and things which inspired it?
The album wasn't planned when we started recording so it was a slow but intense period. Suddenly everything happened at once and we felt we needed to make an album. The album is therefore old and new songs in one, but I feel it has a theme. 
We recorded most of the album in our own studio outside of Oslo and we (the band and I) produced it ourselves.
Where did you get the idea for the title and what does it mean to you?
I had a song that's not on the album where I say "I let them all into me like I'm a warrior" and I really felt the sentence explains me, and all of the songs have that underline. The balance between vulnerable and strong.
It came out almost a year ago in you native home of Norway, are you excited for it to receive a second lease of life with a new audience in the UK?
It is actually really nice to do it all over again! I'm very excited but I'm a pessimist so I don't get too excited.
You've obviously been living with these songs for quite a while now - are you still getting a buzz from hearing them and playing them live, or are you just keen to get the next wave of music out to people?
[Laughs]. When I play them live the songs feel new and I just try to get into the same emotions I had when I wrote them, but I don't listen to my album like I listen to other music. Since I've produced it and know every detail it's more frustrating than fun to listen to.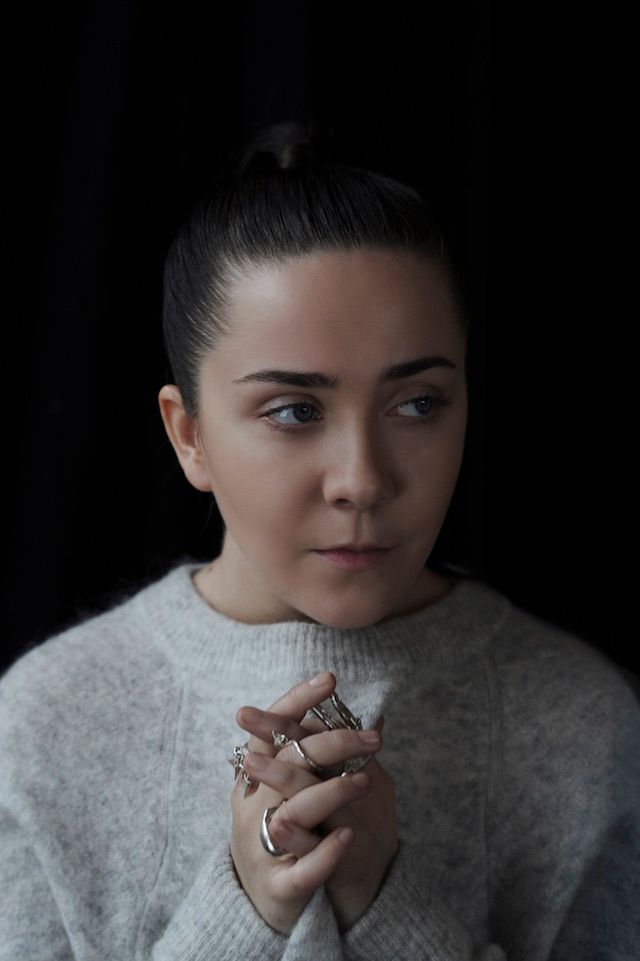 You recently played in London - How have you found audiences in this country? How do you feel starting from scratch to break a new country when you've already had such successes back in Norway?
I like it! The pressure is off. I love being an underdog. When I play back home in Norway I feel the expectation is overwhelming. Here I can just have a good time and get new fans.
I've read that even at the age of 3 you said to your mum that you wanted to be a "singing lady" - how does it feel to have gotten to this point with 8m Spotify streams and a number 1 album in Norway? Or were you always confident that this would be a reality?
No I was not sure about anything. At one point I kind of gave up. When I formed the band I felt we had something special and my songs really came to life but at the same time I was too scared to show it to other people. I never imagined all of this to happen but at the same time I know there is something underneath all the insecurity, and that's the drive and passion for music and it will never fade.
There are clearly so many sounds infused into the fabric of this record - from pop and electronica to soul and hints of DnB - who are your main influences and what were you listening to during the writing period of this record? Did you have a pretty set idea of style and tone that you were trying to capture?
I don't listen to music when I write music. It's so easy to get too influenced and you lose yourself. I had no idea of what it would sound like. Every song needs its own care and focus. But I listen to so many different genres and I like to feel free to use what I think is good for the songs.
You wrote the album yourself (apart from your cover of Dum Dum Boys' 'Pstereo') and produced it along with your band - was it important for you to try and keep this as homegrown an affair as possible?
Yes. It's so easy to ruin a song, so when it's me and my band I feel safe. And I feel confident in my choices and the band, so for me it's just easier to keep it in the family.
There are some really personal moments on the album, particularly the 'Grown Up' which seems to be about your complex relationship with your father - do you find this kind of songwriting particularly cathartic? Do you ever struggle putting so much of yourself out there to an audience of strangers?
If it's not personal I couldn't do it. I love being honest. That's the whole point of doing this. It's like when you read a book and there's one sentence that confirms your own thoughts and emotions. That's what I try to do.
On opener 'Nobody Knows' you repeat the lyric: "nobody told me, 'Emilie it would get stormy'". Have you found it more difficult than you expected difficult adjusting to your new found profile?
Absolutely! It's a roller coaster. It takes time to enjoy everything and just relax. But I think I'm getting there!
'Fail' seems to be about the early days of teenage relationships, and musically it's arguably the most confident track on the album; was this a deliberate attempt to capture some of the brash certainty that exists in that stage of your life?
Yes it was. And also to get some frustration out. I was studying at the music conservatory and a teacher called me lazy. It definitely pushed some buttons.
What does the future hold for you? Do you have a list in your head of certain venues, collaborations etc that you want to try and tick off in 2015?
I take one day at a time and don't stress about venues or collaborations. But that doesn't mean I don't dream.
Like I'm A Warrior is out in the UK July 6th on RCA/Sony