Since MTV and the like stopped showing music videos with any type of regularity, some have been led to believe that the music video is a dying art when in actuality it's an art form that continues to get more and more creative. I recently spoke to visual artist/director Brendan Canty, one half of Feel Good Lost on the art of filming videos, his favourite filming location (an amazing spot) and much more.
What made you get into directing films & music videos?
I started making films for fun when I was a teenager. I loved it. Then I tried my hand at comedy writing and made a few comedy movies which were great fun to make! Then after school I studied Multimedia at University. Film was part of that and in 3rd year we had a module 'Experimental Video', as part of that we had to create an experimental piece of video to an instrumental track. I made a video to the track Guilty Cublicles off Broken Social Scenes' album Feel Good Lost. I adored the phrase and everything about it and tried to capture the feeling in my video. I loved that video and working on it so after that I started to make more videos along the same lines. I made a video to Panda Bear's track You Can Count On Me and to MMOTHS track Summer. MMOTHS loved that video and it became official. After that I reckoned I could do this for a living!
I can't help but notice that your name is from the Broken Social Scene album, one of my favourite bands. Would it be accurate to say their music inspired you in a substantial way?
I adore Broken Social Scene as well! I think it was that album Feel Good Lost in particular that inspired me. The title could not suit the feel and mood of the album any better. And when I made my video to 'Guilty Cubicles', I felt that the title couldn't suit my work any better. So I coined the phrase as my working name. So yes that album has been a major influence on my work and life thinking about it.
What's your favorite BSS song & album?
Ooohh tough question. Feel Good Lost would have to be my favourite with 'Guilty Cubicles' and 'Love and Mathemathics' being my favourite songs. I really love the EP To You and Me... 'All My Friends' and 'Major Label Debut' are amazing.
Good choices. When you are preparing to film a music video or anything of that matter, is there a certain preparation you go through?
I usually have to listen to the track on my ipod for a few days, in a range of different locations. At home, walking around, on the bus etc. When I listen to a track I listen very visually, and I normally come up with a visual and a general idea. Then I work towards that idea and visual. It's quite an experimental process.
Which of your videos is, to you, your greatest achievement so far?
Hmm, tough question. The video that was my most successful was my video for Slow Magic 'Corvette Cassette', as it got featured on Vimeo and got loads of hits. But my favourite video would be between MMOTH's // THNX, Wintercoats // Working on a Dream, Giraffage x XXYYXX // Even Though and Ambassadeurs // Mope. Lots of videos there but I love them all really.
I think my greatest achievement would be the video for Ambassadeurs though...as it was one of my favourite tracks of 2011 and then I got the chance to do an official video for it...which was exciting. But the track was at a totally different tempo to what I am used to so I had to really be creative. It took me a few months but eventually I came up with something that I was very happy with.
Would you say you're doing what you truly love, your dream job?
Yes... definitely. I love being able to do these videos for a living, and being able to be fully creative with my time. I definitely want to move into doing bigger budget videos soon, bigger A/V shows and films. Stuff at a bigger scale basically. I'm always looking to be creative in other things, at the moment I'm doing a lot of digital art and its getting a lot of attention online so that's exciting. I'd love to move into doing album artwork more and stuff.
What are a few of your favorite album covers?
My favourite album artwork of all time is the cover for Tame Impala's Innerspeaker. Designed by Leif Podhajsky, who's one of my favourite designers. I adore the image on the inside of Animal Collective's Merriweather Post Pavilion album of the swimmer.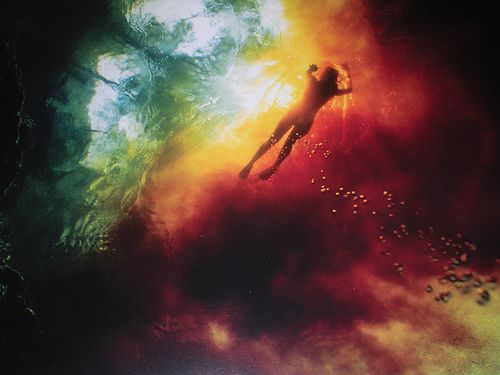 It should have been the main artwork, although the main cover was pretty amazing. I also really love the new Sigur Ros artwork by Ingibjörg Birgisdóttir.
Great choices. So, walk me through a regular day of filming.
Ooohh it really depends on the video. A lot of the time it will be just me and Conal (the other half of Feel Good Lost) driving to location and exploring and shooting as we go. Even if we have actors we still try and keep our level of crew down. We do a lot of the jobs ourselves...the filming, the lighting, the editing etc. We normally plan out our day but we are very open to be inspired and to let everyone help out, I always wanted Feel Good Lost to be a collective.
What's on schedule for Feel Good Lost right now?
Well at the moment...we've just finished our entry into the Sigur Ros Video Experiment Competition. Which we're very excited about. I'm working on a video for a new Dublin based act called Forrests who are amazing. It looks like I'm going to be doing some work with another amazing Dublin act called Slow Skies. Those are two projects which I am very excited about. I'm working on a lot of art at the moment also, getting a few pieces together for an exhibition which should be in October. As well as that I manage a band called Young Wonder from Cork. So I'll be working on a new video for them very soon. All very exciting!
Where has been your favorite place to film so far?
Definitely has to be a spot we discovered at a place call Dun Lough near Mizen Head in Cork, at the country's most southern point. We discovered ruins of a castle that's on top of a big hill on a cliff edge...with the ocean and cliff face on one side and an amazing peaceful cirque lake and panoramic views of West Cork on the other. It was simply breathtaking! We filmed it for the MMOTHS //THNX video. It's pretty much untouched by tourists. A special, gorgeous place.
Here it is on Google maps.
That sounds rather amazing, very stunning. Does the beauty of the locations you go to, still amaze you regularly?
Yes, we still get blown away by the beauty of the Irish landscape. It really is a stunning place to live with such diversity in the landscape. Perfect for what we do.
If there's anyone you could make a video for but haven't already, who would it be?
I would love to do a video for Animal Collective I'll though I'm not too gone on their new stuff. My style would be much more suited to something off Merriweather Post Pavilion. I'd love to work with M83! Special music with a lot of atmosphere, my visuals work off of atmosphere.