"The title of the album is Sympathy and it was really clear that was the perfect name for the album and I wasn't sure why for a while, but it was kind of this intuitive knowledge," says Brooklyn-based composer and singer Gabrielle Herbst, who is prepping the release of her debut record under the moniker GABI. "The more I thought about it and the more the album came together, I was thinking about how this idea of sympathy is really just stepping outside of oneself, feeling someone else's pain, feeling someone else's emotions, and having an empathetic approach to the world. I feel that's what the music and the songs are trying to do."
This drive for the warmth of emotional intimacy through genre defying, vocal-centric art is at the core of Herbst's mission. Having been under the tutelage of experimental music innovators such as Joan Tower and Zeena Perkins since her time at Bard College, Herbst has taken to utilizing expansive, ambient landscapes to highlight the stirring nature of the human voice and its ability to connect with others.
"The world has become so overwhelming in regards to technology and advertisements. There are a lot of hardships and a lot of overstimulation," she laments. "I want my music to be interesting and go to many different places, but I want to calm people with it and nurture them."
While almost every artist utilizes emotionality to some degree in their music, Herbst's background allows for a drastically different approach. The daughter of an ethnomusicologist who specialized in the music of Bali, Herbst spent large swathes of her formative years studying the piano and the clarinet, before meeting Tower, Perkins and Marina Rosenfeld at Bard.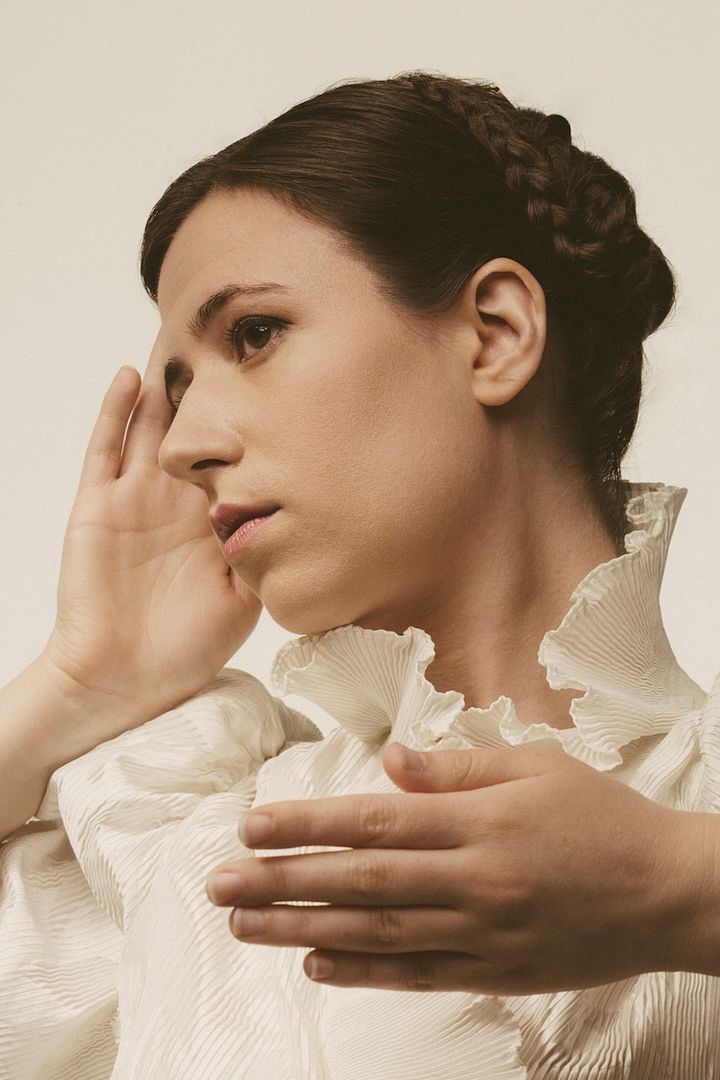 In the time between her studies and the release of Sympathy, Herbst has become extremely accomplished in experimental composition and performance. Her work has been showcased at Robert Wilson's Watermill Center, a prestigious facility devoted to young artists having the opportunity to break traditional barriers in the presentation of their work. In 2014, Roulette, "a laboratory for musical experimentation," commissioned her first opera, Bodiless.
But after exploring and experimenting with writing short-form, vocal-centric pieces with a loop station on the floor of her living room, Herbst began compiling a repertoire of songs. Her experimental operatic background played a large role in the formation of the record, but her admiration for all music hardly starts and stops there.
"I'm really interested in spatial architectural sound and sound art and abstraction. I feel like that's how I see the world."
She rattles off Messiaen, Terry Riley, Billie Holiday, Björk and Fleetwood Mac as influences, while simultaneously enthusing at the work of Sympathy co-producer Daniel Lopatin, better known as Oneohtrix Point Never. Herbst's incredible breadth of musical knowledge all seems to have played a role in the genesis of her own work. As a result, packaging it into a neat, easily described box is not only challenged, but discouraged.
"I know people love genre because it defines the world and makes us more comfortable, but it just doesn't exist to me," admits Herbst. "All of these influences I just mentioned speak to me in their own way and overlap. Ultimately, it's all just music and its all moving you and touching you."
The music of the album, performed with the help of Matthew O'Koren, Aaron Roche, Rick Quantz, Josh Henderson and Jake Becker, is truly ethereal, allowing for the intimacy of Herbst's voice to connect with listeners while the music takes on an other worldly nature. With songs on Sympathy reaching lengths of nearly ten minutes, Herbst and her band have the opportunity to give songs room to breathe, allowing for incredible moments of sonic abstraction.
"I'm really interested in spatial architectural sound and sound art and abstraction. I feel like that's how I see the world," Herbst explains before laughing. "I feel like my day-to-day life experience feels very abstract."
While the album works best as a full-length narrative, certain tracks, such as 'Mud', provide particularly stirring moments. Between the complex layering of Herbst's voice, as she acts as her own operatic choir, the skittering violins, menacing synthesizers and marimba flourishes, the song's ambience directly reflects the notion posited by Herbst's lyrics, that "we are all mud, sliding away."
"I'm trying to step outside of this solitary world of the composer or the person writing who is feeling alone."
With a series of shows on the horizon for GABI, including dates at SXSW and a record release show at Rough Trade in Brooklyn, Herbst is relishing in the opportunity to translate her complex, expositional and emotional music to the intimacy of a live performance.
"I love the casual nature of shows and I feel like you can reach the audience in a really different way than a lot of classical concert stages," she enthuses. "It feels very raw and intimate and personal, which I love."
As she continues to move forward, Herbst expects to continue with GABI, as her next record comes to her "randomly with spurts of inspiration." But as her new project moves onwards, Herbst is confident in her aspirations for what people will take from her art.
"I'm trying to step outside of this solitary world of the composer or the person writing who is feeling alone," says Herbst. "I'm reaching out to other people and trying to connect with them about shared emotions and shared feelings. Even through a certain kind of artistic abstraction, [the songs] try to relate and touch other people."
Sympathy will be released on April 6 by Software. For more information, head here.