There's nothing quite like falling a little bit in love with a record label.
The process is almost akin to that mid-00's phenomenon of 'Googlewhacking' (remember that?). You something you like, and inevitably want more; so may seek out something else from the same label. This next find is equally as riveting, and start to think 'Hey, this is no coincidence Joe', and before you know it you're several bands in and diving into their back catalogue like a benevolent-version Scrooge McDuck, your arms open in a trust frenzy.
Well, this is my relationship with Slowfoot Records.
The South London-based label procure a wealth of experimental and boundary-shoving talent, with all the fine artists on the label carving their own individual style - yet somehow sharing a similar ethos, a collection consciousness based somewhere in leftfield. Slowfoot bridge the multi-layered gap between old school kraut-jams and afro-beat, with contemporary electronica stylings.
The 405 chatted to co-label founder Frank Byng (also of Slowfoot-signed Snorkel), who discusses the label's ethos, collaboration, influences, and future releases.
Check out and download a sampler from the label here:
Hi Frank, thanks for taking the time to talk to us.
Hi. It's a pleasure.
Tell us a bit about your musical background/training pre-Slowfoot.
I first started playing when I got to university. I met Jeremy [Wood] who I went on to start the label with many years later, and with a couple of others we just decided to form a band and make music together. Crazy times! We didn't really know what we were doing but it was a great time of discovering music and experimenting. I then moved back to London and realised I needed to learn some stuff, had various drum teachers including jazz drummer Clifford Jarvis, played in a few bands, and then went to west Africa to study music for a year, came back, went to college, played in some more bands, did some sessions etc....
What inspired you to form your own label?
Initially we set the label up to release an EP of a band I was playing in called Charley Marlowe. Myself and Jeremy Wood had been talking about setting up a label for a while and this seemed like a good opportunity to get it started. We kind of moved off in a different direction after that and things have just gradually built up over time. I am just a big fan of music. That's what inspires me. I guess I enjoy the curatorial aspect as well.
When did you make the move to producer?
I think I started playing with 4-tracks and recording before I even got my first drum kit. When I came back from Africa I spent two years in music college and started assembling the beginnings of what is now Snorkel Studios. It started in my kitchen in my flat - an Atari, 4-track and an Akai S3000 and a few bits and bobs.
Snorkel are essentially the 'house-band' of Slowfoot; which came first?
The band. The first Snorkel line-up was guitarist Lucas Suarez, Dean Brodrick on keys, Nicko Grosz on bass and Oren Marshall playing electric tuba. At this point it was really something that was happening in a rehearsal space, although we played one gig and then spent a couple of days in a recording studio. Quite soon after Slowfoot started up we decided to have regular sessions in our new studio, as a sort of ideas generator and this really was where the current Snorkel incarnation sprung from.
And how have both evolved since the creation of each?
Well, slow by name and slow by nature I guess! Both entities have changed line-ups and had an initially quite slow evolution.
They have definitely evolved together and, in that I have a hand in running both, you could call Snorkel the 'house band'.... At that time Jeremy and I were running both band and label. I now run the label with producer Ivor Guest, who is not in Snorkel, and the band and label are now more autonomous. Snorkel's new EP is the first release of the current line-up, which has been operating for a while now - myself, Ben Cowen, Tom Marriott, Roberto Sassi and Ralph Cumbers [aka Bass Clef].
Describe the sound and influences of Snorkel.
I would rather leave others such as yourselves to describe our sound.....Rock A Rolla once described us as "the missing link between krautrock and Lee Scratch Perry" and there have been many comparisons to bands like Can, This Heat, 23 Skidoo. I am happy with that - Aside from these being flattering comparisons, I think we do belong to this kind of lineage....groups who are involved in collective groove based improvisation, groups who focus on rhythm and texture. I am not sure we particularly sound like any of these bands but we do owe something to their methodology.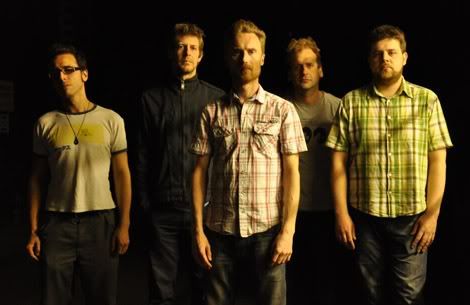 I love reading the biographies of artists on Slowfoot, and the broad range of influences behind each (from Kraut to afro-beat etc). How do you decide (and find) whom you want to sign to the label?
Projects come to out attention in various ways - usually through friends, connections, suggestions etc... and we kind of know when it is the right kind of thing for Slowfoot to take on. The Hello Skinny album came to Ivor's attention and I remember that we both heard the first track and immediately thought that it sounded like something that should be released on Slowfoot. I guess there is, despite not really having a specific musical agenda, a Slowfoot aesthetic and attitude at work, which defines what kinds of project we take on.
A lot of work on Slowfoot seems to be born out of improvisation. How important are these sessions in the creative process?
You would have to ask the artists that question really. A lot of the acts are clearly rooted in improvisation - Monkey Puzzle Trio, Snorkel, the Sebastian Rochford/Pamelia Kurstin record, Crackle's studio improvisations, Oren Marshall... I think even the artists whose work might seem more compositional [such as Crewdson and Logan] are doing a lot of improvising at certain stages of creating and performing their music. So, yes, improvisation is a common thread.
And as a producer, is it difficult to whittle down recordings to a coherent EP/album format?
That's the producers job to some extent isn't it? I personally now find that one of the easiest parts of putting a project together although I can be a really good procrastinator. I guess what I mean is that mostly what I do as a producer, certainly within the context of Snorkel [aside from my duties as a musician], is to look at the bigger picture and decide what is working and what is not working. This applies to a sound, a track and then a collection of tracks.
How do you curate the super-strong ethos in collaboration that is present?
I like to think of Slowfoot as a kind of community of like minded and open minded musicians/artists - It is built around friendships and collaborations and many of the musicians know each other and work with each other.
Hypothetical; you are given the chance to curate an evening of music, and able to choose from anyone at any point in time. Who do you put on?
Mmm....how about a group consisting of Jaki Leibezeit [drums], Hendrix [guitar], Oren Marshall [electric tuba], Don Cherry [pocket trumpet, dousongoni]...Crewdson [electronics]. That could work?!! Fantasy group no.1.
Crewdson has a remix EP out imminently. How did he get on board with Slowfoot?
Hugh got in touch and then a letter with a demo arrived. I really liked his attitude and I was really impressed with his music as soon as I heard it and we just took it from there. I think it is the only time we have released something that was sent in as a demo. Hugh is an amazing talent. Aside from working on his own material, he is a current member of Matthew Herbert's One Pig band and Tom Skinner's Hello Skinny project. His new EP is a collection of remixes from his brilliant album 'Gravity' and features mixes from Alphabets Heaven, Bambooman, Hello Skinny, Real and indeed Snorkel.
In an interview last year we quoted Crewdson as saying: "It's incredibly important to me that I record new sounds to stop things going stagnant. Its quite astonishing to me how it's still perfectly acceptable to use a generic kick drum sound that's been used on hundreds of thousands of dance tunes before." A fair summarisation of Slowfoot in a microcosm?
Erm...I see what you are getting at. Well, it is true that our two 'electronic' artists, Hugh and Robert Logan, don't seem to be interested in sampling and do a lot of recording or making their own sounds but...I suppose you could say there is an attention to detail at work on Slowfoot....and a desire to make challenging and interesting music.
The five albums that have influenced the label most are:
Oh no....I could be here all week. Obviously I can't speak for all members past and present of the Slowfoot stable....
Off the top of my head....
Soft Machine - 1 + 2
Eno/Byrne - My Life In The Bush Of Ghosts
Can - Ege Bamyasi
Kasai Allstars - In The 7th Moon, The Chief Turned Into A Swimming Fish And Ate The Head Of His Enemy By Magic.
Fred Frith - Step Across The Border
There probably should be some more electronic artist in there but I can't think of a specific album that I could cite as an influence.
Can you tell us a little more about new signing Hello Skinny (aside from his remix for Crewdson)?
Hello Skinny is the brainchild of drummer [and Residents fan] Tom Skinner. Tom is an amazing and much in demand drummer and all round musician who has played with a ridiculous list of bands/artists - Mulatu Atseke, Sons Of Kemet, Owiny Sigoma Band, Matthew Herbert etc... This is his first project as bandleader and composer and he plays everything on the record with a little help from the likes of Shabaka Hutchings, Tom Herbert, Byron Wallen, Nick Ramm and Trudie Dawn Smith. He has a fantastic live band, [which includes Shabaka Hutchings, Hugh Jones [aka Crewdson], Chris Morphitis and Nick Ramm. The debut gig at the Vortex was killer! And yes, the debut album will be out on vinyl and cd in the autumn. He will be dropping a mixtape soon too....we are very excited to be releasing such a brilliant album!
Where do you see Slowfoot in ten years time?
Who knows? ...We are improvising!
Crewdson - Gravity Remixes and
Snorkel - One Long Conundrum are both out now.