"I would imagine this is what it's like to graduate college. I'm a college graduate now!" exclaims Nathan Rodriguez, the founder of recent Sub Pop signee So Pitted. It is the eve of the release of their debut record, neo, and, having never had anything like this before, he is understandably a little excited. "Thinking about it, I have never graduated before. I had a little eighth-grade graduation, but I dropped out of high school and never went to college. So this is great!"
His enthusiasm is not without merit. By his own admission, neo took "almost a year and nine months" to record. "We weren't finished mixing it until about a year and a half ago," Rodriguez explains. "It took a really long time."
But the long, arduous road that So Pitted had to take for this debut has not gone without recognition. Since the record's release on Feb. 19, an array of positive reviews have filtered in, praising the group's thunderous, sludgy and evocative debut. Many commentators have noted the Seattle natives strong revamp of the city's signature grunge sound. For So Pitted--which is comprised of Rodriguez (vocals, guitar, drums), Liam Downey (vocals, guitars, drums) and Jeannine Koewler (guitar, bass)--the reality of having been signed to the famed Sub Pop and having their work out in the world now is a surreal feeling, even if they feel that they are deserving of the success.
"When it first happened, it was really....I just couldn't believe it," says Rodriguez. "I do feel like I deserve it. There was a time, when the idea was.. .I used to make jokes about that. Especially when we were writing the shittiest songs, I was like, 'Ah, it'd be cool if Sub Pop put this out!' I didn't even know what I was saying. I felt like a child. And I still do, I say shit like that all the time. I don't know. It is weird."
So Pitted was formed in the summer of 2010, with a number of lineup shifts in the meantime. Downey joined the group shortly after Rodriguez formed the project, but Koewler came aboard several years later. According to Rodriguez, that is when the band began making significant artistic strides. "I guess in a weird way, that was when it started in the way it is now," he says. "It was really different before Jeannine was in it, mainly in that I was getting out a lot of weird thoughts of what I thought being in a band was like."
For Rodriguez and So Pitted, the process of working out who they were not was particularly vital to finding out who they were and what they wanted to be. "There are so many party rock bands out there and even when I first started this band I thought that was tight. I was like, 'That shit is so cool!'" Rodriguez laughs. "But as I got closer and closer to that, I got to see what it really was and it sucked. I felt so shallow and I'm just searching for something with depth.
"It took exploring," he continues. "I think that's a really important thing for a lot of people to do, to try shit that they suck at. Chase that feeling all the way because then you could learn what you don't want to do. A lot of people protect themselves from ever being in a position to fail. They don't want to look like they lost. No one wants to look like a loser. And I think everyone is protecting themselves from looking like that. But if you can let go of that, you can do a lot."
As a result of this self-realized freedom, So Pitted has since transformed into one of the more unique bands coming up in 2016. Rodriguez restrains himself from speaking on behalf of everyone, but the sense that their group has captured something special is obvious. "It is hard sometimes representing the other people in my band because they both have so many ideas of what this is to them," he says. "I definitely feel like we are a more mystically charged band, or at least imaginative. We just aren't that literal, we are more abstract."
For Rodriguez, however, the experience itself has quickly developed into an abstract one, diverging sharply from what he had anticipated it would be. "It is pretty amazing, but at the same time it also feels like a job," he admits. "Because I've worked a lot, I've worked a lot of jobs in my life. I've probably worked at 10 or 15 different jobs. So I know how work feels and it kind of feels like a job. So it is really cool that I get to have a job like this, but I didn't expect it to feel like a job. I guess that's one thing that is a little surprising."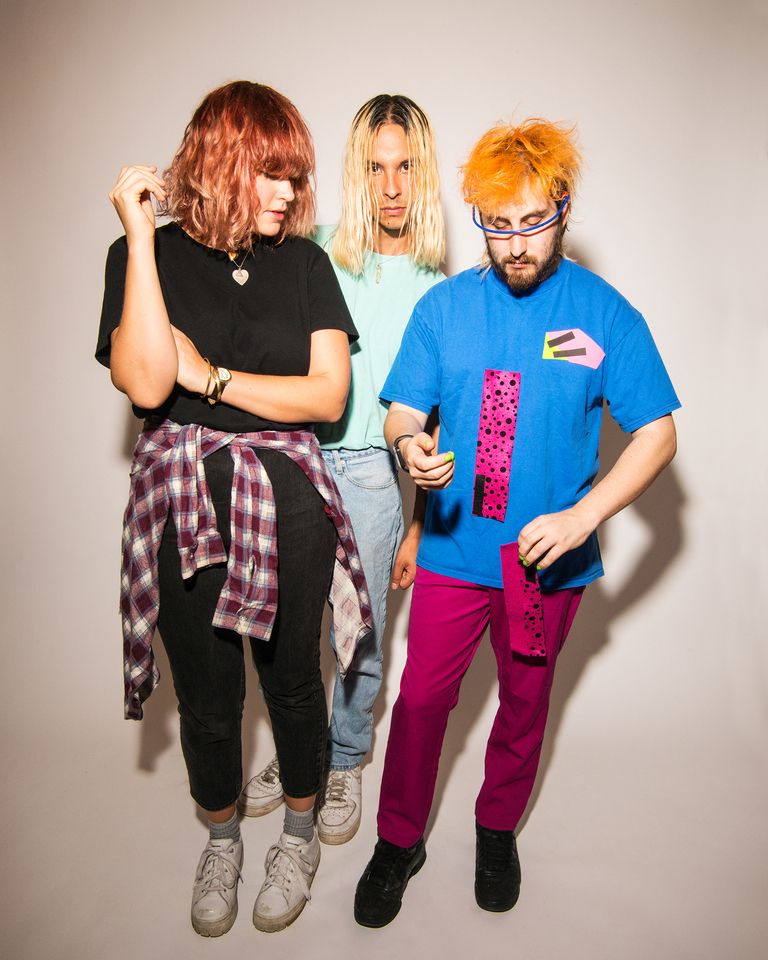 Still, success feels pretty sweet for Rodriguez and some of his peers, including some former bandmates who have found their own path to success. "So Pitted is the first band I've ever been in since the very beginning," he says. "But there's a band on Hardly Art, they're called Gazebos. They are also releasing a record this month. I used to be in a band with a few of those people, but it was never as big. It never approached this. We did one tour, and when we did it, it was a big deal to me. That was like five years ago. Our band was called Spurm."
That initial tour excitement will likely be supplanted by something new, however, as Rodriguez and his So Pitted cohorts will be embarking upon their first European tour beginning on March 4. In fact, it will be Rodriguez's first international flight. "It is really cool that this has been able to do that for me," he says with palpable excitement
This tour will be coming on the heels of the band's first trip to the eastern United States. "That was our first time there. We only did four shows--New York, Washington, Philadelphia, and Boston."
Unfortunately for Rodriguez, he was faced with some unfortunate circumstances for So Pitted's first tour away from the Pacific Northwest. "I got sick after the first show," he sighs. "The shows still went well, but enjoying the time before and after the show was hard. Before the show, I would be in a haze and after, I would be in the back of the van crying. I just felt sad, I don't know why."
Despite the mishaps of the trip to the East Coast, Rodriguez remains optimistic about what he will get to see down the line and what he will take away from it. He also is excited to share the band's live show with a wider audience. "I guess right now it's just learning what that world is like. I haven't gotten to see too much of it yet," he says. "We didn't really tour until last year, so there is still so much we haven't seen and so many people who haven't seen us. Even though we have a pretty good record, I think we are stronger live. I think we are a really good live band. I think we're really good performers. I feel more confident there than anywhere else. Our record is cool, but there are limitations that I couldn't get past. I feel a little less limited playing live."
Despite Rodriguez's humble disclaimer about neo, the fact remains that it is an exceptional, powerful debut that is the by-product of meaningful collaboration between the three friends that form the group. According to Rodriguez, each member brings something unique and participates in the group's internal process of checks and balances.
"I think initially I would spark a lot of ideas, but it really takes them grabbing on it to make it work," he elaborates. "It doesn't really work unless all three of us do it. There are a lot of ideas back and forth, and they do work, but when it's just me it just doesn't seem right. Most of the ideas that I come up with on my own feel like they're missing something or are cheesy. It is really nice to have someone make fun of that. Any idea. It goes in any direction. And same goes for anything they might introduce. It is a really cool project. It is a true collaboration."
Throughout the album's gestation period, the group was fortunate enough to work with excited outside collaborators and work in environments conducive to their creative process. "We did drums and bass at the same time, those are live," Rodriguez details. "The guitars are all overdubs and vocals are overdubs. The drums and the bass were in the studio, the guitars and vocals were at home.
"We had a guy, Dylan Wall, who could bring a set-up studio anywhere," he continues. "So we recorded some at my house, some at my practice space, some at his house. He could work with anything. He's recorded and mixed other interesting bands like Craft Spells and Weed...he has worked on some interesting projects. He goes to shows a lot and looks for bands to record. Like he approached us. He saw us pretty early on and was like, 'I think this is going to be really good.'"
Wall's entrance into So Pitted's circle was not without some mild resistance, mostly in the form of the group's own fears about their material. However, his persistence and genuine care about their sound ultimately won them over. "When he first came out to see us, I definitely felt we did not have enough songs and I didn't think we had figured how we wanted those songs to sound yet," Rodriguez tells me. "So he persisted for a year. He just cared the most. It is nice to work with someone who cares. There are instances where you could see a side-by-side difference of the results with someone who cares and someone who doesn't. There are people who can do a job and get paid, but they might not care at all."
In fact, Wall's strong desire to work with them served as one of the main signals for Rodriguez that So Pitted was gaining significant traction. "That was very flattering," he admits. "I would say that interest was the most surprising thing, just seeing people move toward our music more."
Much of So Pitted's allure to folks such as Wall, Sub Pop and beyond lies in their refreshing take on the pains of being a young person. Growing up in the midst of the Information Age and the rise of social media, Rodriguez has been a witness to a new breed of young people trying desperately to be something they are not. However, unlike the many who detract from this societal development, Rodriguez recognizes why it is happening and even sees the positives of it. "It is a survival thing," he says. "With the introduction of social networks, too, it has been like...god. It is so wild being alive now. We just have no idea what we are dealing with right now. We are the first generation to really go through this and the people who are going to be born in this will figure it out."
"I think it will be really evident with the people born after the year 2000," Rodriguez continues. "My brother was born in 1996 and he can use the Internet in ways that I just did not know could be done. And I feel like I'm pretty good at the Internet! I'm a digger, I can dig up dirt, but nothing like that. He has ease. I just think it is because a lot of us lived during a time when we didn't use computers that much. It was slowly introduced to us. I think people will only get more comfortable with this."
In fact, Rodriguez believes that, while admitting downsides do exist, the escapism of social media and the Internet is quickly becoming an invaluable tool to the ostracized youth of the world. "There will be bad examples of it and good examples of it, in every way, as there is with anything at any time," he admits. "But I think the coolest part, and one of the weirdest parts, is that people are no longer geographically obligated to be friends with the people that are around them. They can be friends with anyone they want to be. I feel like there are so many people that have grown up feeling misunderstood and not really connecting with people, and now they are able to do that. They aren't bound to the people that are around them. And there are people that resent that escape, but honestly, someone found a way to escape. That's tight. I think that's cool."
But while he does respect the escape, Rodriguez says that he and his So Pitted peers are entirely about transparency in their beliefs and personality, which is part of what makes them so special. "I don't think any of us have too much to hide," he says with pride. "I think there are a lot of people who are kind of hiding or there is a trick going on. Some people want to be a big band just to be a big band. It doesn't really work like, or at least I don't feel like it works like that. And I feel like we don't have any tricks."
And although their debut record is fresh into the world, Rodriguez is eager to see where this exceptional opportunity for artistic authenticity can take him and So Pitted. "I want to explore art with So Pitted really deeply," he says. "I want to explore music and art with them. They are really interesting collaborators. That's the most interesting thing for me, hearing their perspective. Both Jeannine and Liam can push limits that I wouldn't push. I think that's really great. We are all really forward in particular ways. I think it's impossible for any person to be completely forward. I think in one direction if you're forward, you have to be pushing back in another way. So where I might be a little more reserved, Liam or Jeannine can fill that space or vice versa."
It has been a long time coming to neo's release date for the members of So Pitted, but with the amount of work and effort that has gone into it, it is the sweetest graduation Rodriguez has ever experienced. In fact, considering that releasing an album of this caliber is even rarer than graduating from school, I suggest that it is almost as if he has skipped straight to getting his Ph.D. "I'll take it," Rodriguez laughs. "I love Good Will Hunting."
neo is out now via Sub Pop.