It all began with bathing. Last year Melbourne-based musician and multimedia artist Sui Zhen (Becky Sui Zhen) was going through a rough break-up. Whenever things felt too difficult, she ran herself a bath. Soak by soak, the concept behind her Body Reset EP gently drifted into focus. As Becky explains, "I wanted to capture that sensation of your body transitioning from stress and exhaustion into a heightened state of comfort - release and euphoria - both mentally and physically aided by the bathing ritual."
At the time, she was also planning a trip to Japan with her friend Eloise Rapp. Eloise was working on her new business Three Lives: a bespoke bathing and lifestyle goods store inspired by worldwide bathing culture (with an emphasis on Japanese aesthetics). Fully immersed, Becky began crafting the cloudy crystal techno-pop of Body Reset. "I set-up my home studio with a Roland TR-808, Korg M1, Juno 60 and my TC Helicon vocal effects and smashed the EP out over a couple of weekends," she reflects. With woozy beatscapes, watercolour synth magic, and delicate electric guitar taking the lead, Becky's dulcet vocal tones drift in the background. Much like the bathing ritual, Body Reset makes for a blissed-out miniature vacation.
As with her last EP Female Basic, her songs and the imagery around them play out within a relaxing-yet-eerie cyberpunk environment equal parts Australia and Japan. It's an interzone of nascent futurism informed by the works of authors and filmmakers like J.G. Ballad, David Cronenberg, William Gibson, Chris Marker, and Douglas Copeland. A futurism perhaps better described as "present day as a living science fiction." However, within that backdrop, Body Reset is primarily about the communication of sensation. "This time, for me at least, the process was more connected to my own emotional release. [It was about] the moment between wet and dry. A sensory experience, a cleanse for the mind and soul within a digital context – so data wiping, resetting our own internal default preferences, clearing our cache to make room for the new. The futility of applying this process within our own biology [while having it] mirrored by the immortality of our own metadata."
A Kung Fu practitioner, swimmer and runner, when it comes to music-making, Becky prizes physical processes. "Reconnecting with my breath and body has made me more in tune on stage and in the studio," she says. "Physical performance is something that influences the writing process – channeling and redirecting energy to convey the truest emotions and having fun within our bodies. Not just being a voice or instrument, but instilling the sentiments throughout our whole selves is what keeps me engaged in this whole thing."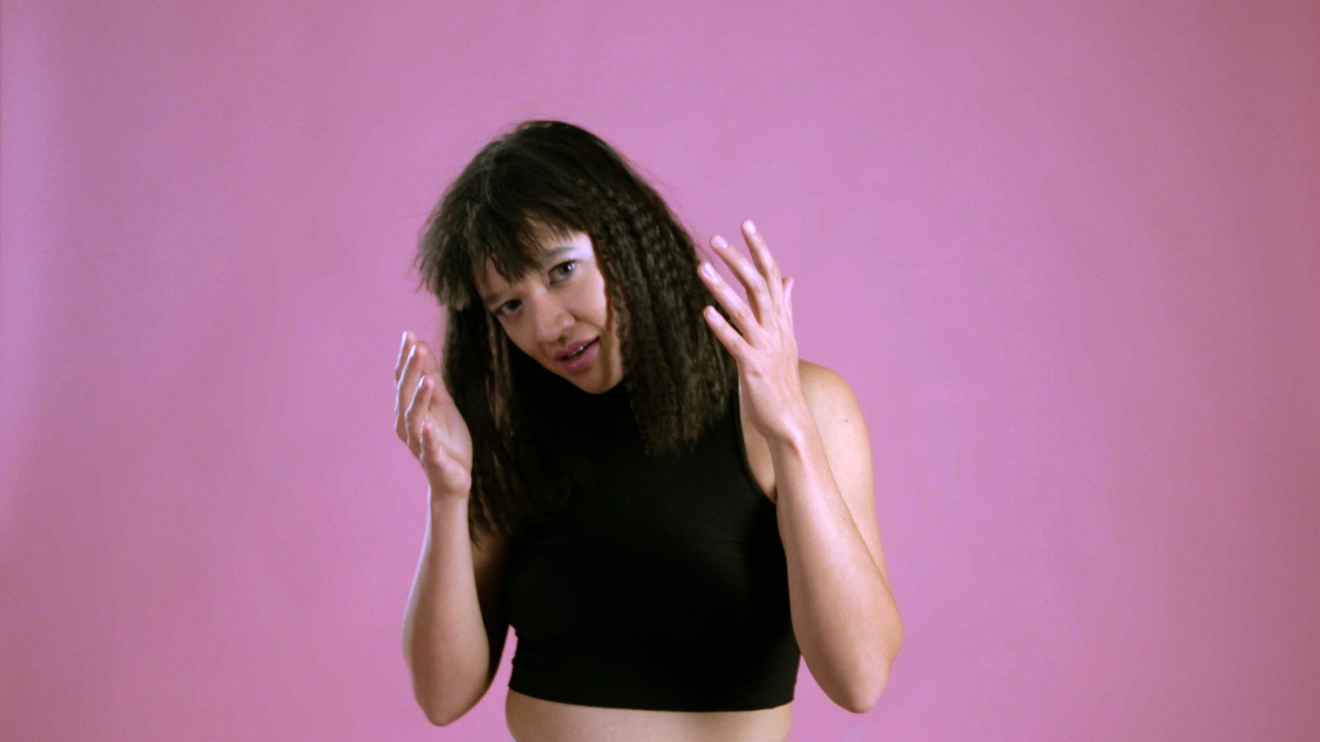 Last November, I spent some time with Becky in Tokyo. We visited a fourth floor store bursting with vintage synthesizers and drum machines, wandered through Takeshita Street (Harajuku's teen fashion and pop culture epicenter), and knocked elbows with DJs at a crammed record fair. Later that night she performed to an appreciative crowd at a trendy multi-purpose bar/art gallery in the Aoyama district. Becky was friendly, funny and thoughtful - the type of creative who is as interesting as she is interested - comfortably confident and consistently inquiring.
Japanese culture and aesthetics have been a major wellspring of inspiration for Becky ever since she first visited the country on a student exchange in her early teens. Inspired by their efficiency and elegance, she began a deep investigation of Japanese music, art and design. In more recent years, Becky has returned regularly to collect records, play shows and soak up influence. Along the way, she's released Female Basic and Body Reset on cassette tape in Japan through Tokyo dweller Tim McGregor's record labels Teto and Eskers. "Tim was at the cross section of indie electronic acts both international and local to Tokyo that shared a similar approach to music making as a lifestyle. Our collaboration happened easily once we were connected," she says.
Becky connected with Tim through Eloise from Three Lives. At the time, she was recording and performing alongside fellow Australian producer/DJ Andras Fox. They worked together as Fox + Sui, the now defunct, but well-loved folktronica duo they formed after both attending the 2010 Red Bull Music Academy in London. Tim arranged shows for them in Osaka and Tokyo, and introduced them to the right scenes in Japan. "On my next trip there, we decided to take it a bit further and worked on a release together, a solo project of mine – that was Female Basic."
Since Female Basic's release, Becky has been spinning records as DJ Susan, performing solo as Sui Zhen, and playing full live band shows as Sui et Sui. She's also unveiled some beautifully surreal pastel toned Sui Zhen photo shoots and music videos. "I suppose I have a distant pipe dream to be a filmmaker," she admits. "I approach my visual output with a larger narrative in mind. I want to create the world and context first; then place the music within it."
Becky has been using this process to realise Susan, a persona who stars in her forthcoming album Secretly Susan. Becky describes Susan as inspired by Julianne Moore's role in Todd Hayne's film Safe, and Naomi Watts' turn as Betty Elms/Dianne Selwyn in Mulholland Drive. "Creating these colourful, surreal and staged landscapes allows me to separate myself from the music and allow pop music to sit within its own terrain," she continues. Secretly Susan also marks a return to more traditional vocal-led songs for Becky. It's shaping up to be an exercise in "dubby-loungey-bossa-femme feels" initially worked up on guitar and piano, as opposed to extended 808 beat jams. Where her EPs were "sensory and mood based," the album is about "character and personality." Moving forward, she sees Secretly Susan as a chance to bring more theatrical elements into her live performances. In the process Becky might just realise the genuine pop potential that underscores Sui Zhen's stunningly cohesive sound, look, and ethos.
Body Reset and Female Basic are available in digital download format via Sui Zhen's bandcamp page here.