405 writer/photographer (and creator of the awesome Where Did You Sleep Last Night? series) Steve Sweet made his way to Bristol to catch Swervedriver in action. He also managed to grab a few words from the band regarding their new songs, shoegaze and future plans.
How has the reaction been to the new songs on this tour?
It's been great. We played the new album from start to finish on the third of three sold out shows in New York and it went down a storm.
It's been discussed before how you guys were better received in the US than at home originally, how have you found things this time round? As reluctant as you are to be termed 'shoegaze', the resurgence of interest in that scene seems to have increased the positive critical perception in the UK this time.
Much the same really, that's just the way it is. When we were finishing up our new album I recorded the vocals round at Mark Gardener's studio and at that time Mark was still unsure as to whether Ride were gonna get back together or not. Fast forward to March of this year and I see a review of our album that says "following in the footsteps of Ride, Swervedriver have also got back together"! You're right though, the resurgence has come at a good time in terms of publicity but it's really only the fans that we care about.


What kind of an audience are you getting now? Mostly old fans or are there younger fans discovering you for the first time?
Young and old. That's the positive side of the resurgence and all that. I met a guy in York who only discovered us a couple of years ago when the Creation documentary Upside Down came out.


Does relevance concern you? Your sound is pretty timeless and genre-less really so you still 'fit' in the current music scenes I think as well as still appealing to your original audience but do you feel any pressure to adapt or change to suit the times?
Everyone wants to feel relevant surely? I would agree that the sound is pretty timeless and genre-less and I think that's expressed in the fact that one review will say "shoegaze this, Slowdive that" and then you'll see another that says "it sounds like the Foo Fighters" or "there's clearly a Queens of the Stone Age influence going on"! If you're looking at parameters this wide perhaps it should be accepted that we just have our own sound.
As far as adapting to suit the times, that would be the creative kiss of death for anyone - you have to follow your muse. You wouldn't wanna go see The Sonics play and find out they've gone dubstep! Although if they had followed their muse and ended up sounding dubstep and it was amazing then that would be great too...
I Wasn't Born To Lose You fits in to your discography perfectly, staying in touch with your original sound but progressing enough to still sound fresh and avoid sounding rehashed or cynical. Have you found the songs fitting in well with the older stuff live?
Perfectly well, yeah. We mixed them all together and there were some great sections, such as going from the psychedelic playout of 'For A Day Like Tomorrow' into 'MM Abduction' or 'Lone Star' into 'The Birds'.


We were aware that the songs we chose for the album sounded for the most part like classic Swervedriver songs but not all of them - 'Setting Sun' doesn't I don't think, nor 'Red Queen Arms Race' or 'I Wonder'? They all explore new territory for us. 'Everso' took us all on a trip and we followed it, 'For A Day Like Tomorrow' just went wherever it went. We didn't spend too much time thinking about it or dissecting it though, we just knew instinctively it was good material.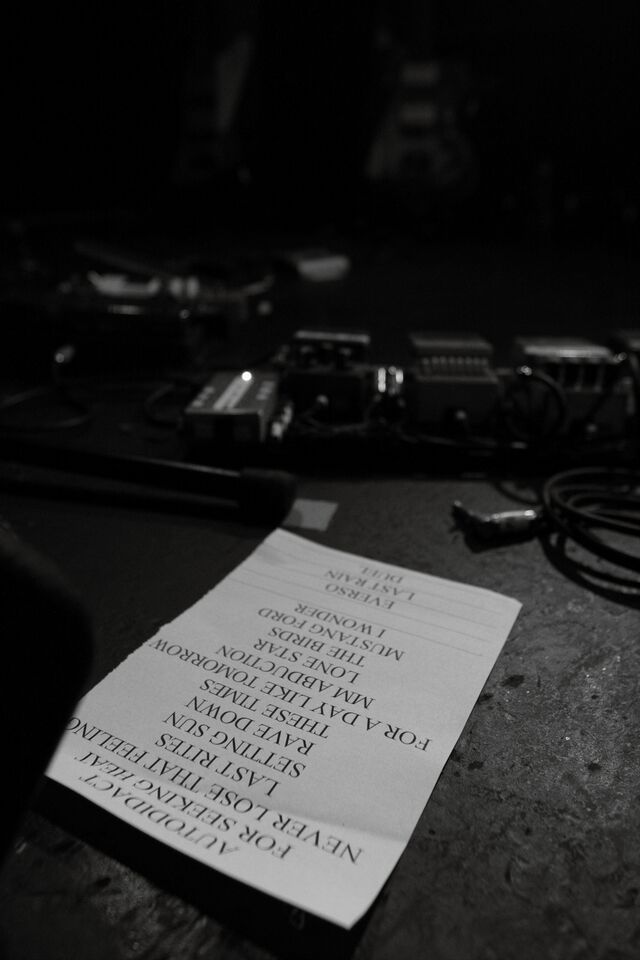 Have the new songs changed the way you approach your older songs on stage?
I don't think so, no. I mean we extended sections of the older songs but I don't know if that was directly because of the new songs, particularly. I think it was more for general flow of the set overall.


How do you see the future of music shaping up now? Financially, distribution etc? Having been away and come back you've experienced the old and the new forms of the 'industry'. Adam, your solo stuff has come out on labels and independently, physical and digital releases, do you have a preference? Do you have much choice in the matter now?
People being able to access your music is the most important thing and now people can hear your music in the time it takes to click their fingers which has to be a good thing. The artist still has to sell it though because it costs money to make so you hope that if someone really likes your music they will support it by buying a lovely package of it. If there's a label involved they have to make sure people know it exists whilst if you're releasing it independently on Bandcamp or whatever then you can do a lot of the promotion yourself just by sending it out to blogs etc or buying up social media ad space. So really there's more choice than ever - it just depends on what the individuals want to do.

You have a small break now before heading to Canada. What are your plans after these shows? More recording?
More shows actually. We return to the US in August finishing up in Hawaii before heading over to Japan in October and then there will be more dates following that also.
You can visit Swervediver by heading here.