Situated some 50 miles north of Stockholm, the university city of Uppsala boasts Sweden's fourth largest population and is widely regarded as the country's ecclesiastical capital. With its dominating pastel-pink castle, verdant forests and lily-pad strewn rivers - the city's historical heritage not only serves as an idyllic backdrop for the café culture (fika) lifestyle so exalted by its young inhabitants, but also instils a sense of antiquated grandeur comparable to the likes of Cambridge or Durham. It's here where Christine Daae - fictional protagonist of Gaston Leroux's 20th-century opus The Phantom of the Opera - was born, and to look at Uppsala Cathedral, the largest in all of Scandinavia, is to enter a world of pure Gothic fairytale.
"Fairytale" is also the operative word for describing the career of Veronica Maggio: Sweden's reigning pop princess. The daughter of an Italian immigrant who settled in Uppsala in the '70s, Veronica is often cited as the main reason behind the post '00s upsurge in Swedish lyrics at the top end of the domestic charts, with some critics even going as far to describe her songwriting as "revolutionary". Such heady commendations are backed up by even headier numbers, and so far she can boast of 10 number one singles, 5 Swedish Grammis and over 25 gold and platinum awards. After that, there's the small matter of her record-breaking streaming stats, which recently surpassed the half-a-billion barrier. As the title of Veronica's third studio album goes: Satan i gatan - or, when translated, damn.
For Veronica's first ever English interview, the 405 is flown to the singer's adopted home of Stockholm. Even in gloomy overcast, it's a city that still retains a quaint prettiness, and looking at the archipelago from the air, it's easy to see why it's often described as the 'Nordic Venice'. Our interview location is yet to be revealed, and after getting into the valet I sit there eagerly running over a Trip Advisor article of potential destinations and locations on my phone. Just as my imagination begins to run away with itself, the silence is punctuated by the driver peering over the front seat to grinningly ask, "So, you like Abba, huh?" Straightaway, it becomes clear that our meeting won't take place at the famous outdoor Skansen zoo-museum (heart-breaking, as Wikipedia tells me it's home to wolverine cubs), or any of Stockholm's innumerable Michelin-rated restaurants. No, instead it will take place in a museum on Djurgarden Island - ABBA: The Museum, to be specific. Satan i gatan.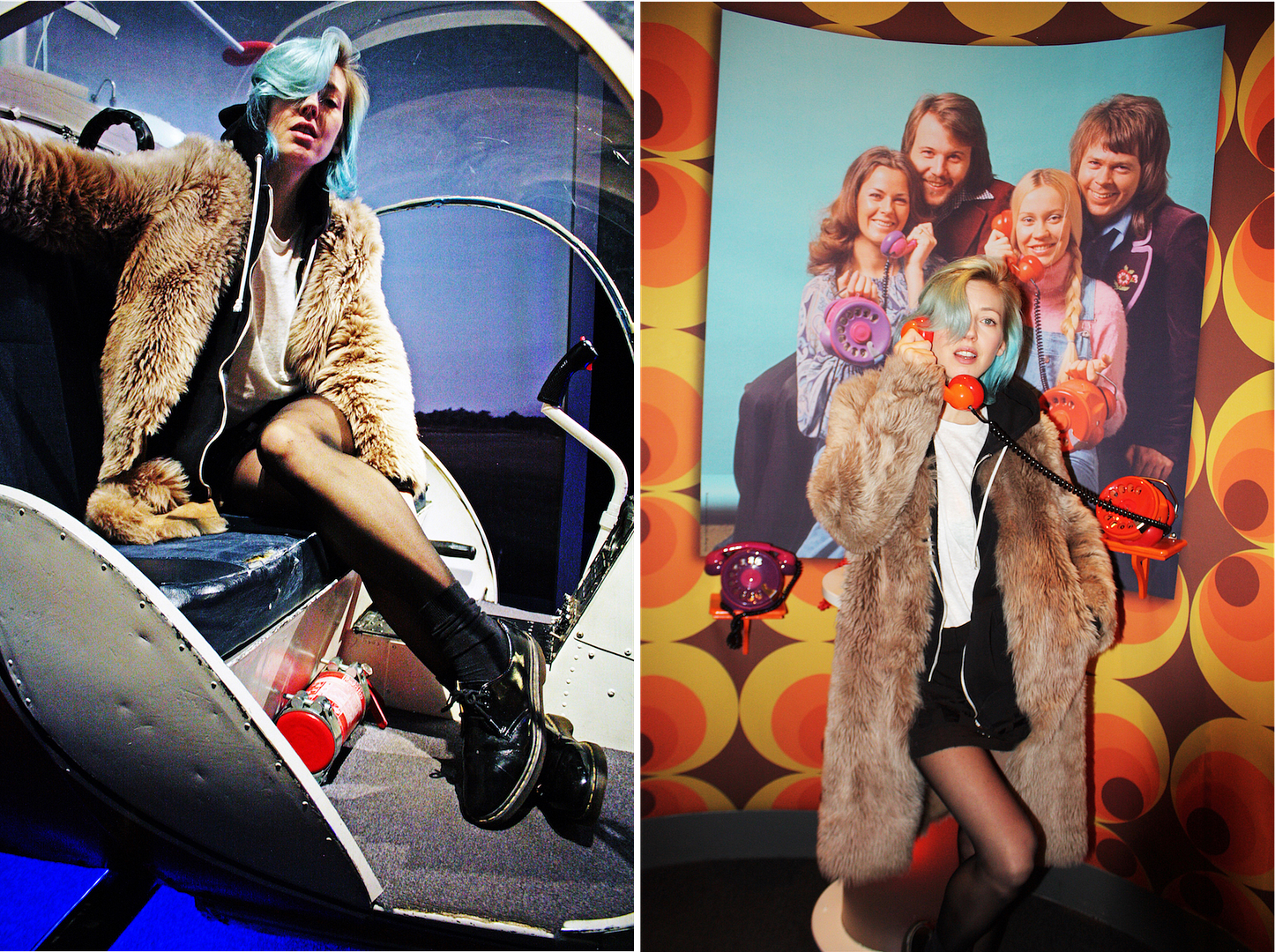 To enter ABBA: The Museum at any time must be a bizarre experience, but doing so as an unrepentant ABBA hater running on 45 minutes sleep is near overwhelming. Set to a looped soundtrack of ABBA hits on repeat, you'll find entire rooms devoted to memorabilia and props, mock ABBA recording studios and mock ABBA dressing rooms, karaoke booths drowning out the aforementioned hits on repeat, life-sized ABBA holograms, and, perhaps most eerily of all, 'Benny's piano' - a self-playing piano that is directly hooked up to ABBA member Benny Anderson's home studio and plays only when he plays. It's absolutely mental, and just when the whole thing begins to resemble a fever nightmare in minor key, Veronica walks in, seemingly as perplexed as me at the sheer scale of the Europop mecca. "I've never been here before either," she comfortingly smiles.
We're then escorted past the Swedish Music Hall of Fame - which is also contained within the museum (but relegated to a supporting role because, well, ABBA) - to a table upstairs located mercifully out of ear-shot from the PA. Veronica is diminutive and speaks softly spoken, impeccable English; her dyed blue hair making her seem more of a doppleganger for Sky Ferreira than she actually is. She's lovely - disarmingly so - which causes me to blurt out the forever mystifying, "who built the pyramids?" question of music straight off the bat: Why is Sweden so damn good at pop?
"I think the education that we get is key," she calmly replies. "I had 8 hours of music every week in school where we'd do choir stuff and musical theory. We also done solo singing and even rehearsed Hendl. We had a lot of music and everybody I knew played an instrument. So, I guess that's the pivotal part - and it was free as well. You didn't have to have any money to get that schooling." And the near preternatural gift for melody? "We have a lot of like simple songs we sing in school. It's like old folk music, but everybody knows them. You sing them everywhere - like Christmas Carols but all year long. I guess we have really simple, but beautiful and melancholic music in our DNA."
Whereas the likes of Robyn and Lykke Li grew up obsessing over English language artists like Madonna and Kate Bush, Veronica's earliest music memories were instead shaped by her Italian background. As a kid, she would spend hours listening to her dad's Folk Veneto vinyl from the '50s and '60s - the string-heavy music inspiring a well-intentioned, but ultimately ill-fated, attempt at learning the violin. After graduating high school, she then furthered her music studies in Norway and Austria, before heading home to take up a journalism course in Stockholm. It was here, in between studies and working as a waitress, where she was given her big break by Universal.
If Swedish pop lives in a perpetual golden age, then it does so while speaking another language. According to a 2012 report commissioned by the European Music Office, Sweden, the UK and the US are the only three countries in the world whose net export of music exceeds its imports. Yet while Swedish radio supports homegrown talent more than any other country than Europe - with 38% of their playlists made up of local artists - only 10% are actually singing in their native tongue. It's not hard to see why, then, Veronica has been bestowed national treasure status. "A billion people here have asked me when I'm going to sing in English," she laughs. "I would never try to translate my own solo thing - it would lose its integrity. English is so much easier because you have more vowels to sing. All of your words are really vowel-y so you can sing low notes on them, whereas we have all these consonants constantly messing things up."
Breaking out from the home market might not be a pressing concern, then, although it could be argued that she has already done so, regardless. When Avicii stormed to intergalactic levels of superstardom and had Alan Lomax spinning in his grave with the folk house meets country pop chimera 'Hey Brother', the track's writing credits threw up some interesting names: none more so than Veronica's. When rehearsing new material at the studio, the world's highest paid DJ's songwriting crew happened to be working next door, where they accidentally overheard and co-opted one of the new songs. As such, a solution was sought: "We were in the same studio recording and they overheard what I was doing. Without thinking they kind of used the stuff from my song. They then played it to me and asked what I thought. I was like, 'it's my song..', but they said, 'we can't do anything about it now, the wheels are in motion, but we can give you a cut,'" before adding with a hint of resignation, "So yeah, what the hell, now I'm a co-writer on an Avicii song."
Before our interview winds up, we head downstairs for a tour of the museum. It's just left lunchtime on a Wednesday morning and, with the rain pouring down outside, the place is dead. We're accompanied by a photographer who, much to my embarrassment, has been given the (incorrect) brief to include me in the photographs alongside Veronica. Awkwardly, I shuffle into focus and pose alongside her with the famous red phones - at that moment no doubt looking like the most gormless person in the entirety of Sweden. She then takes to the stage alongside the holograms to give a mimed rendition of 'Dancing Queen', while an assortment of staff and bemused looking old folks pass through the dark lit room. At that point it's easy to recognise her for the superstar she is; effortlessly snapping out of poses, unperturbed by the clinically dormant atmosphere.
When heading back to the airport, our taxi passes signs for the 30,000 capacity Stockholm Stadium which Veronica is due to headline later in the summer. I ask the driver if he's heard of her before, and he answers with a smile as big as the Turning Torso. Outside of Sweden she might still be an unknown quantity, but there's enough love here to make up for that and then some. As far as fairytales are concerned, it seems inevitable that this one has some length to run yet.
Den första är alltid gratis is released on Universal Music and available to order now.