Happy Monday everyone! We all feel damn excited about the world of music at the moment. Lot's of exciting tours, releases and happenings. Here's what went down today!
Darwin Deez
(pictured above) is a very busy boy these days. He's going on tour, holding a launch party of his new album (self-titled debut album, released through Lucky Number on April 12th) at Puregroove and will be releasing a single ('Radar Detector' - released 5th April) too. Wowza.
APRIL
12 – London, Puregroove Records 13 – London, Black Heart (Album Launch – Sold Out) 15 – Manchester, Ruby Lounge 16 – Dublin, Trinity College 26 – Glasgow, King Tuts (NME Radar) 27 – Preston, 53 Degrees (NME Radar) 28 – Manchester, Academy 3 (NME Radar) 29 – Brimingham, Hare and Hounds 30 – Stoke, Sugarmill (NME Radar)
MAY
1 – Leeds, Live at Leeds Festival 2 – Middlesborough Uni (NME Radar) 4 – Oxford Academy 2 (NME Radar) 5 – Bristol Thekla (NME Radar) 6 – Wrexham Central Station (NME Radar) 7 – Liverpool, Masque 8 – York Duchess (NME Radar) 9 – Portsmouth Wedgewood (NME Radar) 10 – London KOKO (NME Radar) 11 – Norwich Waterfront (NME Radar) 12 – Northampton Roadmender (NME Radar) 13 – Brighton, The Great Escape 14 – Brighton, The Great Escape

ATP Recordings
will be releasing a limited edition EP to celebrate Record Store Day on April 17th featuring tracks from Built To Spill, Apse, Sleepy Sun and Fursaxa. Limited to just 1000 copies worldwide, the 10" will feature tracks from recent and soon to be released albums on ATP/R.

Vashti Bunyan
is set to play some headline shows this spring! 8 Apr UK BRISTOL ST GEORGES 9 Apr UK LEEDS HOWARD ASSEMBLY ROOM 10 Apr UK BRIGHTON ST GEORGES CHURCH 11 Apr UK LONDON Arctic Circle presents at UNION CHAPEL 2 May UK MANCHESTER RNCM CONCERT HALL 4 May UK BRACKNELL SOUTH HILL PARK ARTS CENTRE

Team Ghost
will be playing a few shows over here! Horrah! Wednesday, May 19 - Sonic Cathedral @ The Social, London Friday, May 21 - Stag & Dagger @ The Legion, London
MP3:
Team Ghost - Colors In Time

The Bundles
are set to tour the UK! May 15, 2010 – Leeds - Brudenell Social Club May 16, 2010 – Glasgow - ABC2 May 17, 2010 – Manchester - The Deaf Institute May 18, 2010 – Bristol - Trinity Arts Center May 19, 2010 – London - Union Chapel May 20, 2010 – Brighton - Komedia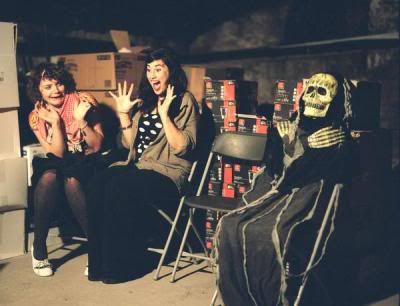 Peggy Sue
have made a collection of songs from all their singles and EP releases to date available as a free download for fans. Originally conceived as a number of very limited edition hand-made cassettes, the 10 songs span their career from their first single, 'New Song' to a live version of their next single 'Watchman' and are available right now in advance of their debut album - released April 5th on Wichita Recordings. Click
HERE
to have a listen!