Today's 'News In Brief' is sponsored by Joanna Newsom.
The new studio album by
The National
is entitled
High Violet
and will be released on May 10th (11th worldwide) via 4AD.
High Violet
is the Brooklyn quintet's first full-length release since 2007's acclaimed long-player Boxer and all eleven tracks were recorded in the band's own studio in Brooklyn.
High Violet track listing
1. Terrible Love 2. Sorrow 3. Anyone's Ghost 4. Little Faith 5. Afraid Of Everyone 6. Bloodbuzz Ohio 7. Lemonworld 8. Runaway 9. Conversation 16 10. England 11. Vanderlyle Crybaby Geeks.

Here's the video for 'Wild Human Child' by
Egyptian Hip Hop
, directed by Ivan Ogilvie.
EGYPTIAN HIP HOP // Wild Human Child from theartof agency on Vimeo.
Tour Dates
19th March // EDINBURGH // Sneaky Petes 20th March // GLASGOW // The Arches 9th April // LONDON // Village Underground 15th April // ROME // Club NME 23rd April // AMSTERDAM // London Calling @ Paradiso 30th April // LONDON // The Macbeth w/Hudson Mohawke 1st May // LEEDS // Live at Leeds 5th May // PARIS // The Social 14th May // BRIGHTON // The Great Escape 15th May // BRIGHTON // The Great Escape 20th May // LIVERPOOL // Sound City 22nd May // GLASGOW // Stag & Dagger 29th May // BRISTOL // Dot to Dot 30th May // NOTTINGHAM // Dot to Dot 31st May // MANCHESTER // Dot to Dot 31st May // NEWCASTLE // Evolution Festival 1st August // LONDON // Underage Festival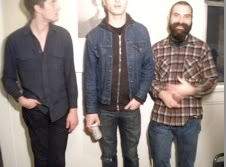 San Francisco drum punk trio
Mi Ami
announce a European tour including four UK shows in June in support of their forthcoming Thrill Jockey album
Steal Your Face
.
UK TOUR DATES Wed Jun 2 Brighton, UK Prince Albert Thu Jun 3 London, UK Barden's Boudoir Sat Jun 5 Glasgow, UK Sleazys Sun Jun 6 Manchester, UK The Ruby Lounge MP3: Mi Ami - Latin Lover