Today's roundup includes Gang of Four, Green Man Festival and Reading/Leeds Festival! *Remember! The news roundup gets updated throughout the day, so make sure you come back later for more news!
Gang of Four
Gang of Four, the band that has influenced everybody (or near enough), are back! To celebrate the 30th anniversary of their debut
entertainment!
, they are giving away a free re-recorded version of their classic track 'Glass' from the album, and will play a top secret gig at an undisclosed London venue later this month, next Monday August 24. Head over to the link below to get your groove on. Or something like that.
http://crowdsurge.com/gangoffour/download
Green Man Festival
"Oh damn, have you seen the Green Man line-up? I'm SO definitely getting a ticket!" No. You're not. They're sold out. It's ok though because The 405 will be there and we'll be bringing you all the action!
http://www.greenman.net
Reading/Leeds Festival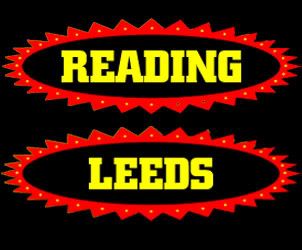 Bad news Reading fans/ This year you can't take flags into the festival arena! Don't worry though, your 'Camp Awesome/Free Hugs' style flag will be allowed in the camping area.
http://www.readingfestival.com/home/

Remember to check out the following 405 Playlists:
The 405 Radar
The 405 Staff Picks
The 405 Ultimate Mixtape (Add songs to it!)