Welcome to our 'Ones to Watch' list for 2011. As you can probably tell from our 'look back' feature yesterday, this list isn't about trying to predict all the people who are going to sell a bucket-load of records next year, but more a list of people we hope sell a bunch of records next year.
From the well-known's like James Blake through to the lesser known bands like Team Me, all were chosen because we love them. There is no hidden agenda. It doesn't matter if they've been successful yet or not, we just want to share with you some bands/artists that we're excited about.
Below you'll find profiles on all of the bands/artists we chose and a lovely download album for you to have and to cherish. Not only that, but we're giving away five copies of the record on CD (the round shaped thing which is like vinyl but smaller), which can be won by heading to our Facebook fan page (here) and leaving us a message on our wall saying 'I want that record'.
We'd just like to thank all the lovely PR people/Record Labels/management people that sent us music so that we could put the record together. We'd also like to say thanks to the wonderful Emma Charleston (www.emmacharleston.co.uk) for putting together all the artwork for the record/feature and to mention that Fair Ohs track is also available on the Paradise Vendors Inc./Italian Beach Babes compilation.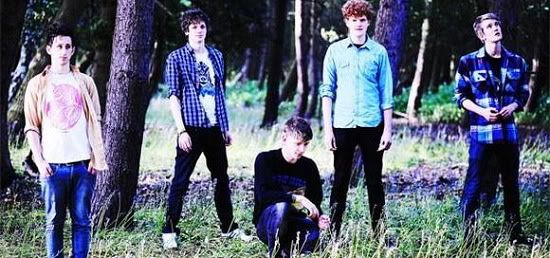 Dog Is Dead are a five-piece from Nottingham who channel the spirit of Dexy's and mix it with a more contemporary Vampire Weekend or Maccabees feeling. They fuse harmonious melodies with a little touch of jazz and brass, and sing about glockenspiels, counting to ten and zoos. An uplifting live show with bouncing and dancing aplenty only adds to the youthful euphoria. A band that are perfect for festivals, don't be surprised if they end up soundtracking your summer.
You can visit Dog Is Dead by heading to www.myspace.com/dogisdeadband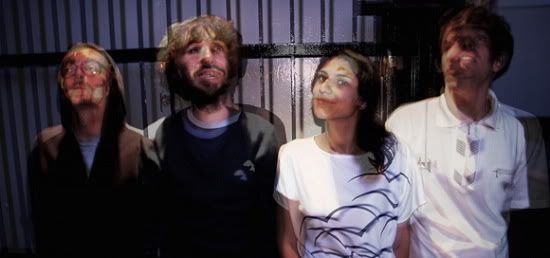 Bubbling under the surface and gradually gaining exposure over the last 12 months, the indescribable Islet are honestly set to explode in 2011. During the first part of 2010 most of the media attention they gained was due to their lack of internet presence as Islet rejected Myspace and twitter accounts in favour of relentless touring and frankly phenomenal live shows. The second half of the year consequently saw critics heap praise on both their mini-albums, Celebrate This Place and Wimmy and they acquired a well-deserved reputation for immense, animalistic live shows, with multiple drumming and instrument improvisation and swapping at the core. All the hype, and with not a hint of self-promotion, Islet deserve all the acclaim that will inevitably fall at their feet in the future.
You can visit the Islet by heading to www.isletislet.com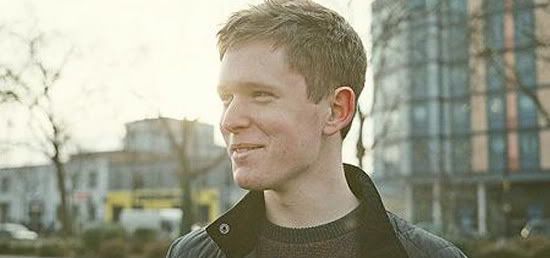 James Blake is one of those artists you fall in love with in an instant and then spend ages trawling the internet to find his entire back catalogue then end up, two weeks later, looking on hundreds of sites all night to find that elusive copy of Air and lack Thereof, a rare first release. Or maybe that's just me. Blake is huge in his own world now, after releasing only 3 EPs. His mix of the ethereal with the post dubsteppy world is surreal and genius at the same time - long time collaborators Mount Kimbie aren't a million miles off. But by far his most popular song of the last year is his stunning cover of Feist's 'Limit To Your Love', which has over 1/2 a million views on Youtube, and just came out on a beautiful 1 sided 10" single. With an album out in January, 2011 will be a huge year for James Blake.
You can visit James Blake by heading to www.myspace.com/jamesblakeproduction
Cults are mysterious right? Especially the sort that stockpile weapons and get gunned down by their own government. Thankfully this young couple aren't up to anything remotely as dangerous in their spare time. They're busy creating a massive buzz around their music, by not saying much about their music, less is more people! The band's bandcamp has three songs on it and their 7" on Forest Family records sold out eons ago. We heard a sexy rumour that these guys will be releasing some exciting new material in 2011, which can only be good for our eager ears. Songs like 'Go Outside' just have that feeling. Y'know what I mean? That feeling that we look for in new music. Think 80's twee goth pop (but awesome!) with the added excitement of having at least 15 lonely male bloggers at every one of their shows... Cults are just sitting back, letting the music talk, as the industry is falling over itself to talk for it.
You can visit Cults by heading to http://cults.bandcamp.com/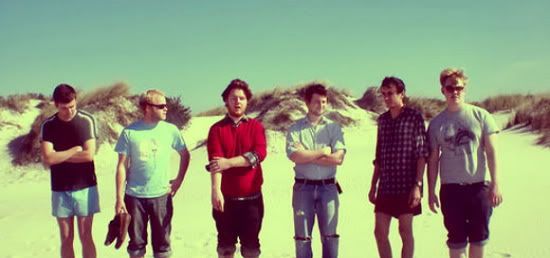 We've been huge fans of Jonquil since the release of Lions and the Whistle EP but we think 2011 will be the year everybody starts to pay attention to this Oxford based band. Their latest release, One Hundred Suns, was released digitally in November but will get a physical release in January and we can't wait for people hear it.
You can visit Jonquil by heading to www.myspace.com/jonquiluk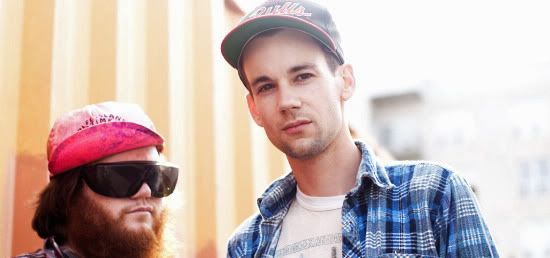 PS I Love You tear shit up. They sound like Spencer Krug fronting Dinosaur Jr at a party attended by all of his ex girlfriends. With this band we're begging you to catch on and love them back just as much as we do at The 405, but until you do, we will continue to play their songs loud at our parties and even louder while we drive home with tears in our eyes. Apparently shows in Europe are on the cards for 2011 and we cannot wait to see them. They recently released their debut LP Meet Me At The Muster Station on Paper Bag Records and it's an indie rock adrenaline shot to the chest. Don't believe us? Listen to 'Facelove' on our Ones to Watch Album.
You can visit PS I Love You by heading to www.myspace.com/psiloveyouband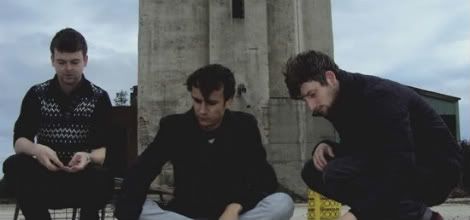 One of them used to live next door to Yannis from Foals apparently, and they make the music that Foals should be making, instead of that dreary crap that calls itself Total Life Forever. Yes, Trophy Wife are your new favourite intelligent small band, despite the fact they tell us they play 'Ambition-less office disco'. With 'Microlite' being one of the absolute stand-outs of 2010, and with a stunning Joanna Newsom cover under their belt, they'll be one of the ones that will become huge in 2011. They'll be on every end of year list, but for good reason. Nosiree, these ain't no Little Boots, these be Trophy Wife.
You can visit Trophy Wife by heading to www.myspace.com/atrophywife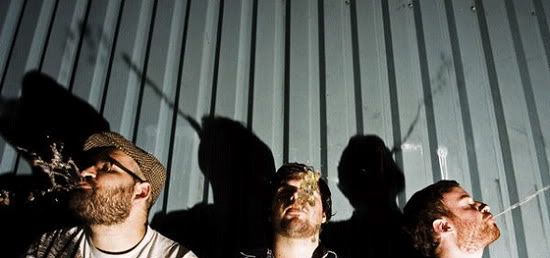 Fair Ohs are a bunch of fat blokes that describe themselves as "Paul Simon, but, you know, punk" which is really fucking cool. They make some of the best summery music out there, their strongest song being 'Eden Rock', which was played by me more than any other single over last summer. They even covered Bidgette Bardot for the B side to prove how great they are. They make the sort of music that's fashionable to make - 60's revivalist/influenced surfer rock n roll, but better than any of the others out there at the moment. They dick on Nathan Williams and probably have hotter/less insane girlfriends than Bethany Corsentino. And they're from London, which makes them even cooler still, and they were recorded by Rory Bratwell (one of the coolest people in London right now) and their cover for their 7" was designed by Simon Whybray (that one from Teeth that plays the drums). They've got a split coming out with Women, Cold Pumas and Friendo coming out soon, and hopefully some big plans for 2011. No matter what they release, it'll be gold, so look out for it.
You can visit Fair Ohs by heading to www.myspace.com/theemightypharoahs

Grouplove will inevitably invite comparisons to similarly sun-kist outfits like SSLYBY, yet they seem more fluid, more embracing of the downtime and the melancholy that is the essential flip-side of any blissed out pop moment. Comprised of a Londoner, two 'eccentric' New Yorkers (their words not ours) and two residents of Los Angeles, all signs are pointing to a fortuitous union whose natural sum of its parts will be keeping us warm in the frigid nights to come.
You can visit Grouplove by heading to www.myspace.com/groupmusic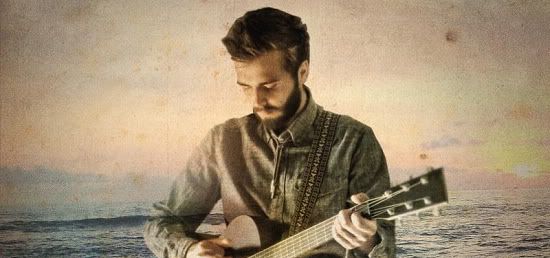 The fact that Lord Huron are based in LA via Michigan is about all we can tell you about the band themselves. We could however talk about their music all day long. Following the glorious accomplishment of the Into the Sun EP with the Mighty EP (The title track of which can be downloaded below) Lord Huron keep their good old fashioned honest songwriting hidden like its sunshine, behind rolling clouds of reverb, while jaunty afro-pop rhythm's induce spasmic body movements. A flurry of press has appeared of late as the blogosphere catches on and we think that 2011 could just be a breakthrough year for Lord Huron. Hopefully.
You can visit Lord Huron by heading to www.lordhuron.com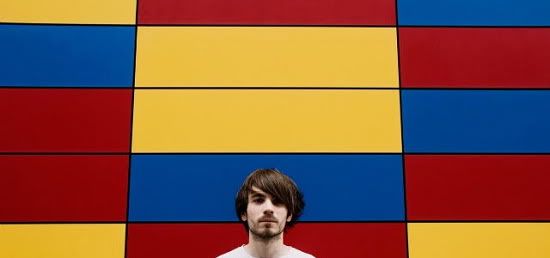 James Welch first caught my attention when I bought gold Panda's You EP, which had his musical sobriquet Seams beautifully remixing the title track. Since then I discovered 'Nightcycles', an epic 7 and a half minute exploration of post electronica that transcends any sort of genre. It's got points in common with the post dubstep of Blake and Burial, it's got more than a splash of Gold Panda's 'whispy electronica', but most importantly, it sounded so different to anything else out there. Which is why I ended up paying £6.50 to get his new cassette and download of his new Tourist EP, weeks before it came out, and despite not owning a cassette player. However, those downloads were worth the money alone. Now that his latest track 'Day' is up for free download on his bandcamp, we can see that his brand of electronica is merely a strongpoint, not his only.
You can visit Seams by heading to http://seamsmusic.com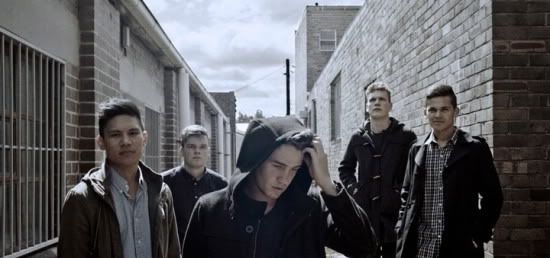 The night you meet your future spouse, or win the lottery, will be the night you see Gold Fields live. Ok, so the might be a slight exaggeration, but they certainly possess a quality that makes them special. On the compilation album you'll find a remix of their track 'Treehouse', but you should really give the original a listen to get a proper idea of what this band are about. You won't regret it. We promise.
You can visit Gold Fields by heading to http://goldfields.bandcamp.com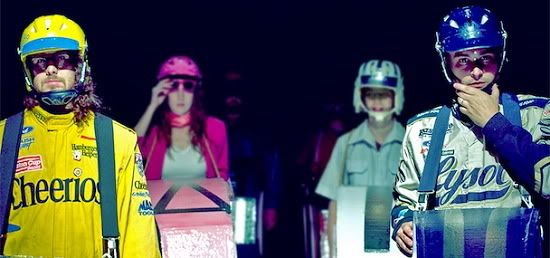 Oh Dale Earnhardt Jr. Jr. how I have fallen for thee. While I'm wont to call what they do 'electro-pop' they do manage to transcend the genre's harkening to bands like Yellow Magic Orchestra, of Montreal, and the like by staying in a distinct songwriting style and performance approach that has carved out their niche. To date the band has only released one EP (the stellar Horse Power) and a single live session on Daytrotter (free download, hint hint), both of which have made a minor impact but nowhere near what I would expect given the rash of chillwave that us music folks are still applying ointment to. In a year of electronic goodness (LCD, FlyLo, Sufjan, Clive Tanaka, et al), Dale Earnhardt Jr. Jr. manage to stand out from the pack with a wholly gorgeous take on a genre that is starting to taste stale, a move that re-energizes electronic pop and hoists the duo aloft. Now why are you still reading? Go find their music.
You can visit Dale Earnhardt Jr. Jr. by heading to www.myspace.com/daleearnhardtjrjr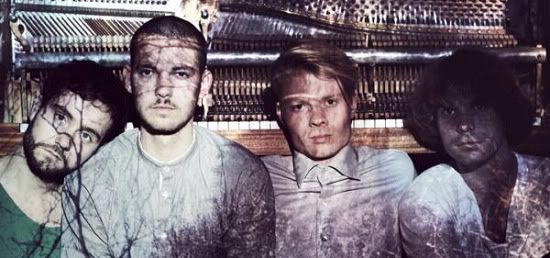 Is pop music dead? No. The reason we know this to be true is Treefight For Sunlight. Hailing from Denmark, you might expect them to conform to the Scandinavian generalisations of being a) Really into Death Metal b) Really into Sigur Ros. They do neither. Instead you have layers of complex pop more in common with the Beach Boys (minus the Surf boards). Their self-titled record will be out in February through the awesome Bella Union.
You can visit Treefight For Sunlight Jr. Jr. by heading to www.myspace.com/treefightforsunlight
Sufjan Stevens, Anathallo, Efterklang, Owen Pallett and Danny Elfman (yes, Danny Elfman). Throw them together and you'll end up with Einar Stray. Next year the Norwegian genius is set to release Chiaroscuro, an album that any of those artists would be proud to have created. No hyperbole at all. It really is that special. The annoying thing is that he's only 20. Makes you feel bad about yourself, doesn't it?
You can visit Einar Stray by heading to www.myspace.com/einarstraymusic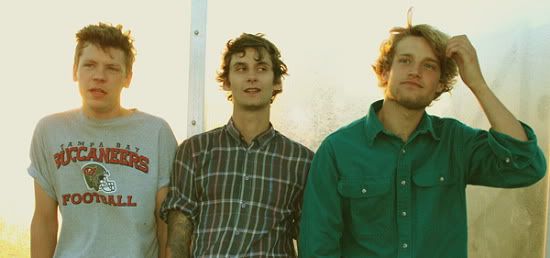 Brighton-based experimental trio Tall Ships have been making great waves this year. Having spent 2010 releasing two incredible EPs, the first of which sold out on pre-order alone, recording a Maida Vale session for Huw Stephens and touring with the likes of Tubelord, 65daysofstatic, Minus The Bear, Maps & Atlases and Danananaykroyd, 2011 is set to be their year. They blend together an amalgamation of soft vocals with loop pedals, synths, drums, guitars and keys that result in their exciting live shows involving instrument swapping aplenty. Ending 2010 by headlining the Big Scary Monsters Christmas tour, and with their debut album set for release next year, Tall Ships are definitely a band to keep your eye on.
You can visit Tall Ships by heading to www.myspace.com/tallshipsfromfalmouth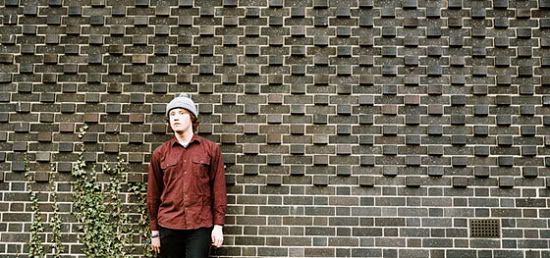 Louis Jones AKA Spectrals has ridiculous style, grace, and quintessentially English charm. The "so laid back it seems too easy" vibe of songs like 'I Ran With Love But Couldn't Keep Up' just takes your breath away as it's weird retro pop eases into your brain. The guy has just released the Extended Play EP on Moshi Moshi Records and the eagerly anticipated full length Bad Penny is dropping in early 2011. Think, an English version of 'Girls' with more tact.
You can visit Spectrals by heading to www.myspace.com/spectralspectral
Still Corners produce breathy ethereal pop music, like Beach House if they were from Brighton or Broadcast with a full band behind them and a penchant for the 60's. They've appeared on the scene with a completed sound, which is incredibly rare, to feel like a finished article on a debut single. With songs like 'Endless Summer' you can imagine the duo miming on Top Of The Pops in the 60's, their drugged out eyes rolling back with abandon as the sway to the beat. Or is that just me? Either way, Still Corners tick a lot of boxes. Expect massive things from these guys next year as they live up to the hype. If you can, see them live and drift into their world.
You can visit Still Corners by heading to www.myspace.com/stillcorners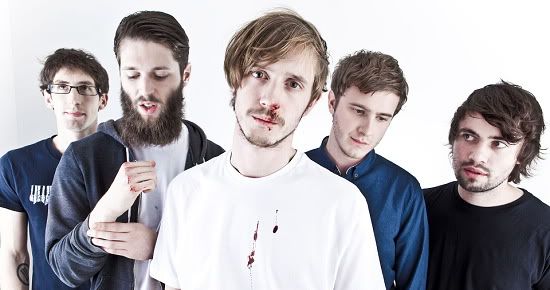 Dry The River have spent 2010 steadily building themselves a bit of a reputation for their live show. The London quintet seem to have mastered the technique to create songs that will freeze snowflakes in the sky all around you. They write music that's touching enough to share a slow dance to yet interesting enough to listen and love in your bedroom alone. Other writers have compared them to Mumford and Sons and Noah and the Whale, but they lack the pomp of Mumford, and they are less heartbroken and more literate than Noah. Its just an easy way out for lazy writers who can determine the difference between rock bands but apparently fall short of doing the same with other genres, take folk for example. Next year we are expecting Dry The River to release more music, play lots more shows and win over a lot of hearts.
You can visit Dry The River by heading to www.myspace.com/drytherivermusic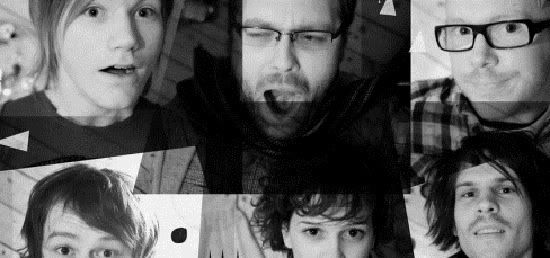 Team Me started off, for the young Norwegian from Elverum, as a solo project - maybe to blow off some steam in-between two Jaqueline concerts, maybe to do something entirely different. One thing is for certain: it became much more than "yet another side project". Team Me soon grew into a collective to include other local musicians, good friends, people Marius Hagen knew he could count on; people who are motivated and at times silly, who are good at marrying electropop with random sounds recorded in an old school gym with bells and basketballs, with the same curiosity and open-mindedness as a child. The result - Team Me - is a band who, slowly beginning to take over their home country with their childish approach to music and sensible, cute, and quirky lyrics, will blow your mind - and your heart.
You can visit Team Me by heading to www.myspace.com/teammegjaggu
Ones To Watch 2011 Album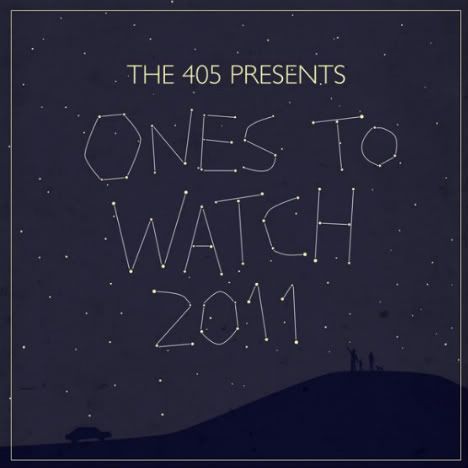 Download our 'Ones To Watch for 2011' album by clicking here!
1. 'Colours' - Grouplove
2. 'What Became of You and I' - Treefight For Sunlight
3. 'Fighting Smiles' - Jonquil
4. 'Vocal Chords' - Dale Earnhardt Jr. Jr.
5. 'Ringerz' - Islet
6. 'Young' - Dog Is Dead
7. 'Endless Summer' - Still Corners
8. 'Coast' - Dry the River
9. 'Facelove' - PS I Love You
10. 'Microlite (Acoustic)' - Trophy Wife
11. 'Christmas Tree' - Fair Ohs
12. 'Chiaroscuro' - Einar Stray
13. 'Mighty' - Lord Huron
14. 'Hung Markets' - Seams
15. 'Treetops (Val-d'Isère Remix)' - Gold Fields
16. 'Chemistry' - Tall Ships
17. '7th Date' - Spectrals
18. 'Oh My God' - Cults
Videos not on the download record
19. 'Weathervanes And Chemicals' - Team Me
20. 'Limit To Your Love (Video)' - James Blake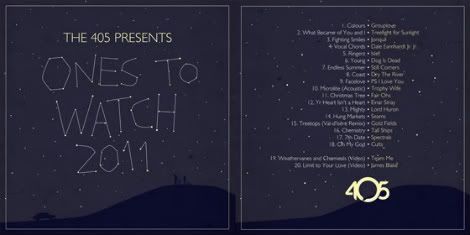 Ones To Watch 2011 Competition
As mentioned above, we're giving away five copies of the record on CD. They can be won by heading to our Facebook fan page (here) and leaving us a message on our wall saying 'I want that record'. It's as simple as that.