The 405 present another night of beautifully diverse music!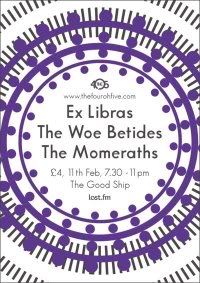 Ex Libras
-
Myspace
After wowing everyone the last time we put them on, we just knew we had to bring them back. The term 'epic' gets thrown around a lot these days but they more than live up to it. Rock A Rolla Magazine called their debut album ('Suites') "A record of measured beauty..." and we couldn't agree more.
The Woe Betides
-
Myspace
Folk-Grunge says CMU and Time Out magazine. We've been waiting for someone to master that hybrid and damn these have done it! Expect the unexpected!
The Momeraths
-
Myspace
We are the momeraths and we play fun music for you to jump up and down on your bed to. Who better to explain what a band does than the band themeselves, right?
£4 entry
Directions
Kilburn Station - Jubilee Line Come out of the station. Look right down onto Kilburn High Street and walk straight ahead of you. Keep Walking for 5 minutes until you see The Good Ship!