Welcome to the first edition of The 405 Record Club!
No, we haven't started some sort of mail-order record shop, though that would be pretty sweet, right? No? Ok. Basically 'The 405 Record Club' is about analysing an album over a two-week period, then discussing it with the other members of the group. Essentially it's a book club for music, minus the cheese and wine (though that's not a rule set in stone).
If you fancy joining the club, please email hello@thefourohfive.com with '405 Record Club' in the title.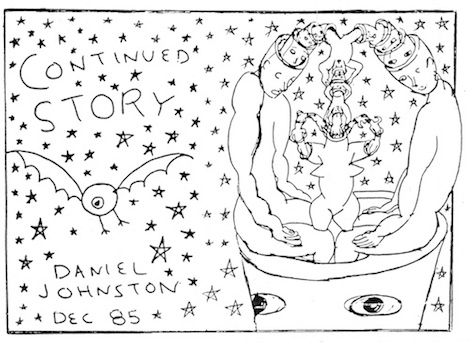 Name: Daniel Johnston
Album: 'Continued Story'
Year: 1985
Listen: Spotify
What did you think of the album?
Dresden Leitner: Johnston has a very raw and very real talent for writing, which I can imagine could fall upon a lot of deaf ears. For me, it was one of those albums that you really really had to delve into and explore, and listening to it led to me doing a lot of research about Johnston and his personal life; which I felt put a lot of the album into context and gave me an understanding of him as an artist. Every time I listened to the album I would notice another moment of lyrical genius, or something new would stick out to me; and those are the best types of albums. At first listen, it is easy to understand that Johnston is a creative genius, with a raw talent, but by taking more time to listen to the album and understand him, I feel new levels are created.
Ben Mainwaring: Honestly – in line with pretty much everything I have heard by Johnston it was unlistenable. I know the accepted wisdom is that he is an oddball genius and Kurt loved him and all that but I really find this stuff hilariously unlistenable.
Tom Walters: I felt though that 'Continued Stories' was the perfect start [to his work], if a perfect mix of odd-pop sensibilities and experimental playground fun is what defines him.
Adam Libonatti-Roche: I thought it was great. Slow paced at times but a brilliant accompaniment to a Monday morning at work. What I like the most is the story based narrative of each song especially Dem Blues and how it just felt like the start of spoken word music.
Ashley Stanford: I found the singers voices to just be extremely annoying... Kind of seemed like an album really bored kids made throughout a summer when there just wasn't much else to do and since he's from Texas I dont really blame him. I really felt like stopping the album at song 11, Etiquette, but went a head and listened through, mainly because of this record club thingy...Kind of makes me feel like I have schizophrenia or something with all the little echoing voices going around my head.
*****
Have you heard much of Johnston's work before?
Dresden Leitner: To be honest, Daniel Johnston was one of those artists who I had heard so much about, I mean he is quite the icon; but never really taken the time to listen to. I suppose its part of my youth and ignorance that I hadn't really taken the time to sit down and listen to any of his work. I really enjoyed listening to the album, and will be looking into more of his creations now, much to my dads pure joy.
Ben Mainwaring: Yes I have really tried but to be honest the sound of a man so clearly disturbed having a nervous breakdown in a recording studio isn't something I particularly want to listen to. Its typical hipster flunkeyism for me that so many people are like "ooh hes amaaaaazing." People seem so drunk on the myth and the legend that they don't seem to notice that this is clearly terrible
Tom Walters: As a guy who's interest with the lo-fi and weird only began to stem in the last couple of years with the resurgence of the genre – driven by the likes of No Age, Wavves and Ariel Pink – Daniel Johnston has, unfortunately, flown under my radar via the cheapest of excuses: ignorance. Not out of choice, but primarily because Johnston's discography is so broad and diverse it's almost impossible to know where to start.
Adam Libonatti-Roche: I had never heard of him before getting this album, so will definitely be investing some time in listening to his music. Have already ordered this album.
Ashley Stanford: I didn't know anything about his music, but being from Texas I have heard his name around and special shows of his, like for his 50th birthday I saw this Houston venue was throwing him a birthday party and the name stuck but I never really paid much attention... I have seen a bit of his artwork though, like the Hi How Are You wall painting in Austin which is pretty famous.
Favourite lyric from the album?
Adam Libonatti-Roche: "I was a lucky sperm." The final words on the album.
Ashley Stanford: His voice was so annoying I tried not to pay too much attention to it.
Ben Mainwaring: I love the irony in "I am the lucky sperm that made it against great odds."
*****
What genre would you call it?
Dresden Leitner: Hmmm… I always struggle with putting things into genres. Blues/ Rock. Lo Fi. Country influences esp in 'Aint No Woman Gonna Make A George Jones Out Of Me.'
Adam Libonatti-Roche: I am unsure what genre to put it under about from lo-fi summery joyous-ness. Off the top of my head I would put him under 'beans on toast'-ness as a current genre.
Ben Mainwaring: I would file it under 'don't bother'.
Ashley Stanford: Annoying indie punk.
*****
Did you opinion of the album change over time?
Dresden Leitner: Yes, at first listen I was slightly apprehensive. There was no question that Daniel Johnson was a talented man, but listening to the album at first made me want to investigate a little more about him. After I had learned more about the man behind the music, I felt I could connect more with the songs and the originality of the music for the time it was made. Listening to it with a different perspective really allowed me to connect with the lyrics.
Adam Libonatti-Roche: Yeah totally. On first listen I was really not getting along with it, but it's always worth giving an album multiple listens. Especially when I found myself just subconsciously foot tapping along; Main song for this was Casper the Friendly Ghost.
Ashley Stanford: Yeah it did change a little bit over time for me. I started to make up names and faces to the different voices/characters of the album and pictured them singing the songs and being weird in a garage or porch or something, when I did that it did become a bit more enjoyable. Like for Running Water it was kind of cool to think about the different characters interacting and what was going on if you could see it.
Ben Mainwaring: Not at all really. I tried this in a few places and I just found it jarring and wilfully tuneless in most situations.
*****
Best track - and why?
Dresden Leitner: Her Blues. I can imagine seeing this live, really like the heavy blues influences in this and guitar makes the track. Very raw energy and lyrics. Quite hard because there are quite a few songs on the album that I really enjoyed, love the cover of the Beatles 'I Saw Her Standing There' and Its Over.
Ben Mainwaring: Best implies that one stood out to me as a highlight. There was an ambient passage I really enjoyed when everything went silent. Turns out that was the end of the album.
Tom Walters: Johnston's more downbeat and melancholic tracks were definitely the standouts for me: opener 'It's Over' (arguably the best track) and 'Funeral Home' are both mildly depressing and yet undeniably catchy at the same time.
Adam Libonatti-Roche: Girls. I jus thought the build up and the slow guitar was perfect and then Daniel completely just lets out and Rocks out around the 3:50 mark. Perfect layering and building of a song.
Ashley Stanford: It's Over because it's catchy and his voice is not as annoying as others.
Worst track - and why?
Dresden Leitner: Not necessarily the 'worst track' but the track I felt most disappointed by was probably 'A Walk In The Park.' As the song began I really felt like something special was going to happen but it just sort of trailed off. I felt with more of his spoken word over the top (not too much, just a little) the pure guitar on this song could have been benefitted, and it could have potentially been one of the best songs on the album.
Ben Mainwaring: The mauling of Saw her standing there was pretty galling.
Adam Libonatti-Roche: Etiquette. The main reason being is that it just started to annoy me. I can take a certain amount of wailing but it got to me the most on that track. Might have had something to do with a hangover.
Tom Walters: 'Ghost of Our Love' is probably my least favourite, skipping over your head, empty and devoid of direction without a sense of purpose at all (though this could be seen as a reflection of Johnston's schizophrenia).
Ashley Stanford: The Dead Dog Laughing in the Cloud, voice and instrument annoying as fuck. Saw Her Standing There because it was boooooring and reminded me 5th grade piano recitals.
*****
What did you think of the artwork?
Dresden Leitner: I think the artwork is great. Very relatable to the album, simplistic with a kind of twisted theme. Hints towards Johnstons own mental health issues (the multiple heads and eyes/ strange creatures.) I think the artwork is pretty intriguing, did Johnston draw it himself? I think it reflects a lot of his ideas and themes within the album. Raw power that it has; complexities yet simplicity.
Tom Walters: The artwork of course is iconic Johnston and has fingerprints of his childish imagination all over it. Would I recommend it to a friend? Yeah, if they were in a bit of a weird, restless place and didn't really know what to do with themselves. It's a bizarrely enticing record and I look forward to sinking my teeth into the rest of Johnston's work.
Adam Libonatti-Roche: I love it when the artwork is hand drawn, and Daniel Johnstons' artwork looks like it was drawn on a back of a napkin in a pub, which is brilliant.
Ashley Stanford: I really like the artwork! really simple but still interesting.
Ben Mainwaring: It reminded me of the kind of pictures you see the kids on Law & Order drawing when they are being questioned by the detectives:
Prosecutor: "Lauren - show me on the doll where Daniel Johnston hurt you."
Victim: *points to the dolls ears*
"here, he kept singing and then he started riding his guitar round the room like a horsey and he asked me if I wanted to go on a magic carpet ride then sang a song about his toenail having a cup of tea on a bus with some frogs but he sounded like he was being stabbed so I asked if he was ok and he just hid under the table strumming his guitar and saying the words "toothpaste boogie" over and over again."
*****
Would you recommend it to a friend?
Dresden Leitner: Yes, I would. But I would only recommend it to my friends who had a good understanding of music and creativity. I feel that people who are not willing to spend time listening to the album over and over, or to investigate a little about Johnston and his own personal demons would overlook the album and not really understand its aims/ what it is trying to say.
Adam Libonatti-Roche: Yes I would. I would recommend it to a friend who was on their way to spend the day at the beach sat around a campfire with friends.
Ashley Stanford: I'd recommend it to my friend who really liked the Juno soundtrack, and fans of Bleeding Knees Club.
Ben Mainwaring: Let me think about this for a moment…. who do I hate…..?
*****
Anything else you'd like to mention?
Dresden Leitner: Feel like Ive received a musical education reviewing this. Really enjoyed it and glad to be a part of record club.
Adam Libonatti-Roche: Listening to it made me realise I had been missing out on music from before I was born that wasn't just the Beach Boys.
Ashley Stanford: Even though I'm not really into the music, I am a bit glad I finally got to listen to Daniel Johnston's music since I have seen his name and art around a lot in Texas and Austin, so it's nice knowing more about him and giving him the chance.
Ben Mainwaring: We better have some One Direction next week...