It's fairly obvious to state that there is a hell of a lot of music being released all the time. I think half the reason we put yearly markers on the music calendar is so that we can make note of what we've heard, before we get hit by another onslaught of releases. Needless to say, it's impossible to review everything that comes out, but at least these middle and end of year milestones give us an opportunity to pause and catch our breath, and take some time talking about albums that just got lost in the rush.
We do our best to review as many new releases as we can on The 405, but some of them just slip through our fingers. Below are a selection of albums that we didn't get to review, but we really want people to know about. Some of them aren't exactly unheard of (Bonobo, Gorillaz), but we just wanted to catch up on a missed opportunity to write about just how great they are. But moreover, we hope that you'll find some releases that had snuck by you, that just might tickle your fancy, and be worth investigating. Here are The 405's overlooked albums of 2017 so far.
------------
Bonobo - Migration
Simon Green's sixth album as Bonobo is his most successful release to date, breaking the top 5 in the UK album chart. He no longer has the niche underground tag that he emerged with nearly two decades ago; Migration, therefore, reflects Bonobo's stature in the electronic music scene. The fizzing anticipation for new music is reflected in the album's opener; simple piano notes build into a rich tapestry of samples, clattering percussion, artificial sounds all coming together in the most minimal yet emotive crescendos. It is Introspective yet inviting. Bonobo breaks new ground on this record; 'Surface' has a breezy Blood Orange new wave/R&B air, while 'Break Apart' puts Rhye's pained vocal centre stage rather than layering beneath beats. The anxious 'Kerela' rewards veteran fans who were first drawn to Bonobo for his fidgety, entrancing electronic beats. 'No Reason' is a shining highlight in Green's catalogue, spectral, consuming percussion and trap beats and clicks pulse through this nocturnal track. Migration is packed with all-consuming moments that truly move you, as all good dance music should.
------------
Fen - Winter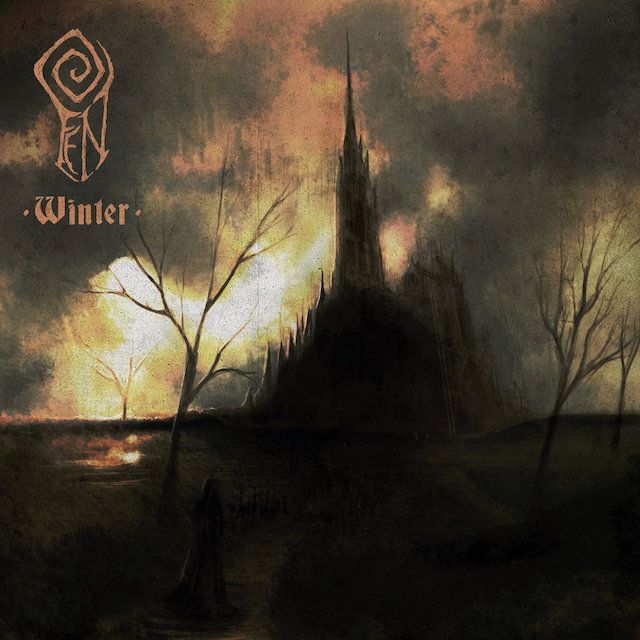 Fans of atmospheric black metal suffered a heavy blow last year when genre stalwarts Agalloch called it quits, amongst in-fighting and bitter acrimony. Fortunately Fen, a three-piece from East Anglia, who supported Agalloch on tour back in 2013, took it upon themselves to deliver their magnum opus this year, perhaps to console wounded hearts. Spread over six gargantuan tracks, Winter is 75 minutes of some of the most immense sounding music you'll hear this side of a late-period Swans record. Naturally, there are beautiful, plaintive, finger-picked passages, as is par for the course for the genre, but these serve merely as brief reprieves between the brutal onslaughts of colossal, skyscraping guitars, ear-piercing screams, building-crumbling bass, and drums like rolling thunder. It's an album that has clearly been the product of intensive labour and refinement, but it also sounds organic and assured. Most importantly, it fucking rocks. Individual moments are startling, but the gradual builds and releases of tension are simply breathtaking. In the band's own words, "[Winter] is a lengthy and self-indulgent record for which we make no apology." Like any long journey worth taking, a listen to Winter is exhausting, but, by the end, you'll be grateful to Fen for the ride.
------------
Goldfrapp - Silver Eye
Every band has good and bad days throughout their long or short-lived careers. Being as accomplished in the electropop scene as Goldfrapp are, and now with the release of their seventh full-length album, Silver Eye, Alison Goldfrapp and Will Gregory were able to achieve once again their deserved recognition, for the first time since 2005's brilliant Supernature.
Picking up a thing or two from the teachings of Fever Ray or iamamiwhoami, the London duo was able to tie together a dark eerie imagery with heavy synthesized electronics. They managed to turn this new set of songs into self-reflecting masterpieces, and of course, dancefloor anthems. Since pop and glamourous hooks were always on the menu du jour for Goldfrapp, their act of reinvention without neglecting their legacy was flawlessly executed.
------------
Gorillaz - Humanz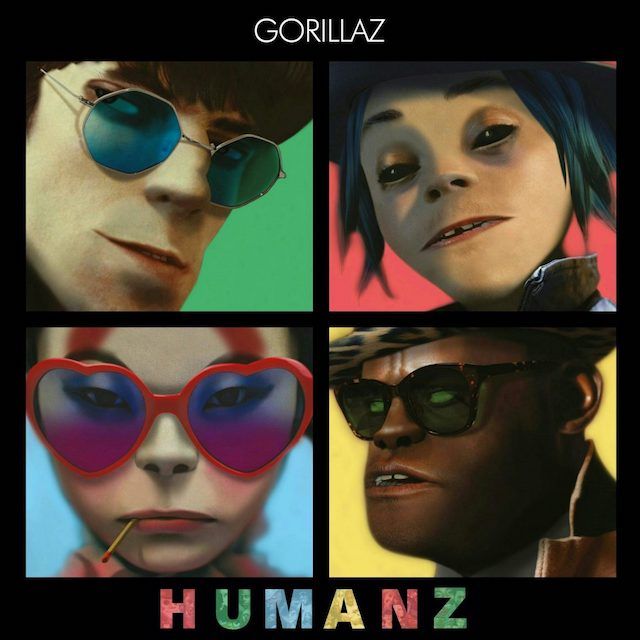 The story behind Humanz is well known: Imagine Donald Trump was just elected president--this was back when we thought about this as only a horrifying hypothetical--and everyone was getting together that night for a dance party, reeling from the terrible news. That's what Damon Albarn told his collaborators is the concept behind Humanz.
And there's certainly a lot of collaborators, to the point where some disappointed fans have claimed that the album sounds less like a Gorillaz album and more like a compilation that occasionally features the band. Although this critique is certainly true, it's not necessarily fair: if every album should be judged on its own terms, it seems ridiculous to knock the album for doing exactly what it set out to do. At this Trump-inspired apocalyptic dance party, Gorillaz are the DJs and Damon, playing 2D, the band's lead singer, occasionally pops in as the host of the evening. That's why the common critique about the lack of 2D misses the point--parties don't work if the host overshadows everything and Damon's answer, or better, his hope, in the face of Trump is that the power of collectivity will ultimately triumph in the face of darkness. Damon should be praised for removing himself from the spotlight to better execute his vision rather than be criticised for it.
The music matches Damon's vision perfectly; relentlessly weaving in and out like any good party. It's much more electronic based and synthetic than the band's previous material, fitting the Black Mirror-esque dystopian narrative well. And sure, not every song is an artistic gem, many of them are just decent. But like any good party, the songs are all danceable, fun, and quickly move on from any mediocre moments without overstaying their welcome. So although Humanz isn't the best Gorillaz album, it's a really fun experience when taken on its own terms.
------------
Lea Porcelain - Hymns To The Night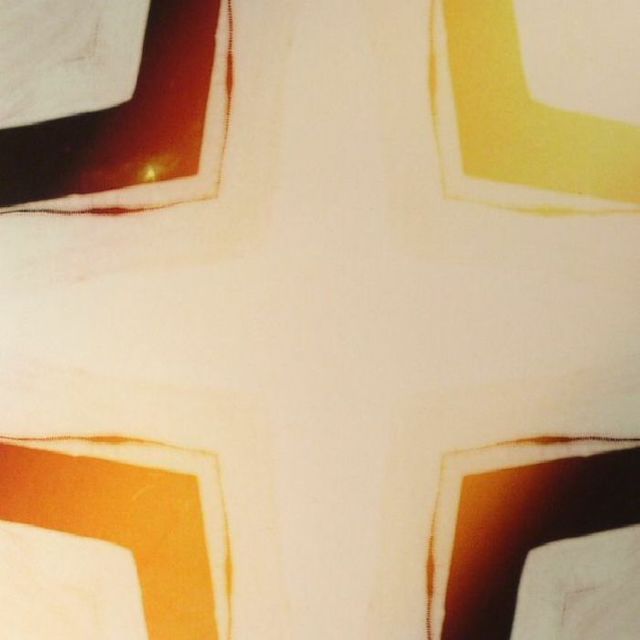 The last few years has seen a rebirth of post-punk, shoegaze and psych rock influenced acts in which bands like Savages, The Horrors or Iceage carrying a heavy load on their shoulders to keep these genres alive. Berlin-based Lea Porcelain take a softer approach to it, picking up (good) references and converging them into the search of finding their own sonic identity.
With Hymns To The Night, the band established their first milestone while hunting for a solid comfort zone. They are able to mix heavy reverbed guitars with soothing lyrics, easily captivating attention of whoever listens. 'Warsaw Street', probably the most love/hated area in the German capital, gets its own song, it being worthy of a strong, eerie melody and nostalgic composition. The strength of this album is laid on the simple songs such as 'White Noise' and 'A Year From Here'. It's not a concrete case of less is more, but if Julien Bracht and Markus Nikolaus intend to pursue romantic post-punk as their musical and creative direction, they are on the right track and own the right mindset for it.
------------
Meursault - I Will Kill Again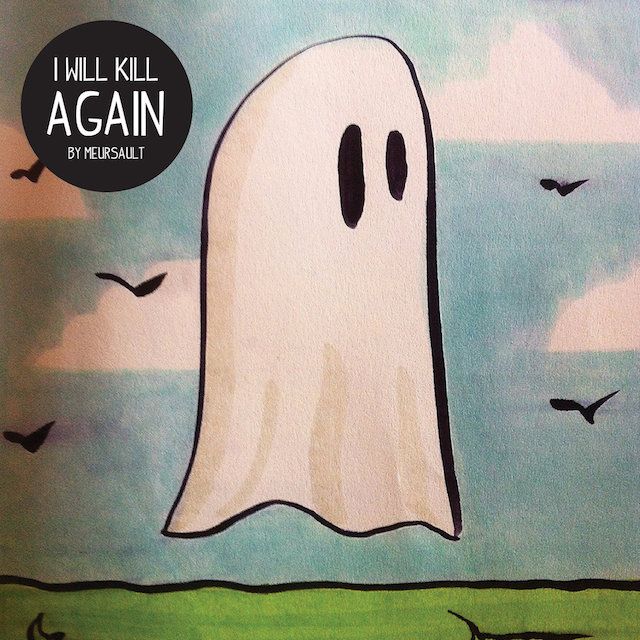 Edinburgh's Neil Pennycook had retired the Meursault moniker in 2014, following three well-received albums, to pursue his new project Supermoon. It was to the surprise of many, then, when this new full-length arrived in the early months of 2017. Where Meursault was once a full band, it is now in practice a solo project, and finds Pennycook able to exert absolute control over the direction of the record.
What results is a stately, exquisite group of songs, they are perhaps the best vehicle to date for his ability to reach moments of ecstatic insight with his deadpan acerbic humour. The title track best captures the album's mood, a widescreen, ocean-sprayed, reflective number that struggles against its narrator's increasing inability to contain his emotions. The beautiful 'Ode to Gremlin' memorably concludes that "the last thing the world needs now is another song about the fucking sea," a statement that he has already undermined before he has sung it. The album concludes on its most hopeful note, the outward-looking 'A Walk In The Park'. This is a record to decompress to, potentially as therapeutic to you as it appears to have been to its creator.
------------
Pile - A Hairshirt of Purpose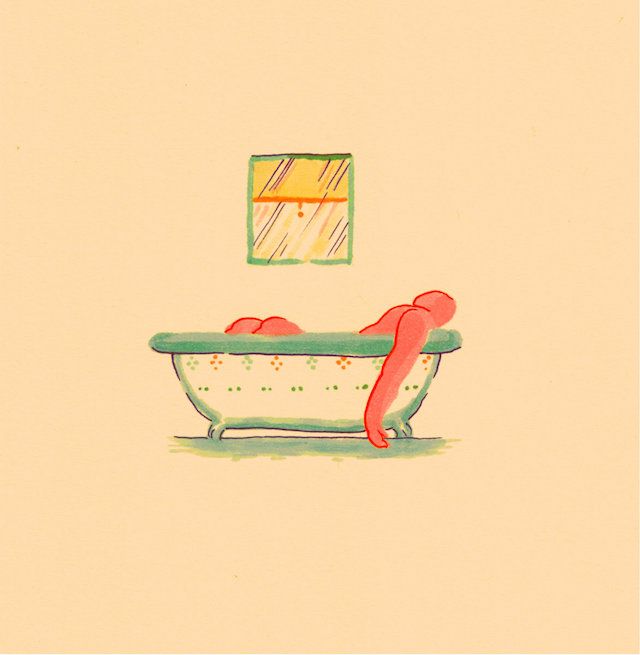 Pile's Rick Maguire, secretly one of the East Coast's finest songwriters, always seemed too hopeless to engage in a strong romantic relationship, much less gorgeously sing, cry, wail, and scream his way through a perfect description of a breakup as he does on A Hairshirt of Purpose. Not that Pile's spastic batch of aggressive post-hardcore is suddenly absent, it's just separated by Maguire's most personal and drudging set of stories to date, which is saying something given 2015's excellent You're Better Than This. Take a listen to the peaks and troughs of highlight 'Leaning on a Wheel', and you'll see how Pile pull off the best combination of hard and soft since Modest Mouse's The Moon and Antarctica: "So play in traffic/ have a kid/ may every good deed be in self-interest." Maguire's usual self-deprecation has been replaced with a liberating sense of acceptance. If the world has already thrown this much garbage your way, why not embrace it and attempt to turn it into self-worth?
------------
Playboi Carti - Playboi Carti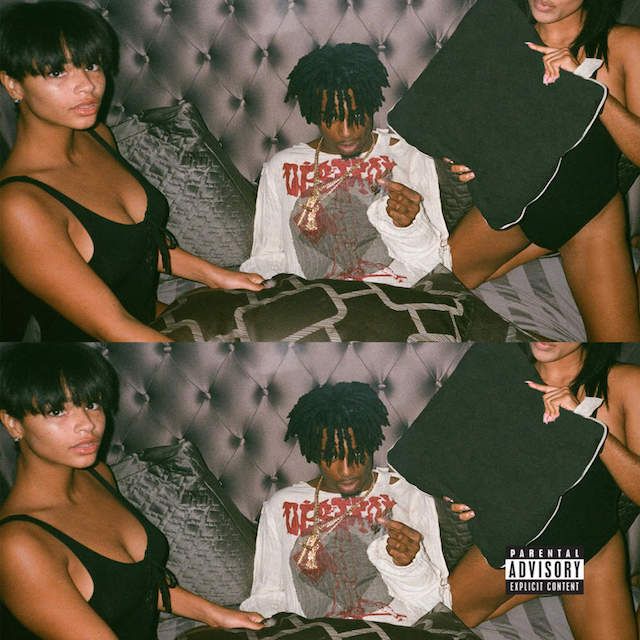 In the '90s, efforts to legitimise hip-hop as an art form focused on the genre's resemblance to poetry. These arguments implied that a rapper's lyrics were the core of his artistry. This latest generation of rappers, led by playful stylists like Young Thug, Kodak Black, and Lil Yachty, has pushed against this idea, largely disinterested in traditional notions of lyricism. Instead, they have claimed hip-hop as a musical practice; it is the sounds which matter, first and foremost. Inspired by Lil B and Gucci Mane, these artists perform radical experiments with tone, creating contradictions between the genre's typically boastful and aggressive content; and sly, sometimes oblique deliveries.
With his self-titled, debut mixtape, Playboi Carti became one of the great inheritors of this tradition. His style is a little mysterious and elusive; he omits syllables like a child taught to read from books blurred by water damage and cut with perforated scissors. The beats borrow from the timbres of old-school video games and early electronic music--the digital as an aesthetic, foregrounded artifice. Though the mixtape passed through many delays, the work doesn't show. Sometimes, it takes practice to make effort sound this easy.
------------
Pumarosa - The Witch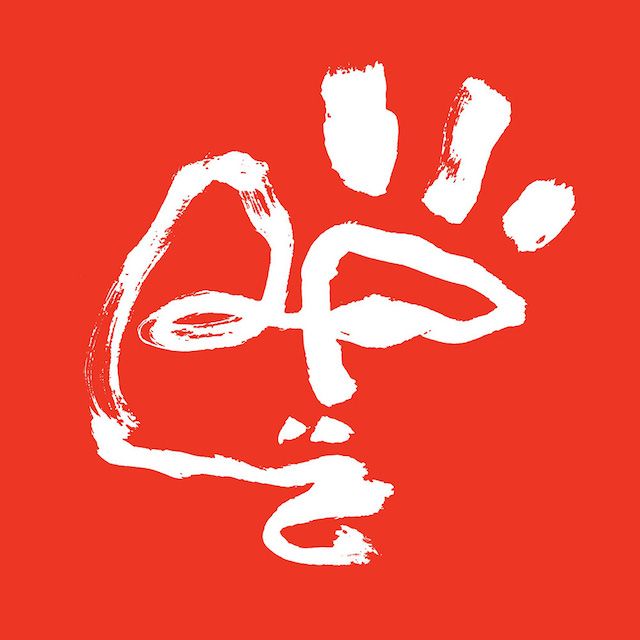 The enchanting Pumarosa released one of the year's most intriguing debut records back in May through Fiction. A complex tapestry of surreal narratives and enthralling instrumental all cocooned in evocative metaphor of nature, creatures and witchcraft. It is for want of a better word, spellbinding. The lyrical intricacy of 'Dragonfly', the hypnotic, ceremonial percussion of 'The Witch', the tense disco undercurrent of 'Priestess' all work to enthrall its listener, a sweet whisper inviting you into the witch's world. The band's elongated often claustrophobic instrumentals mean most tracks span over five minutes in length, making this album a tricky first listen. After time invested you begin to comprehend what the band has carefully crafted over the course of ten tracks. This is an album to completely lose oneself in as they mix the prog-rock of Radiohead's OK Computer with the whimsy of Bat For Lashes Fur & Gold. The Witch has theatre, grandeur, craft, style and above all, a curiosity that means one play is never enough.
------------
Rolling Blackouts Coastal Fever - The French Press
Sprawling, catastrophic, and impressively fluid, Aussie quintet Rolling Blackouts Coastal Fever's second EP The French Press (and first on Sub Pop) is a crown jewel of modern college rock. Bringing about an approach that got lost in the mix of the Internet and streaming services, The French Press channels The Clean, The Lemonheads, and The Feelies, but avoids drowning in its influences too much, all by creating a sound that's as authentic as it is nostalgic. In addition to the band's impeccable chemistry, the three-way vocals seem to be what make The French Press such a convincing record. Oozing talent from left and right, Rolling Blackouts Coastal Fever are a band that hold an incredibly well-defined sound, all held together by their versatile song writing, stemming from their average encounters - heading to your girl's place, blazing up, anything.
------------
Sevdaliza - ISON
Some say Sevdaliza is the Beth Gibbons of modern times. When you hear 'Amandine Insensible' you can't really miss the subtlety of Portishead's titanic song 'Glory Box'. As the band is an undeniable influence on the singer's music, alongside Bjork and modern hip hop, Sevdaliza is playing a very important part in bringing back an exciting new wave of trip hop and R&B. With ISON, she is now able to stand alone in greatness next to artists like FKA Twigs or Kelela.
Named after the Comet ISON, her debut album is an outstanding piece of art. When it comes to the combination of a haunting voice, lyrics that speak to you profoundly and calculated production, it feels that she articulated it so carefully, almost to a point of obsession. Remaining minimal with her downtempo beats and spoken word, through ISON Sevdaliza narrates tales of vulnerability, heartbreak but also empowerment and new beginnings.
------------
Shed - The Final Experiment
Berlin producer Shed's (née René Pawlowtiz) fourth album is an invigorating techno odyssey, mixing harmonic and rhythmic textures seamlessly while never feeling restrained by rules about how electronic music is supposed to be. Shed's breakbeats and spacious melodies aren't unlike those of Amon Tobin and Aphex Twin, but he owns his sense of arrangement and pacing. Just listen to 'Black Heart' and consider how much power he gets out of warping synths to the point that he seems to be frying them on a hot sidewalk while pulsating drums are disruptive without being distracting. Electronic music should take risks, but Pawlowtiz understands how to make the right choices when doing so.
------------
SZA - CTRL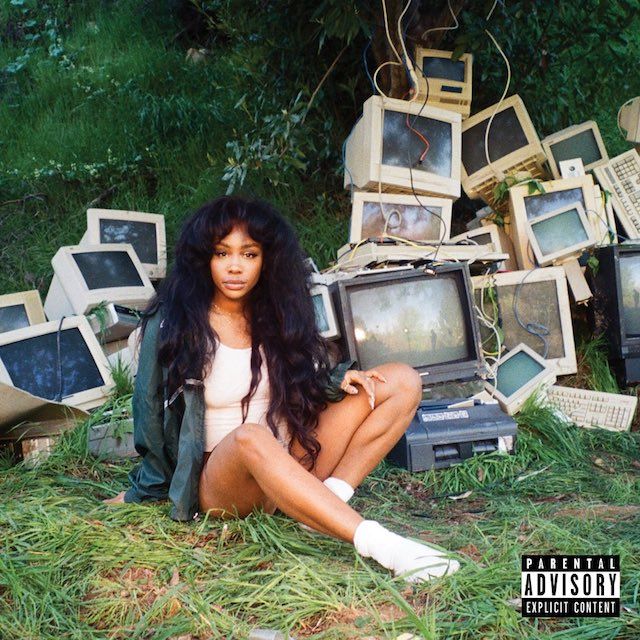 With the wave of praise it has received, chances are you haven't missed SZA's CTRL, but that doesn't mean you should forgive us for failing to shout it out earlier. For those of us meandering onward towards thirty, still not quite ready to let go of our time as the taste making youth, the album serves as something of an anthem. For how much further along we thought we'd be, for how much more sure things should have been by now, there is CTRL. An ode to insecurities and misplaced ego alike, there is no album in recent memory more attuned to what a whole lot of people are feeling in 2017. God help us, twenty somethings.
------------
Thunder Dreamer - Capture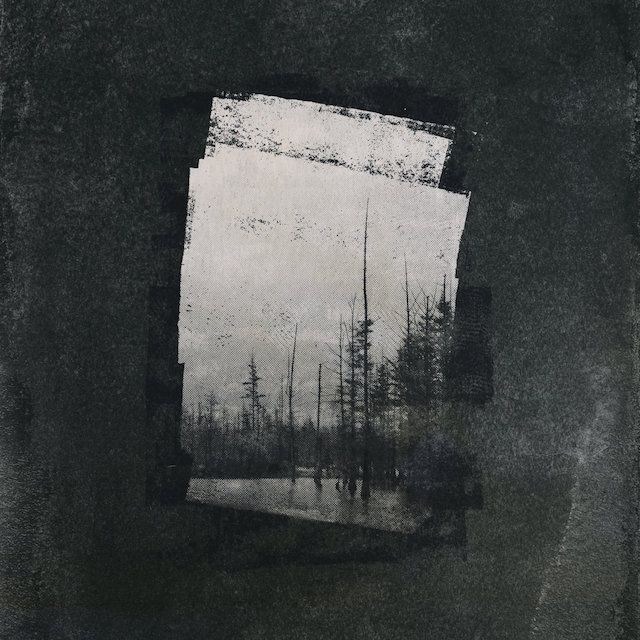 Any indie band releasing a debut album is likely to wear their influences on their sleeves, and Thunder Dreamer certainly do that throughout their delightful and transportative debut Capture. There's reflections of Real Estate in the jangling 'You Know Me', the road weary 'St. Malo' picks up the spirit of The War On Drugs, while 'The Bridge' nods towards mid-90s favourites like The Silver Jews. But it's all done with an undefinable air of confidence that makes these sounds seem urgent and entirely engrossing, so much so that the obvious comparisons take a back seat to what Thunder Dreamer have accomplished. There's a tumultuous wind around a lot of the productions as if the band are constantly on their toes and never able to get to the relaxing sun-drenched beaches that their vocals and sparkling melodies seem to be aiming for. Instead, they're stuck trundling over rocky terrain, turning over thoughts in their heads and just keeping going. When it comes to the six-minute epic 'Living Like The Rest', they kick up such a storm that you can see nothing but sense the hulking mass of emotion and inspiration being carried by the hectically arranged musicianship. Capture is the kind of record that evokes several conflicting moods at once, but makes you live inside all of them; it's quite an achievement for a debut album.
------------
Tonstartssbandht - Sorcerer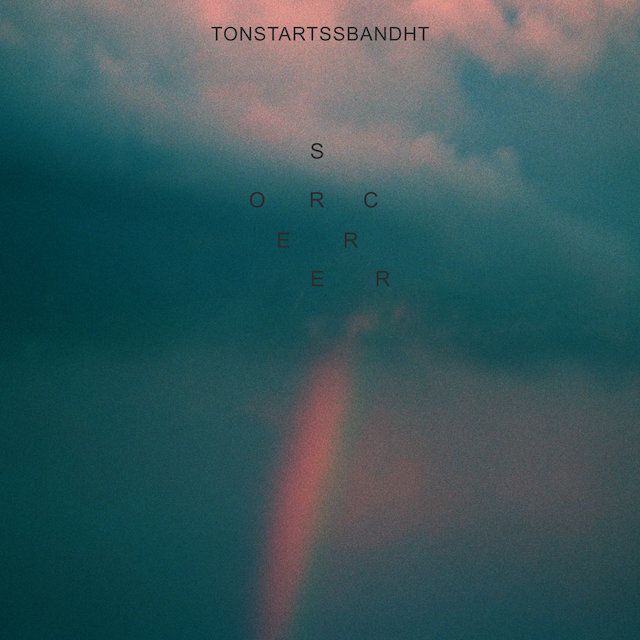 Tonstartssbandht, two brothers from Orlando, Florida, have improvised and jammed their way into one of the best records of the year. Sorcerer is a mere three songs, but clocks in over thirty minutes of exploratory music from The Grateful Dead to early Animal Collective. Though it's clear the songs were recorded in single takes, it only ends up adding to the depth and audacity these dudes have. To boot, the synchronization of drums and guitar is always spotless. Even the lyrics sound inspired and audacious. Not everyone can sing lines like "I climb the sea crane at Yalta/ I swam the black sea at midnight," and have them sound like anything other than drivel. The band manage to string you along in the welcoming chords of 'Breathe' until you're ready to accept just about any level of psychedelic mind-bending. Sorcerer is the ace up Mexican Summer's 2017 sleeve.