Much to the dismay of every '90s R&B classicist, rumours circulating last week suggested that the Brandy and Monica classic 'The Boy Is Mine' was to be covered, and potentially ruined, by none other than Jessie J and Ariana Grande. This was all down to producer and co-writer of the track, Rodney Jenkins. Celebrating his 20th anniversary within the music business, Jenkins is orchestrating an exciting new project consisting of original tracks along with some unlikely covers - one of these being Whitney's 'It's Not Right But It's Okay' covered by the dulcet-toned Sam Smith.
However, since the 'The Boy Is Mine' announcement was received with a certain degree of disgust and outrage by the public, Jessie J has publicly denied any involvement in such project (cue collective sigh of relief). However, this intriguing new project has got us thinking - what other duos could cover Brandy and Monica, and actually do them justice?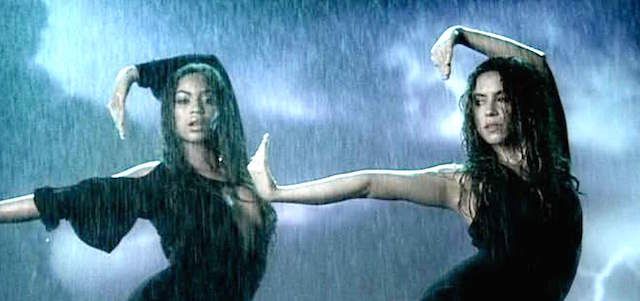 Beyonce and Shakira: Perhaps an obvious choice, this powerhouse duo would certainly not disappoint. Having already proved their collaborative skill and matching dance routines in 2006 hit 'Beautiful Liar', the Queens of Pop could each offer something unique to the cover. Adding their collective sass to the mix, this cover could end up equalling the brilliance of the original.

Taylor Swift and Rihanna: A curveball here, but arguably a brilliant one. Both women are equally talented in their own right, yet the clashing genre and tone of the combination could be nothing short of genius. And the accompanying music video would be hilarious; think 'Shake It Off''s tongue-in-cheek approach mixed with 'S&M''s downright outrageousness.

Jack Steadman and Joe Newman: Fusing together the musical brains of Bombay Bicycle Club and Alt J's frontmen would inevitably result in something incredible. It would involve bizarre but beautiful lyrical changes, understated beatpad use, and the occasional haunting sound effect, transforming 'The Boy is Mine' into something entirely unique and refreshing.

Zooey Deschanel and M. Ward, aka She and Him: This cover would most certainly be an interesting one, with the laid-back Californian roots of the band injecting sunshine into the track, and the combination of male and female vocals adding depth. She and Him could transform what was a classic anthem for a woman scorned into a chilled-out holiday tune. What more could you ask for.