Label:
K Records
Release date:
2/03/10
Website:
http://www.myspace.com/thebundles
An album eight years in the making, this is the full band version of songs written by anti-folk comic book artist and all-round good guy Jeffrey Lewis along with the crudely funny yet always sincere Kimya Dawson, of The Moldy Peaches and acclaimed solo artist fame. The line-up was extended by Jeff's brother Jack on bass, former collaborator Anders Griffen on drums and completed by troubadour/sound engineer Karl Blau. With all members of the band constantly touring and always busy in a variety of scenes and countries, it is a wonder they found time to record this but the songs have been around for long enough. Starting off with the simple strum of an acoustic guitar and a gentle keyboard under some distinctly lo-fi scuzz on 'A Common Chorus', Jeff and Kimya sing different lyrics in a show of unity and references to other songs/stories the two have written about before "he ain't heavy, he's my brain" could be part of Jeff's 'Creeping Brain' comic book and "you wake up, while I go take a crap" has more than a nod to 'Anyone Else But You'. With such a slew of creative geniuses involved, it is no surprise that some of the tracks have brilliant names – 'Pirates Declare War' and 'Shamrock Glamrock'. The former has a punky feel, and could easily be off any of their albums from the early 2000s.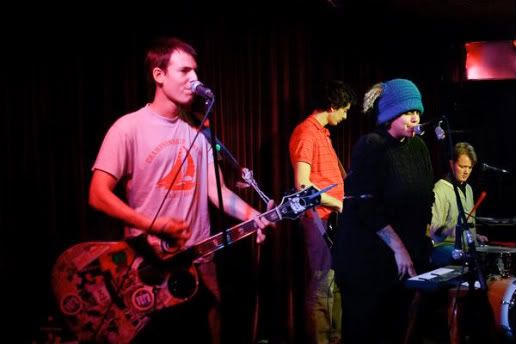 'Klutter' is a very catchy piece and appears to be all about food, although when Jeff and Kimya sing/speak at the same time it can be difficult to understand what the other one is trying to get across. Although you can comprehend perfectly the intense closing refrain of "wearing clothes with holes that fit me, dirty socks and building blocks and apple pie". There is a childlike resonance throughout the album that is all too captivating. And nowhere is this more apparent on the story of meeting a friendly alien and being abducted on 'Over The Moon', where all the Moon Men want to do is "sing with my friends". The more experimental sound the band attempt on 'Metal Mouth' seems to wander off a bit but the closing, heartbreaking 'Be Yourself' with the line "I love you" repeated time and time again is enough to choke even the most hardened soul up. There are clearly two sides to the band, the acoustic DIY-folk ramblings that sound like they've been recorded on to C90 such as 'In The Beginning', and the more exuberant punky and sketchy sound, possibly encouraged by the evolution to a five-piece, that the band excel in both is a real testament. Just hope they don't take eight years to make the next record.

What say you on this? Sound off in our Fourum!