A few weeks ago my better half convinced me to head to the murky depths of Bethnal Green for a night called
The Coney Island Freak Show And Beach Party
. The fact that it was being held at The Bethnal Green Working Mens Club, or the BGWMC for short, sealed the deal for me and allowed my boring side to be put in the corner for a night. A couple of friends came with us and to cut a long story short, we all had a great time. We don't often do things like this at The 405, but we felt compelled to put the spotlight on this great night via an interview/playlist double bill. Hopefully we'll see you at the next one!
Firstly, can you introduce yourself to our readers?
We are Cleo and Rob, a couple who live in South London. Cleo is a textile designer (
www.cleoferinmercury.co.uk
) and DJ and Rob is a musician who plays in a skiffle band The Severed Limb.
How did the idea of a 'coney island' theme come about?
Cleo: We recently went to New York for the first time and visited Coney Island and were mesmerized. We were so inspired by all the hand painted signs and the hand made fairground attractions (scary). Rob: We'd heard about Coney Island but didn't know exactly what to expect. When we got there we thought, this is the best place on earth! Freak shows, hot dog eating contests, age old fairground rides. We just loved the place so much. It inspired us because it's not really very popular and certainly not commercial, yet kind of magical.
I was surprised to hear that the last coney island night was the first at BGWMC as it seemed to gel really well. How did you feel it went?
Cleo: I feel it went really well but it was quite stressful as we had lots of attractions and fairground stalls to look after. For example we had a fortune teller, a crazy golf, a 'topless' darts stall, a hot dog stand, and a Shoot the Freak stall. But a team of friends turned up to help and were fantastic we couldn't have done it without them. I was also dj-ing and performing a dance routine with my girl band Salut Les Copines. Quite a lot to do! Rob: I feel like it went really well. My favorite moment was the hot dog eating contest. There was a nice little trophy we had for that. I was pleased that people really seemed to enjoy the night because we put a lot of effort in, from painting all the fairground signs to buying the all the prizes! It was all fun.
Other than this night, what other things do you put on?
Cleo: With our gang of friends also do a night called Teen Bop at Bethnal Green Working Men's Club. A teenage crazy party where you eat popcorn, snog and slow dance! I met Rob there. Rob: And we're involved in the Surf Club at BGWMC. Which is a sort of 60s surf music night. If I'm not hosting the nights then I'm usually working at the club.
What I liked about your night was that it was a visual treat, with things going on all around you. It was also massively relaxed and fun, which is a rarity these days. What makes the perfect 'club night' for you?
Rob: I like any night that makes people loosen up. We wanted to mix up the genres a bit. A bit of a Circus Freak Show, a bit of 60s easy listening (courtesy of Rory More and his fabulous organ), a bit of 50s rock and roll, and a bit of fairground fun. I'm a big fan of 50s music but I can't stand nights where everyone just stands around posing and playing with their quiffs. Good music is essential though. It's very important that the dance floor is full. Cleo: The perfect club night for me is one with an identity and an atmosphere. One where you feel like you have to dress up and look good. I've never been to Ministry of Sound and I don't think I'll go anytime soon.
Tell us more about your Coney Island experience
Rob: We went twice in the spring. The first time on a weekday when almost everything was closed. That was actually quite a good way to see it. It was empty and we had lots of time to explore the place and write ideas in our travel book. One of the stall holders, a Coney Island girl called Lola Star, stuck us in her blog:
http://www.lolastar.com/pages/Inspiration.html
Cleo: The second time we went was at the weekend and everything was open and we went on all the attractions. Rob went on the Cyclone, the scary old roller-coaster and he forced me to go on the Wonder Wheel. We went to see the freak show which was really scary, sword swallowers, snake charmers that type of thing. And Nathan's Hot Dog snack bar.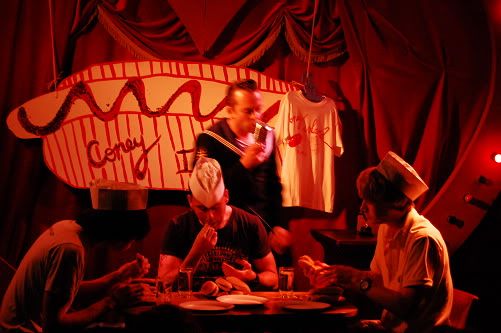 How many hot dogs can you eat in 10 minutes? (incidentally, the guy that won the competition is called Will Slater and he works for the site!)
Rob: I can't eat any as I'm allergic to them. Seriously! What I loved eating at Coney Island was the clams. Cleo: Probably four. Rob: It's much harder than it looks. Will did really well though I did think he was going to be sick at one point. The world record is held by a guy called Joey Chestnut. At Nathan's in 2009 he ate 68 hot dogs!
Lastly, what do you have planned for the future and for the next Coney Island night?
Cleo: That's a surprise! Our next night is on the 31st of July at BGWMC, so your readers will have to come and see! Rob: What I can say is that the hot dog eating contest will be back. Along with a few more freaks. The fairground stalls will be a regular thing too, but we'll keep adding to them. We've already started buying lots of cool new prizes for the winners!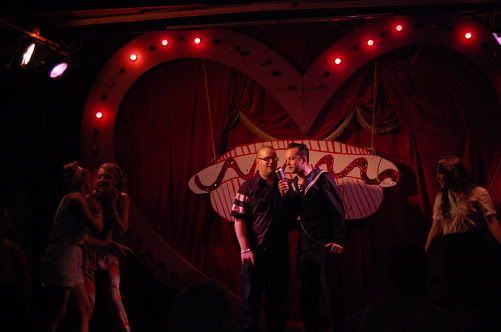 Playlist
1. At the Hop by Danny and the Juniors 2. Funnel of Love by Wanda Jackson 3. Sophisticated Boom Boom by the Shangri-Las 4. Joe Le Taxi by Vanessa Paradis 5. My Boy Lollipop by Millie Small 6. Jailhouse Rock by Elvis Presley 7. Wipeout by The Ventures 8. Easy Life by The Bodysnatchers 9. Comic Strip by Serge Gainsbourg Click
here
to listen to the playlist!
Look out for their next night over at www.workersplaytime.net/
Header photo by anarchy