Back before Myspace, bands would record whole albums onto a Tascam 4 –track tape recorder; yeah that's right kids, tapes! If you wanted to check out a new band, you literally had to mail order a tape, and then fast forward through the shit. Nowadays, of course you can tell a band is shit from their Myspace profile picture and from how long it takes to load their page. Anyhoot, the Elephant 6 Recording Company was a group of guys who began recording lo-fi tapes in their bedrooms and trading music with their friends. This led to the formation of some of the 90's greatest psychedelic revival/indie bands (read: independent). So here is an essential guide to the best of the E6 collective for all of you plaid wearing guys with beards, who like me were inspired to start recording their voice backwards on a tape deck to see if it sounded satanic. (It does).
Neutral Milk Hotel
For once Pitchfork.com gets it right. NMH led by the mysterious Jeff Mangum created a dark but beautiful album, 'In the Aeroplane over the Sea' in 1998, which became an instant underground hit, recently re-released again with new artwork etc. This is the kind of album everyone likes, despite its creepiness and acid folk influences. From its epic 'Oh, Comely' (and 8 minute track that seems to be about hillbilly sex?) to Holland 1945- a song about Anne Frank, the band is soaked in what seems to be antique unique instruments and Victoriana. Although now defunct, NMH personal included many of the other E6 bands (Jeremy Barnes, Robert Schneider) which means their influence is widespread. The origins of Mangum are now unknown, maybe he's in a cabin in Georgia playing the singing saw.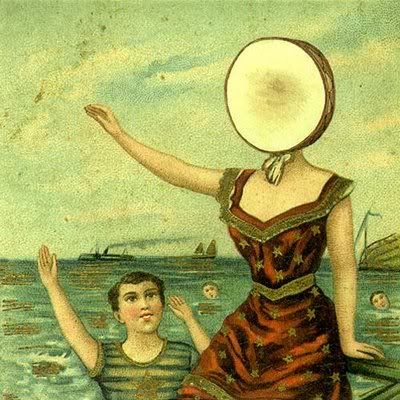 Of Montreal
On a brighter note, Kevin Barnes is wearing a neon-spandex cat, suit jumping around on stage singing about Halo and Ketamine! Of Montreal; everyone's favourite live band. Their shows alone are worthy of the ticket prices. They originally started out as a retro 60's almost bubblegum pop/twee pop band, with more chord changes per song than most punk bands whole albums (see Cherry Peel- 'Sleeping in a Beetle Bug'). But their latest albums seem to be a confused mess of synths, beats and glam rock. Touring with MGMT has broaden their appeal, and now even your little sister likes them. Although not an original E6 band, the bands early concept albums were released under the E6 name. Anything before 'Satanic Panic in the Attic' is very retro, anything after this is more dance-able. Check out 'The Gay Parade' for their magnum-opus. Also check out their amazing artwork done by brother David Barnes. Sums up the E6 philosophy nicely.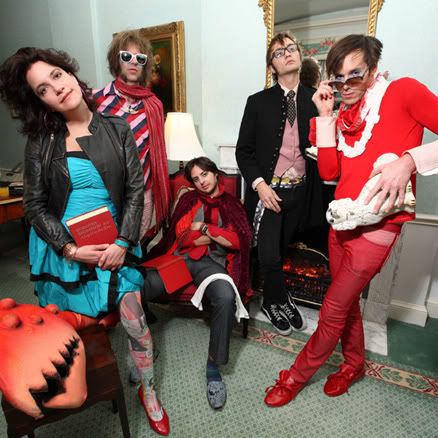 Apples In Stereo
Robert Schneider listened to too many Beach Boy records and decided to start a band. That band was the bubblegum saccharine pop of the Apples in Stereo ( they also did the Powerpuff girls theme song). One of the founding bands of the E6 collective they are still going strong today, their first album 'Fun Trick Noisemaker' is a classic 60's Phil Spector inspired album, their latest album 'New Magnetic Wonder' carries on this tradition yet somehow feels out of date. The psychedelic lyrics such as 'I love you Alice D' replaced with like 'turn up your stereo-oh-oh'. To be fair I can't fault a band that pioneered the new wave of psychedelic music, and who's band members have featured Bill Doss, Will Cullen Hart (both founders of the E6 collective and members of Olivia Tremor Control). You've also got to admire him for being one of the only men in pop music to be fat, bald, wear glasses and still get teenagers to dance for him…
Other Bands
I could have done a section on the Olivia Tremor Control, their influence and their concept albums on California falling into the ocean, but to be honest I don't actually like them. Too many pop songs interspersed with random noise tracks that scare me. So instead im gonna list a couple of bands that are great indie-pop and hidden gems. While im not gonna say are under rated, I am gonna say they write some catchy tunes that will stick in your head for an age. Beulah- Lo-fi up-beat pop with dark subject matter. Check out 'Popular Mechanics for Lovers' for a song featured on the OC. Or their best album 'When your Heart Strings Break'. All killer no filler. The Gerbils- The horn player for Neutral Milk Hotel, releases something that sounds like a chipmunk on XTC. Best songs 'Crayon Box' and 'Sunshine Soul'. Sure to relieve any comedown. The Ladybug Transistor- chamber pop Burt Bacharach style. This mini orchestra brings to mind summer picnics and strolls across sunflower fields, or if you live in a city, getting shitfaced off cider in a park near a busy road. Best songs- 'Perfect for Shattering', 'Like a Summer Rain' Dressy Bessy- probably the anti-thesis to Neutral Milk Hotel, yet somehow Tammy Ealoms 3 chord twee pop is perfect for killing bunnies and kittens to. Best song 'if you Should Try to Kiss Her' (featured in 'But Im a Cheerleader' movie)
I could go on and on about the various side projects of all the E6 members (of which there are dozens of hard to find records), and before any of you start bitching I forgot about 'this band!', the best thing to do would be go out and buy one of these albums, fall in love, and do your own research. Happy hunting!