In a perfectly white room, overlooking Regents canal I find myself staring at the head of Bart Simpson. Bulging lifeless eyes look up at me from a yellow, rubberised face that's begun to fade. Moving away from Bart I see a slightly dusty Dreamcast - a console that's recently celebrated its 15th anniversary - discarded records, Wedgewood plates, an Anglepoise lamp and a decapitated flamingo. This and more is the sum of our waste, the detritus of decades of consumption gathered in a room in Haggerston.
Dan Tobin Smith's latest artwork is one of the stand-out pieces of 2014's London Design Festival. Created from thousands of disparate objects collected by Tobin Smith and donated by the public, The First Law of Kipple brings our material culture into sharp focus and questions notions of beauty and usefulness in design. What underscores this is the sheer number of pop-culture items on display; forgotten icons and obsolesce crowding around your feet.
The installation is inspired by, and takes its name from, Philip K Dick's novel Do Androids Dream of Electric Sheep, where Kipple is not only "useless objects", but almost an entirely new form of life. "When nobody's around, kipple reproduces itself," says K. Dick, "the entire universe is moving towards a final state of total, absolute kippleization."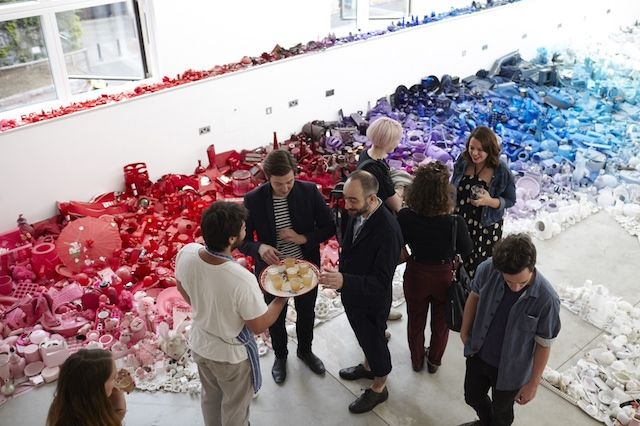 Tobin Smith, a photographer most recognised for architectural images, shows his more meticulous side with this piece, arranging the objects within the 200-square-metre studio space chromatically. Objects at the edge of the walkways are white and as the objects spread towards the walls, colour appears and passes into darker hues. Parallel to the walkways the different colours blend into one another, the collection of yellow objects moving into orange, then red.
Viewed from the upper floor of the studio, the piece resembles a city, a colourful, yet also dystopian metropolis. As a piece it's impressive both at a distance and up-close; examining individual objects that catch the eye. This is something Tobin Smith is aware of and has led to him creating striking photographs of different sections, three of which are displayed as part of the installation.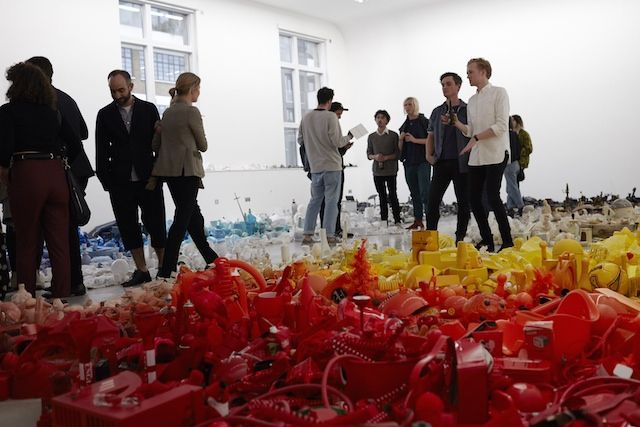 The First Law of Kipple, as befits its subject matter, is a temporary exhibition. Once the Design Festival is over the objects will be put into storage, though the intention is to reassemble the installation again at venues all over the world. However, it will never be the same installation. Each time these items are dragged out of storage they will be rearranged, positioned to suit the space the are to fill, perhaps picking up new objects along the way, but most importantly, they will have naturally aged just a little bit more.
The First Law of Kipple runs from 13th - 21st September. Open 10am - 6pm
Location: Dan Tobin Smith Studio, 52c Whitmore Road, London, N1 5QG
For more information about the London Design Festival, check out the official website.