The Google Art Project is Google Street View vs. the interior of art galleries. A fascinating and ambitious attempt to allow everyone access to famous paintings and galleries in the most incredible detail. Have you forever longed to view every brush stroke in 'Night Watch' by Rembrandt Van Rijn? You're in luck and you don't even have leave your computer screen. "Each of the 17 museums selected one artwork to be photographed in extraordinary detail using super high resolution or 'gigapixel' photo capturing technology. Each such image contains around 7 billion pixels, enabling the viewer to study details of the brushwork and patina beyond that possible with the naked eye."
'Night Watch' by Rembrandt Van Rijn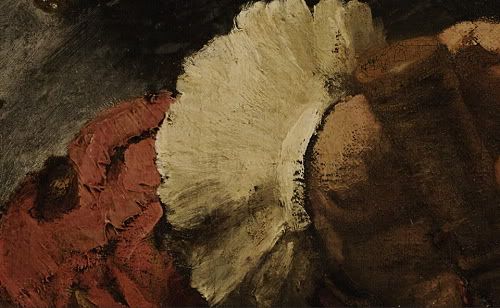 'Night Watch' close up
Though it brings many new possibilities such as allowing the user to compile and share collections of works, there are still flaws. While in theory viewing the interior of a gallery sounds fantastic, in execution it can be hard to navigate and jumpy with odd camera angles, as with Street View. The atmosphere of viewing work in a gallery is obviously lost when viewing from home. As a painter, I am both intrigued and terrified of the prospect that work can now be scrutinised in yet another way. There have been many creative 'hacks' involving Google Earth and Street View, such as this project by two Pittsburg art students 'Street With A View' (
here
). Besides the possibility of an elaborate art heist, the openly offered high res images welcome up and coming Bansky's to leave their mark, though perhaps only virtually.
'No Woman, No Cry' by Chris Ofili
The mammoth task of getting 17 major galleries to include 1061 artworks is impressive, an interesting first step in digitising a vast range of artwork for public viewing on a huge scale. Hopefully it will generate interest with people who haven't visited these galleries. If not, at least art students won't even have to leave their computers now. I'd love to see more galleries becoming involved but most of all I'd love you to get out of your seat and feel inclined to go visit one in the future. Visit the site here
http://www.googleartproject.com
and their Youtube channel
http://www.youtube.com/user/GoogleArtProject
here.
Images from The Google Art Project. http://www.googleartproject.com Quote from Official Google Blog: http://googleblog.blogspot.com/2011/02/explore-museums-and-great-works-of-art.html