The 405 team was out in force for The Great Escape this year, so rather than bringing you a band-by-band account of our time in Brighton, our editors/writers have chosen their five favourite bands from the event. Who came out on top? Read on to find out...
Photos by Tim Boddy
James Canham
Forest Swords - Tim and myself arrived partway through Forest Swords set (they started at the same time AlunaGeorge finished) to a stunned and mostly silent crowd. The two of them on stage (one at the mic, laptop and electronics and another on the bass) performing either side of a screen with some stunning black and white visuals while playing some of the most amazing sparse and emotive music would have been difficult to ignore. As they've always threatened with their recorded music, they've taken elements of dance music and turned it into an artistic presentation; they've been accused of over intellectualising dance music, but I think this performance proves that instead they simply understand the music to its finest detail and are able to make it dance to evoke so much more in people than just the want to move.
Fever Fever - It was a squeeze to get into The Hope to catch Fever Fever (one in/one out), and, despite some technical problems (pedals were told to "fuck off" numerous times), they played the crowd a set to warrant the hype. Their 3 piece sound worked exceptionally well in the sweaty upstairs of The Hope and with the supportive crowd that they had they played one of the punchiest and more ad hitting sets of the day. The thing that impressed most, more than their ability to get over the difficulties of having pedals break mid set and singer Rosie Arnold's remarkable talent to fit stocks of their 10" EP in some very intimate places (apparently), was the relentless, infectious energy that they maintained throughout. The crowd seemed to enjoy every bit of it as well, taking in every element and playing their part well (despite it being a relatively early show) which all leads to an early highlight of the still new festival. Fever Fever's songs are, while literate and considered, punk songs and they proved that with the performance.
AlunaGeorge - Along with most of the crowd, I don't think I knew what to expect from AlunaGeorge - the laptop producer and singer combination could go one of two ways. As it turned out George, the producer, busied himself with samplers and keyboards while a bassist and drummer joined the duo on stage to give them an unbelievable depth of sound. Instead of sounding flat or cold the set up allowed the complexity of the production and the subtleties of the composition play their parts while also creating something infectiously danceable to. And Aluna's voice - what a voice. She looked like she belonged on stage and ran the show with a superb presence and voice. They're supporting Friends on tour this month - check them out if you can, that promises to be one of the best tours of the year.
Kinnie The Explorer - The new band that blew me away at the festival (there's one at every festival, look for them) was Kinnie The Explorer, a Brighton based 4 piece who used their early slot on Saturday at The Haunt to launch their self titled debut album. Their mix of atmospheric, layered rhythm and pop sensibilities is catching and impressive. The one track that stuck in my mind most through their brief set was 'Scissor Dance', an ebbing and meandering track that sounds like a more organic The Sea And Cake.
Seams - The scene in the Corn Exchange 5 minutes was possibly the weirdest I saw in the festival. On stage was a DJ of sorts playing a set of ridiculous pop dance tunes and asking the crowd to raise their hands if they were female or if they smoked and on the ground the crowd managed to form a circle pit in which one chap appeared to sprain his ankle and had to receive attention from St John's Ambulance. In all this drunken confusion emerged Seams to play a pretty much nonstop mix of some of his best work on a mac and a sampler. Only stopping the beat once to shout his name and a thank you he ploughed through a selection of techno beats to a congregation of amassed dancers from the middle aged to the newly old enough to drink. While many were there to enjoy his set for its musical prowess and intensity, a lot were there to see his fringe, possibly the only autonomous dancer in all of current electronic music.
Tim Boddy
Odonis Odonis
Gang Colours
Forest Swords
Perfume Genius
Regal Safari
Wil Cook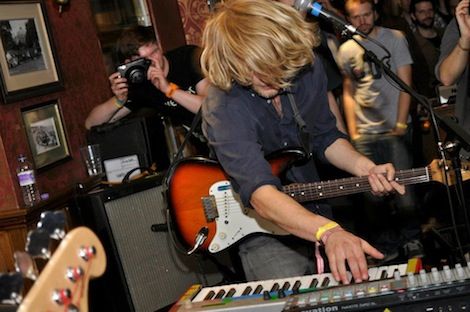 Tall Ships - They provided one of my highlights of last year's Great Escape, so I was suitably excited about seeing Tall Ships headline the BSM/Alcopop all-dayer. The transition from afternoon upstarts to headlining behemoths seems as natural as breathing for the band, whose older songs have been tweaked as new material has eased effortlessly into the set list. Their use of loopstation's make the three-piece sound much, much bigger, than you would expect. Songs that at first seem so effortless and simple, are actually intricate and technically stunning. It's telling that every musician I know, upon hearing Tall Ships, is a fan. To the outsider it looks natural, but seeing a band without an album headline a show over much more established acts is actually a huge feat. What we witnessed, if you were lucky enough to be there, was an incredibly talented group of musicians playing huge songs and winning over an excited crowd, and what could be better than that? [Photo courtesy of The Pav Tav]
Young Magic - Despite playing in my least favourite venue used for the Great Escape, Young Magic managed to be the surprise package of the festival, for me at least. The Brooklyn based collective essentially washed me clean with their brand of hazy dream pop. Every song drew me in and left me disappointed when it finished, although i can say without hesitation that "You With Air" was a particular highlight. This was an enigmatic performance from a young band who clearly have a lot of talent, hopefully they will have a long career to show it off.
Bwani Junction - I had intended to go see this band primarily because the gig was due to be in Horatios at the end of the pier and I thought a Dolphin Derby would shake off my godawful hangover. That and the venue has chairs. Turns out what would really shake the pain away would be songs like "She Ain't Saying No" and "My Body, My Mind" from Scottish four piece Bwani Junction. So it wasn't a problem at all that the venue had changed to pop-up venue the Warren, which outside was homemade and fun, but indoors was just like the high school stage I used to play on as a teenager. The band sound a bit like a grown-up Hot Club De Paris, which is remarkable because they are so much younger and also because Hot Club De Paris are so goddamn good, what is also remarkable is that I endured that warm room with prickly skin and a general hungover hatred for the human race to find myself overtaken by their songs.
Jonquil - As the creator's of my favourite album of the year so far and having seen them four or five times before, albeit not for a few years, I approached this Jonquil set with high hopes and a keen sense of intrigue. The Oxford based band did not let me down. Sticking to new material, they raced through tracks from "Point Of Go" which went down very well, even considering the early start time and the band's obvious hangovers. While the new material is not as dynamic as some of the older songs it is definitely more suited to a live environment. When Hugo's voice is given the space to unleash, unleash it does, and the growth in confidence from the early days is startling. Jonquil are a joy to watch and are one of the UK scene's prize assets. Lets hope that the world catches on soon enough.
Loney, Dear - I haven't seen Loney, Dear for years, and i've only seen him with a full band, so I wasn't really expecting the set that he delivered on Saturday night in that beautiful church. The setting plays such an important part in a show and I cannot help but think that if he had played this set in Above Audio, that I would've walked away! As it stood, I was so massively grateful that it took place in the church, and the sound got to echo all around me. The sheer spectacle of it all. You could drown in the air, amidst the hush of the audience, as the notes fell simply aching their beauty over us. Some of the experimentation with loops that we saw during his set felt like he was reinventing the wheel. Songs like Saturday Waits were played fresh and vibrant and full of emotion, all the feelings that sometimes get passed over with a full band were accentuated to their utmost, and I for one was a sucker for it.
Oliver Primus
AlunaGeorge
Retro Stefson
Grimes
Tall Ships
Young Magic
Daniel Wright
Perfume Genius - A lot of shows at The Great Escape had people chattering mindlessly at the back, having to be told to 'ssshhh'. Not so for Perfume Genius. There was pindrop silence in St. Mary's church for his set as the spellbound crowd sat in rapt attention. Live his voice sounds just as fantastic as on record, the achingly raw and personal songs cutting through you in the sweetest way possible. The setting is bizarre yet suits his sound perfectly. Drawing mostly from Put Your back N 2 it, Hood sounds magical as does Dark Parts while Take Me Home is celebratory. This is a truly special show and he more than deserves his standing ovation. At the end of the show grown women are crying. I might have had something in my eye too.
Loney, Dear - This is the first time I've ever seen the scando-Sufjan (as only I know him as). A man as big, bearded and bear-like should not be so beguiling. Yet by the end of his show Emil Svanängenhas the audience eating out of the palm of his hand. A crowd warming personality with hauntingly beautiful songs to match he has a knack for a beautiful lyric and melody. He mesmerises the crowd so much that we end up being his backing singers. Calm Down and Name are the highest of the highlights. Looping vocals, evocative lyrics, he is a one-man hurricane of gentle, heartwarming emotion.
Grimes - Haters be damned. To a packed and sweaty crowd (and with probably just as many people waiting in the queue outside) even water from an overhead pipe dripping on my head can't dampen my spirits. This is a set that justifies the hype, broadening and giving life to what is already a brilliant album. With a face covered in white make up and Hooded Fang as backing dancers, she's a nonstop jittery pop starlet, a wide child-like smile spread across her face. The only problem was her set being curtailed early and only being able to play half an hour. But these were technicolor Visions. Catch her soon, you won't see her in such small venues for much longer.
Niki & The Dove - More hype here too but again they more than live up to it. Fate has conspired to mean this was my first time seeing them – and at the end of Brighton pier is pretty special. Playing songs off the EPs and the new album, Gustaf Karlöf and Malin Dahlström certainly have a great sense of theatre. But the theatre would count for nothing if they didn't have the songs. So as Dahlström provides ethereal vocals she's backed up by dazzling synths. Camp and glorious, this is end of the pier stuff for another dimension.
Dante - Clad in a baseball jacket and cap Dante looks unassuming. But he produces something uniquely distinctive. You may know him as the drummer for The Concretes but on his own he has created mellow, yearning pop gems. His cover of Clarence Carter's 'Next to You' is a soulful, mellow delight. 'Won't Go' which samples Adele's 'He Won't Go', is nearly as fantastic. As the music takes hold he starts to dance around the stage. This is deft, mellow pop that always seems easier to create than it actually is to. Dante is ace.
Ryan Barham
There are so many bands playing The Great Escape that invariably you'll end up missing on many that you really want to see. But you can still ensure you have a great weekend by just taking a chance and discovering new bands or planning ahead to make sure that you're in the venue well in time before your favourites start. My top five acts of the weekend, in no particular order were:
The Twilight Sad – Singer James Graham revealed on Twitter after the show his doctor had advised him not to play any gigs over the week of TGE but you'd have never have guessed. Prowling the stage amidst a cacophony of heavy industrial noise and melodies, their 45 minutes were the loudest I saw over the weekend and a healthy mixture of old classics like 'Cold Days from the Birdhouse' and 'I Became a Prostitute' and new songs off the stunning 'Sick' album. They also gave the best introduction of the weekend: "We're The Twilight Sad, we're nothing to do with those films, they're fucking shit".
Perfume Genius – All weekend I'd heard so many people talking about Perfume Genius' gig, upon arriving at the church it was apparent that this really was going to be something quite special. After a terrific set from Loney, Dear before him, Mike Hadreas and two bandmates entered and delivered a spellbinding set that grabbed everyone's attention. There were definitely a few goosebumps and tears in the audience as the short songs took on a life of their own and filled the beautiful surroundings. It was a good decision to grab a pew early.
Admiral Fallow – Playing a Scottish showcase on Saturday afternoon, there were rumours of a queue 150 strong going right round the block of the unusual venue The Warren – what appeared to be a garage converted into a theatre complete with temporary bar. The band are in the middle of an extensive tour and it's clear this has enhanced their live show, providing a jubilant atmosphere to their folk-rock sound. With lots of crowd banter and even a singalong despite the early timing of the set, this was a gig that whetted the appetite for their new album immensely.
Cloud Nothings – Headlining Above Audio, one of the venues that probably isn't exactly the right shape for gigs, Cloud Nothings delivered a relentless blast of frenzied and grungy indie-pop, almost all drawn from the latest album 'Attack on Memory'. With people watching outside through the windows and a heaving crowd inside, there was even a one-man moshpit during the heavier songs. Dylan Baldi and his bandmates delivered a set that really grabbed your attention, the highlight being the extended version of 'Wasted Days'.
Spring Offensive – A showcase for the Alternative Escape, the Oxford five-piece played to a decent audience in Life – a sweaty club in a railway arch on the seafront. A set that was all too short, the band really grabbed the crowd's attention with their harmonious mixture of inventive post-rock and indie-pop melodies. In fact, the audience even remained silent when they decided to take to the middle of the audience to perform the beautiful 'Carrier' in unplugged fashion. An exceptional band.
Ian Walker
Retro Stefson – The Icelandic indie pop sensation lived up to the relentless live hype they've lived by for their two albums. An act that is completely unjustified on record simply came alive in Brighton at the weekend, playful synth tones mixed with the soft vocal vibes really transcribed seamlessly.
Perfume Genius – In an incredibly apt setting, this paragon of piano pop stole the show, his gentle tones complementing the beauty of his melodies flawlessly.
Alt-J – They may look like a bunch of geography teachers with an illegible name, but they can do no wrong at the moment. A tremendous all-round performance showcasing their array of off-center instruments, drum pulsations and that…indescribable voice.
AlunaGeorge – I would normally have been incredibly put off by pop-like vocals, but the infectious bass lines and almost dub step rapture of Alunageorge really took ahold of me. Every little bit of my music-critique intuition was telling me I should not be enjoying this, but the duo certainly put on a show; it was hard to ignore such brilliance.
Porcelain Raft – Despite only having half an hour to illustrate their unique sound, Mauro Remiddi and co. put on an eccentric show, which had the crowd lapping up their euphoric musical hues in a very diverse set at the Prince Albert.