B&W photos courtesy of Chris Matthews, and the colour photos courtsey of Karlie Pea
Dragging our sorry hungover asses to Above Audio first thing would usually be a chore, especially since we are still reeling from Luke's terrible performance as Dave Grohl in our late night karaoke session, but
Team Me
are fun incarnate. This was the second time in as many months that I had seen the band and I can honestly say that I would watch them every single day and not be bored. It is a pleasure to watch a band have so much fun onstage, a real honour in fact, because it's so infectious. Many of today's bands simply rattle through their sets with sombre faces and initiate the sales pitch before the last song. Polite as they are
Team Me
don't really "do" stage banter, their songs are strong enough statements on their own, but they sure as hell seem happy to be in Brighton. If you took a bouncy castle, face paints, zapp ice lollys and all the fun in the northern hemisphere, you'd still fall short of how much fun these guys are to watch. Psychiatrists should play their EP in their offices. Seriously.
The Jezabels
have been attracting a fair amount of hype of late. So as you would expect the bar fills up with a crowd not content with simply standing on your feet, they leave me wondering whether or not to press sexual assault charges… Their music, pleasant though it is, is just a vehicle for Hayley Mary's vocal chords. Its brooding radio 2 rock that I've heard a thousand times before and its not enough for me to endure the big squeeze. So we leave… Arriving at the Pav Tav just in time to see
Dad Rocks
, the project of
Mimas
frontman Snævar Albertsson, and his assorted band of musicians. It's a treat to see such an accomplished guitarist play stripped down to the bare bones. Songs that could clearly be massive anthems are rolled back to their intimate roots and touched up with delicate string accompaniments follow on from each other. Its wonderfully engaging stuff and it ends too soon, or it went on for hours and I lost myself inside a thousand thoughts inspired by the music, I'm not quite sure. Staying in the Pav Tav seemed like a good idea at the time, decent bands came along almost as quick as the pints of cider, (a massive lie - the bartenders were sharp)
Cat Matador, You Animals, The Social Club
and
Ute
are all worth your time, attention and money (the absolute truth) and if they ever play in your hometown - go see them play, you won't feel let down.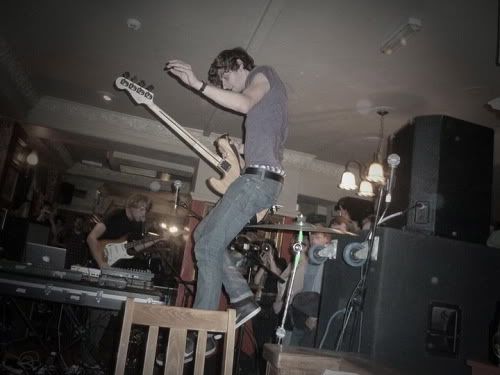 The absolute stars of the afternoon however were
Tall Ships
. Bursting straight into
"Plate Tectonics"
the crowd responded by throwing the appropriate shapes and the deal was made. Its hard not to enjoy an instrument swapping three piece who are as lyrically evocative as they are melodically euphoric. Both technically stunning and catchy as hell you get sucked into the melodies and find yourself humming their songs days later whilst walking home. They are a band to watch evolve into whatever they want to be over the next 12 months. Seriously, the world is their oyster. I ran across town to see
Various Cruelties
, of whom I'd heard big things about, and as the writers of one of my favourite new tracks "If it wasn't for you" I was suitably excited. They opened with a song that sounded like a pub band covering The Verve. I don't like The Verve so I was disheartened. Following that with "If it wasn't for you" was a good move and the tight bassline seemed to bob heads across the room. The third song was a terrible mix up of several influential bands that I am not into. As I looked around the crowd it became clear that we all seemed desperate to peg someone the next big thing, men in suit jackets with pound signs for eyes gazed longingly over the band as I walked out the door. To the cold Brighton seafront and the promise of
The Radio Dept
. The stage was suitably drenched in dry ice and facing a hesitant crowd the band eased onstage, gliding through a set of beautiful pop songs. My favourite kind of pop songs, the engaging kind that make you sway and hit you in the heart. The kind you slow dance with your girl to or daydream about how you used to slow dance with your girl to. It was solid set from the Swedes that i found myself completely immersed in but it was to totally mess me up for what happened next.
By now stumbling back across town towards the Pav Tav, the late night double header of
Stagecoach
and
The Xcerts
waited for me, with a packed venue and an electric atmosphere (Lets say that it was a little bit of a culture shock) but in much the same way as
Team Me
had woken me out of my hangover some 12 hours earlier,
Stagecoach
snapped me out of my Radio Dept induced bliss. Their enthusiasm is totally infectious and it's safe to say that the crowd were worked into a frenzy. Both the older songs and the new songs hit home. The new material is particularly impressive, more muscular than the bands previous output it bodes well for the future. The set quickly descended towards complete chaos with an unnamed guitarist in the band (!) shattering the oft-punished front of house chandelier during a stage dive, leading to an over zealous bouncer and a stage invasion to finish the set. Glorious.
I've been trying to find the words to describe what happened next. The simplest way is this:
The Xcerts
took to the stage and provided me with, hands down, the most exhilarating gig of my life. It is that simple. Watch this video and see what I mean.
At the end of their set, Murray MacLeod said into the microphone "If you enjoyed that, do us a favour, tell one friend" and the words hung poignantly in the air as we realised what he meant. Its safe to assume that no-one who was in that room could've stayed quiet about such a great performance from such a great band.
Top Three Bands of Friday by Ryan Barham
Team Me
One of The 405's favourite bands were first act of the day and attracted a decent turnout of industry types and hungover fans. And what a wake-up call they gave, playing all the songs from the tremendous debut EP and a few newer ones that hint at a slower but no-less-wonderful and exciting direction. It's still the same pop sound they excel at but with more experimentation and proves what a exceptional band they are. It is hard not to fall for a band when every member sings along at the top of their voice, especially the ones without microphones. As fascinating as all the band are to watch in their fantastic live show, it is hard not to be drawn to the enigma that is Synne - the one girl in the band who cannot stand still for one second and clearly believes in every little thing this band represents. And quite rightly so.
Jumping Ships
Playing in their hometown as part of the Alcopop! vs This Is Fake DIY showcase,
Jumping Ships
pounded straight into
'The Whole Truth'
with its addictive refrain and instant catchiness. The audience were always going to be receptive and the pummelling rock riffs proved them right. A couple of new songs were aired but understandably the best reception came for the previous single
'Heart and Hope'
, they went to prove they're one of Brighton's best bands right now.
The Xcerts
I'm not sure where to start with this set – I'd just enjoyed
Villagers
playing to a more mature audience then I'd seen at the rest of the festival, and came back to the Pav Tav literally as
Stagecoach
were playing their last note to an intensely enthusiastic reception. The pub was rammed and there was an atmosphere of anticipation as the trio started up. As soon as they burst into the more heavier songs from their back-catalogue, it is no exaggeration to say the whole pub went crazy – it was a true punk-rock show with so much love for the band on show and things really did kick off in a big way. Possibly one of the most exciting gigs I've ever seen, as you did not know what might happen next – this is the kind of reaction the band deserve at all their gigs.