All images courtesy of Nic Serpell Rand (www.serpell-rand.com)
Getting up early is never easy, especially when you know the first task of the day is to drive for over three hours, but there are definite exceptions and last Thursday was one exceptional case. Waking before the alarm went off, we threw everything into the boot of the car and whizzed off to Brighton with a smile joining our ears. They say that you learn something new everyday and we learnt that between our house and Brighton sea front you could listen to the entire discography of
The Antlers
and
Hot Venom
by
The Rebirth Brass Band
. It felt great to know that. Having been made welcome by The Great Escape team, and having had a picture that made me look like a serial killer plastered onto my pass, we set off to the seafront for the "M Pour Montreal" showcase. It turns out that
Winter Gloves
are an easy band to watch play live, which is perfect to ease myself into the weekend. Their music has hints of Death Cab, and during their keyboard led choruses, Wolf Parade. Their music was full of hooks but as I sit here, not one melody has stuck with me. I guess that is a problem that many indie rock bands have, but nonetheless it was an enjoyable set.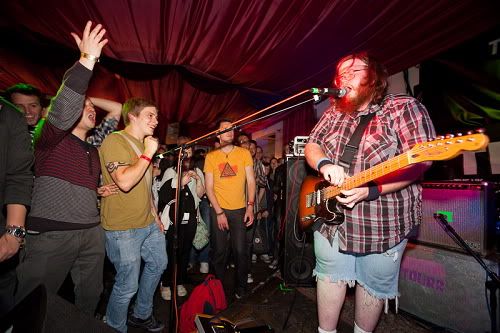 Next on the bill was one of the bands we are most excited about,
PS I Love You
, an excitable duo who fashion healthy slabs of indie rock noise from just guitar and drums (and occasionally bass organ). Paul Saulnier's impassioned yelp was one of my favourite things about their debut album, and in the bricked archway that is Life, it sounds more desperate yet even more despondent. The sheer amount of noise emitting from just the one guy leads me into daydreaming beams of light bursting from his chest in all directions like some scene from Scott Pilgrim. Its sloppy stuff in places, but its supposed to be so you forgive it, you realise that's the case when the solo kicks in and it is note perfect – immaculate. A really beautiful noise, one that really stands up to all the hype we can give it. The only problem I have is that they played four times over the weekend and I was really tempted to sack off the other bands and stalk them… The afternoon was mostly occupied by a burrito hunt, although I did get time to watch
Cloud Control
play a three song acoustic set, on a big relentless bus. The upside of this inevitably turned out to be their three way harmonies and stoned sounding guitars fit the sunshine perfectly. The downside was having relentless energy drink waved under my face every two minutes. "No Sir, I'm a caffeine free man" I kept saying, a concept barren to the faces of these people. After checking into the hotel and a quick power nap (it was a long day) it was time for the evening's music. Which was all to be found at St. Marys church, after a tip off that I would "in no way be able to get in later", I made the decision to miss
Grouplove
and everything else that was going on but this proved to be the best decision ever made.
Dustin O'Halloran
opened the evening with a string quartet backing his piano led compositions. His music is similar to that of
Max Richter
, but what it lacks in terms of actual engagement and occupation of your brain, it makes up for in its subtleties. Delicate touches of piano and strings made for the perfect introduction to the room, as you sat and got comfortable, taking in the stained glass windows and the Christian iconography surrounding you. O'Halloran's music allowed you to breath and take it all in, the sheer beauty and size of it all, I could already tell that it was going to be night that I wouldn't forget. As soon as you settled it had ended, to rapturous applause I might add.
Hauschka
followed and evoked the curiosity of my 12-year-old self, staring in wonderment at how this noise was made, much as I had done at rock bands in times past. I still don't truly understand how much of it was done, I know during one song he poured bags of ping pong balls into the open lid of the piano to make each tap of a key last for an eternity, and I know I saw his fellow musician play an instrument with a sex toy. Barring that visual delight, his music was much more engaging than that of O'Halloran, massive waves of sound filled the church and took over your senses. Something I'm not sure my words can convey properly. I will be looking to understand this artist more and more as time goes on. It was fitting that by the time
Max Richter
took to the stage the sun had gone down, meaning the stained glass windows that shone bright images of Christ's suffering over us all had faded to a dull grey, allowing his music to take centre stage. Draped in green lights his quintet played the "Infra's" which in Max's own words "was supposed to have an accompanying film, but a bulb has burst in the projector" Although I'm not sure that I could've coped with anything else to dwell on to be honest. Richter's music has long since been the music that I listen to at the end of my day, as I drift off to sleep, which has led to it taking on real personal significance as I unwittingly deconstruct every day of my life to its themes. To see a performance of it, in a venue so perfect for it in terms of acoustics and sheer magnitude, was something so unbelievably gratifying that I still cannot find the words. I was left speechless between songs, I was left speechless post-show, as we tried our best to come to terms with what we had seen. After the set of Infra, Richter himself took a back seat and allowed his string quintet to play "On the Nature of Daylight" gently rocking himself to the music, as we looked on in awe the musician's created a paradise for us in front of our very eyes. Something I will never forget. See The Great Escape is not just about great rock bands, while the masses watched Warpaint and Gang Gang Dance, the really lucky ones got to see a genius working at the peak of of his powers.
Top Three Bands of Thursday by Ryan Barham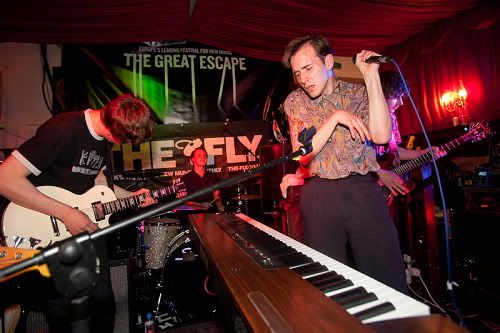 Dutch Uncles
With a highly-hyped lineup that had already seen
Two Wounded Birds
and
PS I Love You
take to the stage of the tiny Hector's House pub, the first band to fully connect with me personally was Manchester's
Dutch Uncles
. Shuffling shyly through the heaving crowd to an initially reluctant response, their Talking Heads meets King Crimson stylings soon won over the crowd, with at least three people in the front row taking inspiration from amiable frontman Duncan Wallis' unique 'Dad dancing'. The keyboard-led songs like 'Cadenza' and 'Sting' are instantly and immensely danceable, and the way the band grew in confidence throughout their set was a joy to behold.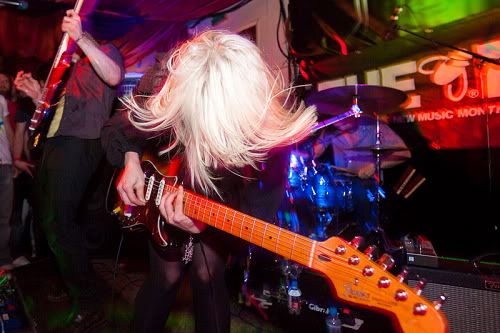 The Joy Formidable
With the headliners of Hector's House for the evening attracting even more of the 'cool' people who push to the front and act like tools, it is to
The Joy Formidable's
credit that they managed to blow away these idiots and shut them up (constant talking over bands was a real problem this year) in spectacular fashion. Their 45-minute barrage of loud grungey pop noise saw Ritzy's intense staring eyes absolutely covered in her black eyeshadow within 2 minutes of the first song, and the band just went about business in typical domineering fashion. 'Whirring' and 'Austere' may be three or four years old by now but they are still played with fantastic passion and zeal. And oh so loud. My ears were ringing even with earplugs in.
Dog Is Dead
It was getting on a bit by the time Nottingham boys
Dog Is Dead
took to the stage in the darkest venue known to mankind, Jam, at 1am and everyone was beginning to feel the day's events catching up with them. But the lads' bouncy enthusiasm and pop hooks had even the most drunk and tired punters dancing and singing along with a spring in their step. And those harmonies that are impossible to resist indicate DID are surely bursting with future outdoor festival anthems in the making. It will be a real shame if the nation doesn't wake up this dog very soon.
Check back tomorrow for our review of Friday at The Great Escape.