The Pains Of Being Pure At Heart are a Brooklyn based fuzzy twee pop band. Aside from having one of the best names in pop, the band has managed to win the hearts of fans and critics alike; an unimaginable achievement even for the C86 bands they draw influence from. Having released such an acclaimed, confident self-titled debut album, there is a preeminent buzz for future releases; after all, all the best English music is made by Americans. The Pains Of Being Pure At Heart took time out of their busy schedule to share some of their current picks.
Name: The Pains of Being Pure at Heart
About us:
Four awkward and nerdy best-friends who started a pop band in New York with the hope that maybe 12 people might like our songs.
Listening to:
The Big Pink "A Short History of Love." Pop music always needs a good villain, and a great record made by a band who knows they made a great record is pretty necessary every now and again. I get the feeling they don't care if you care, and not since The Strokes has rakish insouciance been done so well.
Reading:
Nightwood by Djeuna Barnes. This was a recommendation from a friend in Shrag (uk). I'm only halfway through, so I can't tell you if I like it. I like Shrag, however.
Live performance of Young Adult Fiction
Watching:
We're massive Peep Show fans, and we've just begun watching season 6. We have to jump through hoops/youtubes to get the new episodes here in America, but everyone in the band loves the show intensely. "Big Beats Are the Best. Get High All the Time." That actually sounds like The Big Pink, come to think of it.
Playing:
Hooky from life and a bit of Mario Kart.
Eating:
Gummi bears, missing wine gums.
Anything else?:
Last week on my birthday, we drank Four Loko's (it's like our white lightning) and we listened to Saint Etienne. It was the best night ever.
Promo Info
The Band are soon to tour the UK to promote their new 5 song EP - Higher Than The Stars EP which is released on the 9th November.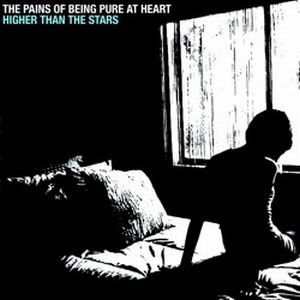 They are playing shows at: NOVEMBER Sat 28, London, Reverence Festival @ ICA Mon 30, Bristol, Thekla DECEMBER Tue 1, Liverpool, Academy 2 Wed 2, Newcastle, Academy 2 Thur 3, Glasgow, Stereo Fri 4, Manchester, Academy 2 Sat 5, Birmingham, Academy 2