Novalia, a London-based team of designers and engineers, have created the world's first interactive drum kit poster. The hybrid device seamlessly integrates touch-screen technology with the printed page. The poster is currently a prototype, but Novalia is hoping to launch a full-scale production of the device with the help of a Kickstarter campaign.
While printed posters and physical drum kits seem completely unrelated, the Novalia team utilizes electrically conductive ink and capacitive touch technology to connect the two. Adding a simple circuit board makes the poster completely functional. These technologies are not particularly groundbreaking or innovative on their own, but they have never before been combined in this way.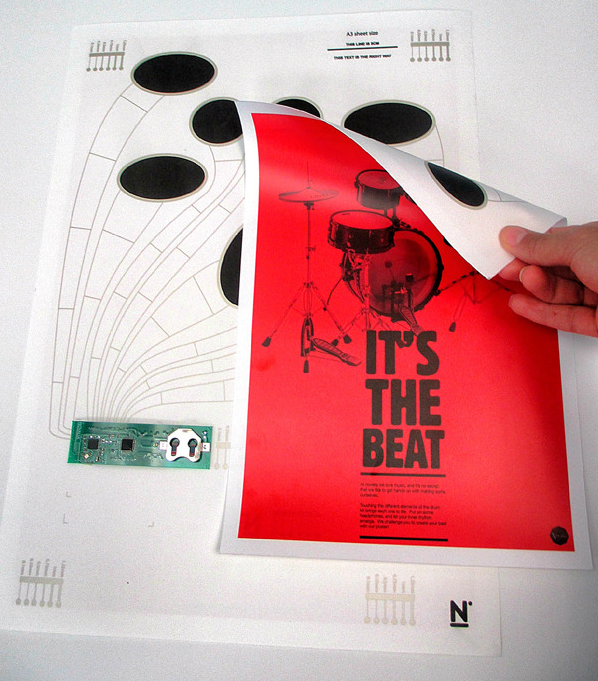 If funded, Novalia will print two versions of the drum poster. One will connect with an iPhone or iPad over Bluetooth to play the sounds. The other will be a standalone version that plays the sounds straight out of the poster's onboard speaker. This version allows you to physically feel the beat, as well.
In addition to the two standard versions, Novalia is offering an exclusive signed Kickstarter limited edition poster and a poster that printed on graphene, a supposed miracle material. The Kickstarter project page boasts that grapheme is "stronger than diamond, more flexible than rubber and more conductive than copper," which makes it the ideal choice for an interactive poster.
The posters start at £50 (add £12 for orders outside the UK) and will begin shipping in November of this year. Only £3,707 of the £40,000 goal has been pledged, and Novalia has until August 29 to reach the 40k threshold.
Remember to head over to our 'News' section to keep up to date with all the latest Music & Culture news.