Artist:
JK5
Link:
www.jk5nyc.com
This weeks
Artist of the Week
goes to Joseph Ari Aloi, a.k.a. JK5, from Brooklyn, New York. JK5 relentlessly develops his visual, textual, and iconographic languages through a diverse range of media. JK5 is a highly respected custom tattoo artist and has been so for the last 12 years. In 1999 Aloi published a 432 page, hard-bound "chronologically becoming" book of his work entitled "Subconsciothesaurusnex" and was a heat seeker for all of the exposure, relationships, and projects to come. The rest of the collection features concepts, patterns, and content from newer paintings and drawings, and the New Era fitted cap was designed from scratch. This is the first time that his book, SUBCON, has been celebrated, and translated into the form of fashion. He is currently working on new work for shows, more toys and book projects, his own clothing collections for kids and adults alike, animation and film projects, more collaborative and project based work, and tattooing Tuesday through Friday at Saved Tattoo in Williamsburg, Brooklyn.
Artist:
Marco Zamora
Link:
www.marcozamora.com
Marco Zamora was born and currently lives and works in Pomona, California. In 2004 he graduated from California Institute of the Arts, with a Bachelor of Fine Art. Using the paintbrush and pen to draw, Marco develops imagery about the urban landscape and the people that inhabit it. Producing a richly complex and experimental image, Marco goes into a neighborhood and shoots a spot, recontectualizing and collaging figures to create each paintings identity. City life, his culture, color/scale experimentation, and the working class have influenced his artwork. Splitting his time between painting and apparel design, Marco's recent work can be seen in a variety of Van's ads and collaboration projects as well as galleries up and down the west coast.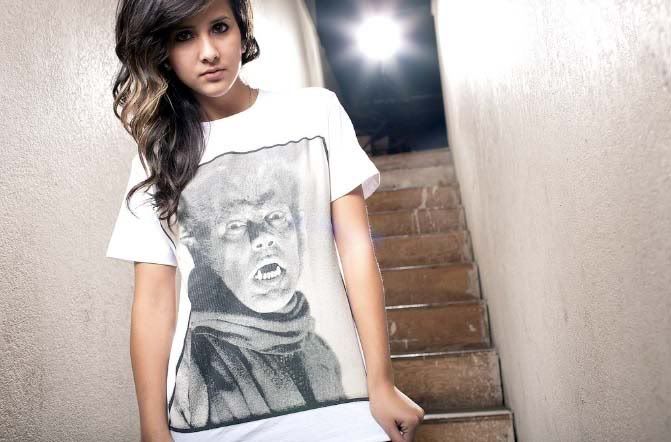 Artist:
Bryan Schnelle
Link:
http://bryanschnelle.net
Bryan Schnelle is concerned about the world. He depicts the flawless beauties of our time as we might find them in magazine spreads or on the big screen, but don't take this as an affirming gesture. By masking the faces of America's stars, Bryan highlights the lies being fed through our televisions and computer screens. His work advertises the imperfect nature of our aesthetic heroes, but if you blink, you might miss it.
Artist:
Fernando Chamarelli
Link:
www.myspace.com/chamarelli
Fernando Chamarelli is a UNESP formed graphic designer, illustrator and visual artist from Bauru, Sao Paulo. He started drawing cartoons, caricatures and realistic portraits and later became involved with street art and tattooing. It is by merging these different mediums that he creates his art. Â Chamarelli lives in a multicultural country of contrasts, therefore this environment reflects in his work. Including mosaic, geometric elements, organic forms and harmonic lines connecting symbols, legends, philosophies, religions and customs of ancient and modern civilizations. Within this diversity are the strong influence of Brazilian popular culture and pre-Columbian indigenous art. His art follows the rhythm of globalization, bridging borders and cultures closer. The Characters with serious expressions live in different realities and in situations that appear surreal. Music has a very important role during the creation, helping to give flow.
Artist:
Unknown
Link:
Not Available Street art meets Twitter. With the exponential rise in popularity of Twitter, one street artist has taken the graphic simplicity of Twitter to the streets. Pretty clever.