"
Isn't elegance forgetting what one is wearing?
"
- Yves Saint Laurent
"
People today are still living off the table scraps of the sixties.
"
- Bob Dylan
"
We based the look on rock n roll from the beginning."
- Vivienne Westwood

While I sit here listening to Joy Division's Transmission, I've pondered on the idea of where do fashion and music stand now? What were they like in the past? What will they be in 10 years? Where is everything going with the mass media boom? Iconographic figures from past eras—predominantly the 60s/70s proper from the Rolling Stones, Marianne Faithful, Edie Sedgwick, The Beatles, Bowie, Sex Pistols, Coco Chanel to Vivienne Westwood...they have influenced the realms of music and fashion as a whole up until now. The cultural sways that each era emits, there having been the sexual revolution, the hippie generation, the rise of punk, and other innovative reforms of the sort, we all can't help but to reflect back on those days and imagine/wish that we could relive those years ourselves; wearing high-waisted bell-bottoms, large-Lucite 70s framed glasses, and donning a feathered style hair-do. And yet, that all sounds familiar in the here and now of the 21st century, doesn't it? It's bananas... In a series of discussions that go way back to when we first met, Kyle and I continually share with each other our passions for both music and fashion. So, for me to tackle this subject regarding the interrelations between each artistic medium, I thought it would be nice to have Kyle co-write and share his views as well in this immense and captivating 405 Feature!... And so we begin. Fashion and Music. Two completely different concepts of personal expression, yet in every respect they coexist together where one cannot live without the other. Their histories are extensive and have culminated an immense diversity of genres, stereotypes, icons, styles, where in order to dissect the dynamics of each artistic sphere seems almost impossible. However, you can probe into how music and fashion works as a unit from a myriad of angles. Both fashion and music are ever-changing, ever-evolving, and continue to be crafted with striking and innovative inventiveness. Kyle and I approached this article by choosing to mainly look at the indie-rock 'n roll sides of fashion and music...and simply thinking that this is going to be a piece of cake, literally! Kyle:
Stones, Bowie, Lanvin +Acne, Pete, Irina + Lennon…I'm excited to get started! Steph, it's a piece of cake. This is what we talk about all the time. Or at least, one or the other…
Steph:
Hah, it's evident though in your text messages (which are awesome): "Check out Alexander Wang, his collection seems the most directional for this season….I'm feeling very rag & bone today." We've got it. We're good.
Oh, but it turns out that after hours on end bickering, debating, analyzing, making contradictions, figure eights, tracking history—for both fashion and music—Kyle and I came to a perplexed state where what we thought would be easy, wasn't and istn't
at all
. The options there to select from are infinite in both fashion and musical terms: grunge, glam, hip hop, zouk, psychedelic…to, couture, ready-to-wear, prep, street, simplistic, monochrome, etc., and of course the stereotype we know and all are soo fond of, "hipster." To exactly define what it means to be a "hipster" qualifies for an article in and of itself, so perhaps maybe later on in another fashion-music post write-up, we'll will tackle and deconstruct it to bits, again!
There is a certain connotation when one looks at say, a stripped tee with black nylons, ripped jeans and black leather, sneakers, brogues, suede blazers, silk scarves, flannel shirts, or splashy makeup. But what characterizes the relationship between fashion and music is as much about the definitive forms as it is the attitude. It's a spirit. An energy that has its origins in the rockabilly styling of Elvis' hair and the fetching horn rimmed glasses sport by Buddy Holly, the early prototypes of what would be the rock and roll icons that inspired youth culture of the fifties and sixties. While image has been a preoccupation of artists for years, the characterization of clothing and more specifically, styling, became essential to the success of an artist. No longer was it the diddy of a man or a woman on a radio; innovations in technology for media including TV and the widespread distribution of magazines chronicling the lives of bands permitted exposure to a greater fan base than ever before. Ultimately, the rebellious youth became infatuated with the overt sexual swagger of Mick Jagger in skinny velvet trousers with "dangerously" long hair. Modern musical icons were born. Of which came first, the musical icon or the fashion icon is very much a case of Chicken and the Egg. Images of a bare chested Jim Morrison in leather pants or the ever chic Francois Hardy riding a motorcycle through the streets of Paris in Vogue were venerated as contemporary icons for both their music and their style. As the industrialization of fashion created widespread distribution of luxury fashion labels around the world, innovations in inexpensive synthetic materials, as well as affordable, trend-driven-prêt a porter shaped an entire business related to fashion. As humble tailor became designer, became artist, a muse was found in the contemporary musicians. Now, one was not only able to venerate a Keith and Anita Pallenberg, but also dress like them.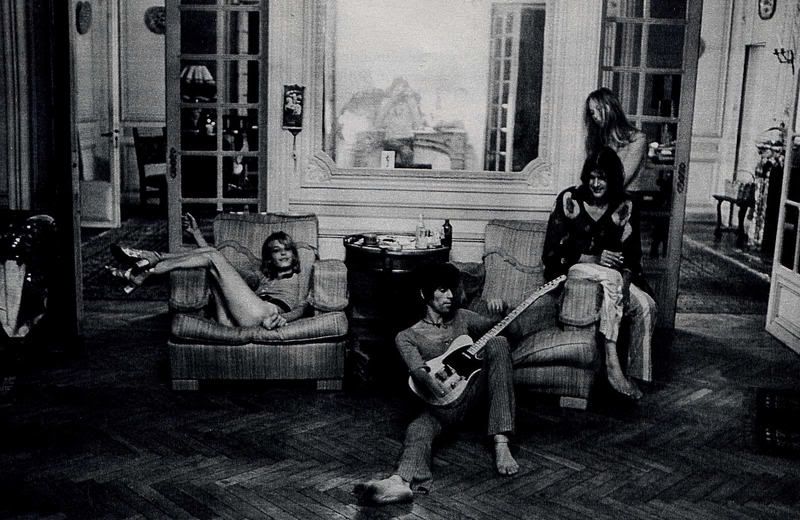 Kyle:
When we talk about the idea of musical icons, certainly their look is important. Considering that we're talking about good old fashion Rock and Roll, the earliest "sensation" of musician and his particular image could be considered Elvis? I'm thinking Jailhouse Rock, striped shirt, denim … he made all these great basics look effortlessly cool.
Steph:
He never looked like he wanted to be a fashion icon. He just wore clothes, and he wore clothes that everyone could have. But that hair …
Kyle:
Styling is definitely the cornerstone of the relationship between music and fashion. I mean the shaggy, mop top sported by the The Beatles kind of defined a generation. And yet, I think it simply was a case of them wanting to be different … they dressed in Mod wear like many in sixties London, but it was an attitude, an authenticity.
Looking at someone like David Bowie, the raw veracity of his lyrics and dress portrays an artist daring to be creative within his environment. By imagining himself in different personas, Bowie as a musician was challenging the established stereotypes of other artists and the image that was depicted in their dress. Indeed, to designers Bowie offered a muse of unprecedented capabilities: the androgyny of gender and fashion; indulging in makeup and adventurous hairstyles; and the glamorization of street wear by combining everyday basics with luxury wear. Steph:
Let's talk about examples of musicians collaborating with designers, and the effect of this relationship on fashion. It seems when looking at the Beatles in [Pierre] Cardin collarless suits that both artists are inspired by clothing and the capability of style. I mean, there's a reason they are called Beatle boots.
Kyle:
Yeah, it certainly merges the grey area between the two. Obviously the effect is beneficial for both parties: commercially profitable for designer and brand, image defining for musician. And the result always comes together best when [the collaboration] is born from a preexisting friendship, a mutual interest in each other that inspires a project … David Bowie's interest in Japanese Noh productions inspired him to collaborate with Kansai Yamamoto on costumes for his Ziggy Stardust tour.
Steph:
Flat out, a true relationship can also be mutually beneficial for both. Vivienne Westwood's relationship with the punk movement in London and the Sex Pistols has launched her fashion empire celebrating the iconography of [the band] and its relevancy in fashion. It is both sentimental and directional. This is definitely the appeal of the label.
Kyle:
And other famous relationships, Rufus Wainwright and Victor & Rolf, Madonna and Jean Paul "that bra" Gautier, Kurt Cobain's influence on Marc Jacobs grunge influenced a collection for Perry Ellis in 1992. Louis Vuitton had a party to remember Stephen Sprouse's neon, graffiti printed clothes with a concert with Debbie Harry. Both [Louis Vuitton and Debbie Harry] he has famously collaborated with. These sorts of relationships are contributing to a sort of faithfulness to define a style or image because they continue to inspire both [artists].
Steph:
I think that is really important. But it isn't just "high fashion" that is important to this. The simple Wayfers, the [Converse] Chucks, the [Levi's] 501 …
Kyle:
Yeah, fashion and music is not really determined by price. We want to identify with the attitude, not the cost. I mean, isn't that what the grunge aesthetic was?
Steph:
yeah
– Kyle:
But, it's also produced an entire business related to finding trends depicted by musical icons and making manufactured copies for stores. It's a bit of problem with the culture of the 21st century, you know … the retrospective in music and fashion. The facsimile.
Steph:
Like we now look back to musicians to create our own style instead of developing our own "identities."
Rodnik:
"Where brand is band and band is brand."
Fashion and music have proliferated to the point where accessibility is now boundless. As before, there's the "new world" of internet and blogging, television, music festivals, fashion weeks, local hipster haunts...basically we could possibly say that both spheres of fashion and music have become institutionalized in our society today. To backtrack to the start of the 21st century, what was once considered
avante-garde
is now common and, do I dare say, clichéd and now stereotyped? General? Everyday? Regular? Iconic figures in recent history are easy to simulate because what was once isolated is now accessible for everyone to recreate. It's a cyclical effect. There's the 'nobody' who becomes the next big thing because of internet blogging or something else of the sort. Then there's the manufacturer who mimics the "nobody hipster" image into production; the consumer, able to walk into a lifestyle store—perfect example, Urban Outfitters—where all the options are available from unordinary books, the cool indie clothing, record players, lomography cameras, and so forth. And last but not least, the end product: turns out that eventually we see multiples of what was once unique stereotyped. Artistic talent and creativity aside, almost anyone can get behind the camera, open a blog, and overnight you can become something like the
Sartorialist
, Yvan the
Facehunter
, or a party-scene mongrel with the camera lens at hand, slowly becoming the next photographer mogul akin to The Cobra Snake. To say it plainly, to be the next it Girl or "it" whatever, is now easy to get hold of. Kyle:
Fashion or music? Well actually, first off maybe I should say that considering the image that's being established, its cleat that much of what we're commenting on is the indie scene of music & fashion.
Steph:
M.I.A. for Marc by Marc Jacobs fall winter 2009. Corey Kennedy and her lifestyle blog. Its not like these people aren't talented, its just that over exposure has taken what's personal and made it accessible to everyone.
Kyle:
Exactly! Think about collaborations: its greats to see exclusive designers supported by big labels. There's Comme des Garcons doing H&M, Stella McCartney and Adidas, Christopher Kane and Topshop, Sebastian Tellier and American Apparel. It makes otherwise unattainable clothes affordable.
Steph:
With sites like the Misshapes … It's a great concept (sidenote, Leigh Lezark is badass, love her style. It's sick), but the site itself is a bit of a puzzle...a chaotic mishmash! I saw resource links to other blogs, party scene pictures, new albums to buy... I'd rather see music for music, fashion for fashion, photography for photography, you know? The untreated and crude purity of things, not the constructed and processed. I remember the old Misshapes site back in 2003, just pictures from weekly events, highlighting the outrageous yet innovative New York street style...
Kyle:
It's "that" image put out there, you know of trying to be the trendiest by wearing these items that are creating the lifestyle that screams, I-listen-to-MGMT. It's almost become too much.
Steph:
On one hand, yes. Personally, I believe it's all about finding yourself and your individual personal style…but this comes with age as well (haha, you should ask my mom!).
Kyle:
Oh you know I will! I think we can both agree that when we see people in that manufactured image it makes us want to escape to different artistic forms.
Steph:
It encourages us to pursue our passions and draw inspiration from the external. I love this quote by Coco Chanel, "Fashion is in the sky, in the street, fashion has to do with ideas, the way we live, what is happening." And same goes for music…
Our theory (which you may choose to agree or disagree), from just one of many angles we could draw upon, goes like this: if we detach music from fashion, and fashion from music, revert back to the basics, each entity today is simultaneously more or less re-entering what was once only the craft of music, or only the craft of fashion. "It's craft for craft", as Kyle puts it. More and more today, fashion and music is enormously and most certainly becoming organic, personal, reflective; looking back upon what was popular years ago. To truly look at things from inside out and using everything around you as inspiration—books, language, cities, nature, the atmosphere of a shackled decrepit building—we believe, this is where it all starts; the mind's imagination, the soul, the heart, perceptions and sensations. It's the purity in and of art itself! Looking at fashion concepts, we can start at American Apparel, then move up towards Sophomore, Patrick Ervell, A.P.C., to more luxurious collaborations, such as
Lanvin & Acne
(Kyle and I:
the unattainable *sigh*
)—creating something on top of the basics, exceeding boundaries. A.C.N.E. = AMBITION. to CREATE.NOVELTY.EXPRESSIONS ! …
Purely just fashion.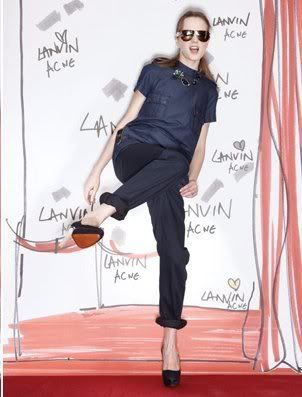 And as far as music goes, what I'm about to pick at is merely one example but it suffices for this newborn hypothesis. So, take a look at the sensational sounds of Beirut. It's back to the idea of simple imagination and drawing inspiration from the unknown exoticisms of culture, foreign sounds, interactions, the soul, and personal experience. Where Beirut's Zach Condon spent time in Paris, it was then and there when he became more aware of Balkan folk music. The exposure to what was foreign catalyzed Condon's subsequent exploration into world music—bringing about the sounds of Balkan instrumentals (The Gulag Orkestar), which strongly pervades Beirut's unique sound. So on one hand, we have the Pete Dohertys who reflect on tradition that has already been established, and also there are the Zacharys (Beiruts or even fleet foxes) that work from the inside out; tying personal impressions with external experiences.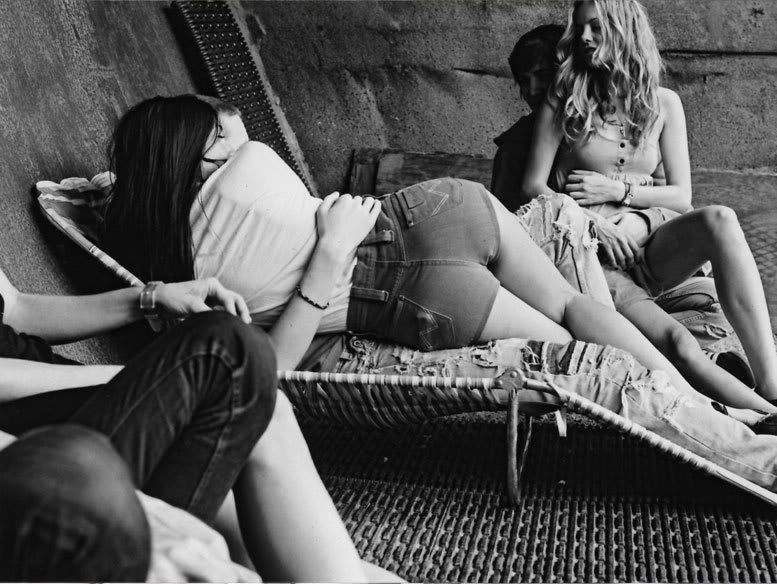 [photos from Sophomorenyc.com]
AND SO, we've come to a close! From the likes of what we've seen music and fashion has evolved in such a way that it reaches into the organic. It evokes emotions and thereby making it more personal. I think it's pretty much safe to say that all art forms are connected to each other, in some way, some how. And the collaborations of fashion and music represent only a mere fraction of Art's complex life cycle and all it's little intricacies and interconnections we can make. This is just the beginning... ~Fin.
Words by: Steph Guest Co-writer/collaborator: Kyle Besuschko PLAYLIST:
Pretty Things
- Rufus Wainwright
Burberry Blue Eyes
- Razorlight
Oh! You Pretty Things
! - David Bowie
Dedicated Follower of Fashion
- The Kinks
Mon Amie La Rose
- Francoise Hardy
Blue Suede Shoes
- Elvis Presely
Taper Jean Girl
- The Kings of Leon