This week's top videos come from Belle and Sebastian, Orbital, Dum Dum Girls, SHINIES and La Sera.
We're also treated to some background info on the videos from the people that made them, including one director answering the question, "what do you do when they say they want something Lynch-ian?"
Remember, you can watch all the latest music videos in our TV section.
Top 5 Videos of the Week
Belle And Sebastian - 'Crash'
" Fresh back in the UK after an 8 (and a bit) year stint in NZ, I was approached by Paul Glancy from Late Night Tales to make the video. I really liked their mellow acoustic version of the song and animation seemed the way to go. I decided to make paper toy versions of the band and the vibe of the song suggested a simple band performance contrasting with busy backdrops. I designed and then made paper versions of the band before embarking on a two day shoot around London and Chesham capturing various time lapse backgrounds. I then animated 3d versions of the band in Cinema 4D and comped them into the photographic backgrounds in After Effects."
Stephen Tolfrey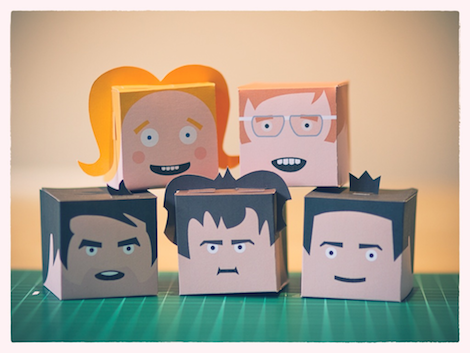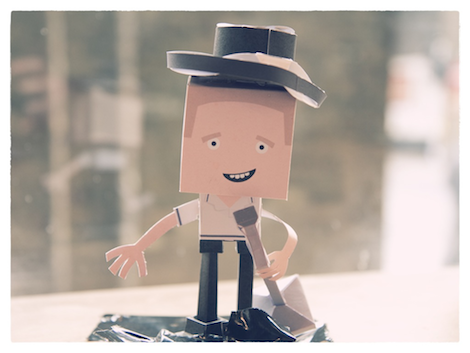 Orbital - 'Wonky'
Dum Dum Girls - 'Coming Down'
SHINIES - 'Shola
"The video references the Smashing Pumpkins promo '1979'. But the idea came from a cult 1980's stand up comedian, The Unknown Comic, who always wore a paper bag over his head. The video is about looking beneath the surface. In a world obsessed with fashion and fads what is it that makes us, us? Is it the clothes we wear, the things we do, or something you can't see. You have to look behind the bag.
Fabio R. Youniss
La Sera - 'Real Boy / Drive On'
"The video has multiple layers of 'reality'. There are fantasy sequences, dream sequences and flashbacks. When I first showed it to people, they were totally confused. The video is essentially about the metamorphosis of the artist in the act of creation. Katy has such a range in her song writing, and her new album has a much darker edge than the last record. I wanted to portray this with the idea of an Evil Twin or some such entity.
"I met Katy when we did a video for the Vivian Girl's Take It As It Comes and I fell in love with the first La Sera record around that time. It was Katy's idea to do a video for two songs with the general concept that that first one would be bubblegum and the other would be 'dark' and David Lynch-ian.
"What do you do when they say they want something Lynch-ian? Put in a midget? Anyways, I thought it could be an opportunity to explore the duality of the Evil Twin even further. The first video stands in contrast to the other in terms of light and dark respectively, but within the fantasies of Real Boy there are hints of her darker side and a foreshadowing of what is to come with the bondage and sado-masochistic overtones. In Drive On, Katy ultimately kills off her old self, and becomes a whole new entity, something an artist does every time they reach a new plateau in their process. And in the end, a lot of people have called it Lynch-ian even though there's no midget."
Travis Peterson
[
www.travisjpeterson.com
]