This week's top videos come from Elliphant, Earl Sweatshirt, M83, Autre Ne Veut and Sigur Rós. Expect space themes, horses, burning trolleys, hospitals and more.
We also spoke to Tim Erem, the director behind the wonderful video for 'Down On Life' by Elliphant.
For more videos, head over to our TV section.
Elliphant - 'Down On Life'
It all started out with me at the Universal Music office here in Sweden. One of the A&Rs that I work closely with played a track which I thought was great. This track of course. I told him that I had to do the video for the track.
A couple of days later I was at an after party that went on for far too long, suddenly I realized that I had a meeting with Elli and her producer. I immediately took a taxi to the place where the meeting was planned. I entered the meeting shitfaced and tried to look proper, then Elli entered the place and she just laughed at me. I started to throw some ideas out which they didn't like at all, they weren't probably as good as I thought at the moment. The ideas took us to another idea; we suddenly wanted to shoot on Iceland with Elli running around on a horse. Elli and her producer liked the idea. When I woke up I realized that I promised them a music video that's way off the budget we had.
I immediately went out on the streets to sell my body and soul, we actually ended up with some flight tickets in our hands from Icelandair as well, so we managed to do everything at last.
As we came to the locations in Iceland it felt like I had an orgy. It was my eyes having an orgy. I was scared that the locations wouldn't be as the pictures I saw before getting there, but we all fell in love with it. Four cards from the camera were actually corrupt when we came back, so we lost two locations. Fortunately we could make a video without the lost footage, and it ended up with this.
We spent the last night on Iceland with our new Icelandic friends at some different bars dancing on the tables to 'Euphoria' (Elli's producer will kill me for saying this). We woke up after 20 minutes of sleep heading to a plane with two babies crying for 1.5 hours.
I have too many stories to tell about this shoot that I could write a book about it.
[
Tim Erem
]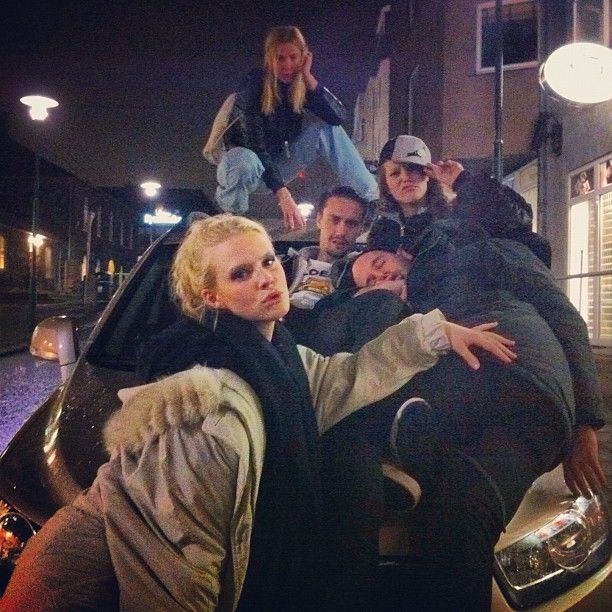 Here's a picture of us with Vigdis' (the blonde girl from the video) boyfriend sleeping on me and Elli just before the after party at our hotel. Just to illustrate our evening.
Earl Sweatshirt - 'Chum'
M83 - 'Wait'
Autre Ne Veut - 'Counting' (feat. Mykki Blanco)
Sigur Rós - 'Leaning Towards Solace'