"I've been reading a lot about medieval cloisters. One of my icons is Hildegard von Bingen. She would cloister herself, go crazy and have visions, and create the most beautiful music."
This is Claire Boucher – the 23-year-old Canadian singer/ producer better known as Grimes –extolling the benefits of completely sequestering oneself in a blacked-out bedroom when recording an album. Hildegard von Bingen (since you asked) was a 12th Century German mystic who shut herself away in nunneries for years on end, with little food or water, in order to reach the giddy heights of artistic enlightenment – or indeed, "go crazy, have visions and create the most beautiful music." Scoff as you may, but it paid off: Hildegard is enshrined by top scholars around the world as the author of the oldest surviving Christian morality play, not to mention a vast corpus of liturgical songs and poems. She's also the main reason Claire chose not to see daylight during the gestation period of Visions, her highly anticipated third album.
"Many people over history have done this kinda thing – y'know, total sensory deprivation – and it's led to great things. I just figured I could do the same," she explains, ominously.
It's the night before Claire is due to perform her fourth ever UK show, headlining the intimate Madame Jo Jo's in Soho. We're sitting on a burgundy sofa in a plush North London bistro. Next to us is a decadent old fireplace, while all around young, trendy Londoners sup from frothy pints and tuck into chunky-chip meals. As a setting, it couldn't be more incongruous with the idea of "total sensory deprivatio"" we're discussing, particularly the fasting part – which, incidentally, Claire has tried in the past. "In theory, I could go a couple of months without food," she says, her luminous eyes crackling with a spooky intensity. Although the singer is a self-declared rap fan (she loves Big Boi and wears 2Pac shirts onstage), there's something gothy about her too – maybe it's her interest in medieval mystics or maybe it's the eyeliner and big black boots she's rocking underneath her skirt. "I did have a Cradle of Filth t-shirt. I think it was like a crucified mummy," she explains, before mentioning teenage infatuations with Marilyn Manson and Nine Inch Nails.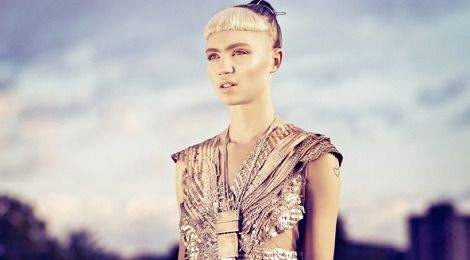 You see, that's sort of the essence of Grimes – all these disparate music styles and cultures, such as R&B/hip-hop, IDM, goth and medieval, casually hacked up and scattered about to a backdrop of whiplash beats and haunting melodies. On the one end, Claire enjoys the dark and oppressive gloom of Nine Inch Nails; on the other, she loves nothing more than the big, creamy choruses of Mariah Carey. For Visions, Claire even cites super-sugary Korean girl group 2NE1 as an influence: "I remember when I first heard K-pop, I was like, It sounds like Grimes! There are all these girls with their high-pitched voices and all these crazy overdubs and dances." Certainly crazy overdubs and dances are steadfast weapons in the Grimes armoury – Visions is layered with vocal samples that hypnotically snake around each other, while you only have to watch the video of 'Vanessa' to witness the latter. Yet it's undoubtedly Claire's high-pitched, murderous-dolly voice that serves as Grimes's main sell.
"I didn't think it was weird until people started mentioning it. I've talked to a bunch of singers and they say I'm singing incorrectly because I sing from my throat, and you're meant to sing from your stomach." Bizarrely, Claire's speaking voice is quite deep and sultry. It's also bloody quick and awash with big words, which sort of denotes her intelligence and good-schooling at Montreal's celebrated McGill University. Claire may have moved from her native Vancouver to Montreal to pursue a college career, but the prestige of academia was soon eclipsed by the lure of a vibrant music scene which centred on a disused warehouse called Lab Synthese. Here she would spend most weekends hanging out with musicians and artists, gradually finding herself recruited as a backing singer on various projects: "They were like, You're a girl. You can do it." When offered a record deal on Lab Synthese's resident label, Arbutus, Claire wasted no time in jacking in her studies to concentrate on music.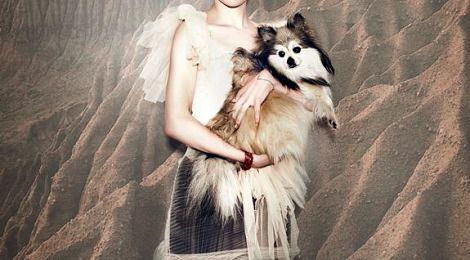 For the first year, Grimes was very much a project confined to the bedroom. Claire played the odd show and released a couple of albums (2010's Geidi Primes and 2011's Halfaxa), all the while balancing a fundraising job at a local radio station, but it wasn't until she bagged a support slot on Lykke Li's 2011 North American tour that things really started to ignite. Playing 4000-capacity venues really woke Claire up to the importance of putting on a performance, forcing her to evolve Grimes into a more tangible persona: "Before [the Lykke Li shows] I'd play a dance party and it'd be all dark and no one could really see you, but this was like, Bam! You're in the spotlight, you've gotta man up! You're a face and you're a person, and people attach to that." But, for all the new-found emphasis on glitzy pop performance, she says there's always going to be the shadowy 'Phil Spector' side to Grimes – the lonely, nocturnal producer who cooks up multi-genre voodoo from a keyboard, a drum machine and a laptop, all within the confines of a darkened bedroom. You could argue that such a personality split is in keeping Claire's character; she is after all a 2Pac fan in goth boots who fasts like a medieval nun but worships at the church of Mariah Carey.
At this point, I decide to unleash my piece de resistance and get to the heart of the matter. I ask Claire where she got the name 'Grimes' from, what it means and how it sums up her opaque and often-contradictory artistic agenda. "Oh, it's a secret," she smiles.
Visions is released through 4AD on March 5th, and you can read our review of the album here.