In February and March We Aeronauts toured with Cat Matador to promote their respective new CDs. This diary was kept by We Aeronauts' drummer, Jeremy. The 'Chalon Valley' EP is out late May on Brainlove Records.
Thursday 24th February
Cat Matador EP Launch, The Cellar, Oxford
I love King of Cats. The venue barely constitutes busy yet, but as people drift in there's a high chance they'd find Max laying on the venue floor playing the ukulele to the ceiling. The rest of his set is on stage but no less captivating and as usual I'm hung on every word. Spent most of the rest of the night trying to buy his new EP. Did buy it. It's really good. We played next and it was really fun I think though it seems an awful long time ago now so I don't really remember. I think something happened in Capri Sun to make us all feel like it felt 'right' or something, or maybe just feel wholly comfortable with it. By the time Cat Matador played it was really busy which was a bit phew! They played a pretty awesome set including this one they didn't play again all tour with this wicked do-do-de-do-do whistly guitar bit which Tom kept do-do-de-do-doing along to every time which was just the right side of annoying (Ed- song = Down). Not being on stage with Zuhberbuhler (We Aeros/Cat Mat Guitarist) was a bit odd, though it was really nice to sit back and hear his beautiful guitar bits without worrying about drumming. Got their new EP too. Also, really good, and soundtracked a lot of the road trips below. By this point Tom, Greg and I are accidentally well on our way and I fear I'm a bit embarrassing to a Greg lady, especially when randomly shouting tour! to random Cat Matador members trying to meekly load their stuff out. It catches on eventually, ish, and we walk home smiling. A good beginning then...tour!
Set List:
1. Fleet River, 2. Boatswain's Cry, 3. Chestnut Tree, 4. Chalon Valley House Band, 5. Through the Door, 6. Capri Sun.
Tuesday 1st March
The Purple Turtle, Reading
A dystopian planet of a gig; The Trial in a music concert. It didn't start particularly well as our transportation got caught up in the grey kaleidoscope of Reading's one way system. After finding the venue by calculated fluke (me, alone, with scribble maps for company), Greg and I then proceeded to get lost in a car park that seemed to shape shift to keep us within. Back to the venue, The Purple Turtle, more like a tiny purple cock, spewing angry metal fans and shit sound men. First band sub-Lonely Girl (Jeremy's first band – ed) without the charm. 'Portsmouth's own Bloodhound Gang', they'd probably dub themselves........ Then we played. Worst sound ever, feedback the only victor. Predictably, we capitulated, mouthing despair, gesticulating: drowning. Sounded worse accordingly. Three of us not sulking (as much) stick around for Cat Matador who sound ace and we're left wondering quite what happened. And not at all looking forward to the possibility of Northampton being at all similar.
Setlist:
1. Fleet River, 2. Distance Learning, 3. Chestnut Tree, 4. Through The Door, 5. Capri Sun
Friday 4th March
The Labour Club, Northampton
And yet... space pods burst out of oxford traffic up the A34, little sparks drawing on... The Labour Club. Our spark, bopping along to Holy Fuck throughout, a little too enthusiastically points out the Sixfields Stadium to nobody in particular as we delve deeper and deeper into Northampton's murk before we're there, and any doubts are in tatters. Because it's ace. Part living room, part left-wing stronghold, with bar at the side and crimson lamps on the stage. The lovely sound man doesn't seem to mind that we're late and doesn't seem to adhere to the cast iron anality of many of the ilk. Come 8pm good looking trendy kid is followed by good looking trendy kid at the front door and together with Cat Matador's always impressive loyal entourage, it fills up. First up, Ross from My First Tooth. I don't know of said band but what he comes out with is really lovely, for want of a less condescending word... maybe, lush, it's really lush, a voice to stick in your head and make you smile and really good songs that make me want to check them out. Us, well, think the opposite of Reading. People seem to enjoy it what with their hip movements and such and we (I) don't fuck up which is always nice. And we can hear each other. And it's super fun. Cat Matador sound great as always. If Liam and Sian could follow me around every day singing The Address, that'd be brill. Greg, Cunning and I rinse through the real cider (Greg appears to have flirted his way to a steady supply of 'Fireballs'), which I was assured is 1% as hardcore as what's going down round the back, before suddenly it's over and it's indie disco time, with the kids going mental accordingly, and we've got to pack up. After boring Zuhbs to death with an hours pyschobabble about the Premier League relegation battle we get home. By this point Reading is a removed tumor, cut out and clinically disposed of. Bring on Birmingham and Bristol in a couple of weeks.
Setlist:
1. Capri Sun, 2. Fleet River, 3. Chestnut Tree, 4. Chalon Valley House Band, 5. Through The Door, 6. Song For a Little Magician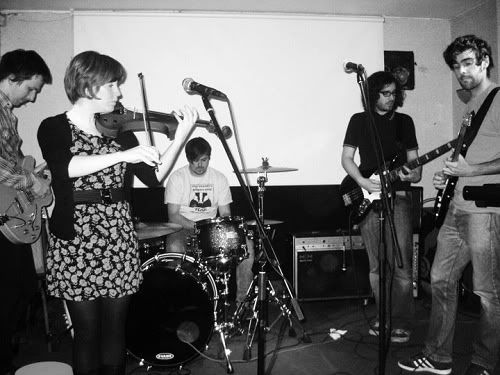 Friday 18th March
The Victoria, Birmingham
After collecting Anna from the middle of a field in deepest shire and subsequently racing the other aeronautomobile up the M40, we arrive at The Victoria horribly late. Luckily for us, Neil and Paul from The Party Planning Committee are super lovely so we don't get shouted at and just negate sound check instead. The venue's already filling nicely and before we know it LookIMakeMusic are on, always ace with their own blend of "spoken word emo" as I terribly dub it to anyone who listens (no-one). It sounds heavier and emo-ier tonight than usual, which is superfine by me. Cat Mat are then spot on as I spend most of their set boring some old friends to death debating which is my favourite of theirs at the current time (evolving around 'The Address' and 'that one that sounds like Thursday' (T Wade, 24/02/2011)). By the time we play I'm struggling to hold my cider but it's still really really fun. Dear Greg perhaps overloaded the midlands 'banter' with frequent St Andrews bashing and Black Sabbath riffage. His performance was later commented on to be "51% rock and roll. And 49% cock." Everyone rushed back to Oxford to DJ / dance at (Uber-hip Oxford club night – Ed) Progressively Less Elephant apart from me, who danced to Hefner and The Wedding Present into the wee hours until the Victoria thinned out.
Setlist:
1. Chestnut Tree, 2. Fleet River, 3. Distance Learning, 4. Chalon Valley House Band, 5. Through The Door, 6. Capri Sun
Saturday 19th March
Mr Wolf's, Bristol
After a hurtle south spent grinning at a certain wonderful scoreline after a certain wonderful afternoon in north Birmingham (Villa 0-1 Wolves), I arrive at Mr Wolf's to be asked when I want my free noodles and free beer. It set the scene for a pretty special night: the venue, part, erm, venue, part noodle bar (yeah, ok, no shit), already busy at six, rammed by eight. Only tarnish was the fuse blowing on the bass amp, cue Tom and I helping Sandy of local band Figment to find replacement, dashing across the city to a lock up straight out of Grand Theft Auto, or something, but whatever, we made it back in time for Cat Matador who (see superlatives above). Lots of Cunning's friends arrive, possibly off their reproductive organs, and everyone's talking to everyone and spilling on and around the stage and we're playing and they're all dancing, and we have tonnes of fun. We proceed to a lock-in at a lovely pub in Stokes Croft owned by the friend of the brother of Anna and all ten of us just get slowly, happily and inevitably ratted. We ask very politely to get into a house party at 4am. Very politely fail. Sleep in aforementioned brother's shell of a new house, huddled bodies for warmth. The kind of floor sleep when you wake every half hour when your bones start to bruise. Sunday spent on patios in the sun. We drive home.
Tuesday 22nd March
The Dublin Castle, London
A famous venue, with famous people's photographs on the walls signed by famous people. But Amy Winehouse's grin can't hide the feeling that The Dublin Castle seems a conveyor belt of misguided hope. There must be thirty bands on the gig poster. For that week. All in the same glaring font. Nevertheless, we (I) get there nice and early and unload my own drums for the first time this tour, ever so slightly petrified The Baron (Chris Roe-French, Cat Mat drummer / hummingbird) won't approve, especially as Penus is hanging off the bass drum in sticky tape from the last Ace Bushy tour. Everyone slowly arrives and yeah, it appears for quite a while like we'll be playing to CatMat and Laura. Greg and I watch the first band Inca Gold alone at the front and they're pretty quick to dispel our cyniscm by being pretty good. 'Dreampop' I later see them described as on a random poster at the Windmill and that's pretty accurate. They reference knowing everyone there watching and slightly puzzled we realise there are a few people hiding right at the back in the shadows. Some friends.... The middle band has pulled out but no-ones told us, so no-one's told us we're next so no-one's told us our set is being shortened with every sip. Cue a frantic five minutes and we're off, sadly without Anna due to reallife, so we're 'beefing it up' or something...we play louder basically, and it's still fun. I leave my tambourine 'backstage' (a cupboard) and have to have a little wander during Chalon Valley, which was pleasant, though I did apparently get shouted at by the door lady for not paying as I walked back in. Cat Matador play next and I feel bad for The Baron having to hit my rusting contraption but he's very sweet about it at the end. They sound great again, my favourite song definitely now evolved to That Thursday One but Darren's bassline in Soren is certainly sticking its nose in too.
Setlist:
1. Fleet River, 2. Boatswain's Cry, 3. Chalon Valley House Band, 4. Distance Learning, 5. Through The Door, 6. Capri Sun
Friday 25th March
Our EP Launch, The Cellar, Oxford
Now the saddest thing about this tour to date had been the lack of Adam Jackson, our trumpet player and generally all round wonderful person. So it was so amazing to see his face again and eventually hear his trumpet again, which just makes everything a tonne better. After doing all the boring band stuff and setting up our stall (A Cat Matadorian ancient trunk full of CDs), bffs The Gullivers are on first. We've probably seen them play better, but it's still brilliant and Zuhbs and I later confirm that they're still quite probably our favourite Oxford band. It's filling up nicely as Cat Matador play another super set, though Greg and I miss part of it on a doomed little drive to his house to find a capo, without his keys. We had a lovely chat though about some deep shit or other so it was worth it maybe. We get back with it already pretty crammed so we're peering through shoulders, singing along to every word. And so us. It goes really well. Everyone seems to love it. Weird cross sections in the crowd, pockets of people someone knows...bopping, screaming away. Driving enforced sobriety means I don't cock up which was a plus for sure. And having Ads there was brill. Slink away with drums after making an order with Grill of the Gullivers for a good bottle of the Captain for when we get back to the Stables (our Oxford HQ), and we dance there until very early, a large part assisted by said Captain and Zuhbs' strobe light. The lovely man who did the really good Cat Matador artwork rinses through a huge bottle with us and is really slowly sick all over himself on the stairs. And we go to sleep.
Setlist:
1. Fleet River, 2. Chestnut Tree, 3. Distance Learning, 4. Boatswain's Cry, 5. Through the Door, 6. Capri Sun, 7. Chalon Valley House Band.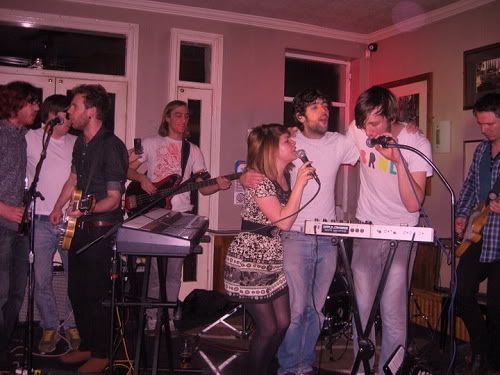 Saturday 26th March
Benson's Bar, Nottingham
Tom and I drive up first with all the gear and set the world to right on the way. Everything all goes quickly wrong upon arrival at Bensons (sub student union shitcore bar?), as the bar manager claims no knowledge of the gig and has in fact booked the regular karaoke man instead for that evening. The other band are pacing around frantically. The promoter's not there. The manager's manager apparently contacted us to ask if we were still playing. We'd had nothing. Yeah. Bummed. Out. The other cars arrive and everyone gets increasingly glum at the news. We come up with a pretty good contingency gig in Tom's living room, so good in fact that when our 'we've come from Oxford' sob story wins out and the manager cancels karoke, everyone kinda wishes he hadn't. A bit. Turned out the big boss had messaged a band called The Astronauts from Ilkeston...Words....fail... Anyway so on with the show etc etc, to eventual relief we load in and everyone goes and eats and stuff apart from Tom and I who watch the first band 'Alaska' who for me teeter on the brink of being really awful and quite good, eventually deciding on the latter; they're a bit like early Weezer and they're singer has some Frank Black moments. I enjoyed it anyway... Spent the next hour or so on 'merch' as the venue filled up and I met some lovely Nottingham people as Cat Matador and then Cats From Peru went about their business. It was sad seeing CatMat for the final time this tour but I was still feeling a bit peeky to be honest so enjoyed it from my high stool. Cats From Peru were good kinda synthy pop but sadly the singer's t-shirt automatically gave me and Anna a wholly irrational negative turn due to a certain phobia and the all too glaring prominence of a fastening tool right down the middle, bright red and winking. Couldn't really deal... We played and we had a mega cheesy singalong in Chalon Valley in which Cat Matador all came on stage in that way that bands do on the last day of tour, which was lovely. And that was that. Goodbyes were made and I dragged Tom home via the hugest pizza in Nottingham. So in the end it all worked out! And was really amaze fun. Let's do it again, yeah?
Set List:
1. Capri Sun, 2. Distance Learning, 3. Chestnut Tree, 4. Boatswain's Cry, 5. Through the Door, 6. Chalon Valley House Band.