Last November Lanterns on The Lake toured the UK and Europe for a month of shows in support of their beautiful album Gracious Tide, Take Me Home. We asked the band to jot down some of their highlights from the tour, and this is what they came up with.
Tour Diary Highlights
1st November. The Sage, Gateshead.
Tonight is the first night of the tour. We are pretty excited about playing at The Sage. We've seen some of our favourite bands play here in the past and I guess it's always been a kind of dream of ours to play here. Earlier today day we find out it's sold out. This is also our hometown so tonight we have some family and friends in the audience as well as the people who have been supporting our band and coming along to a lot of our gigs over the last few years. It's nice to share this special night with them. My birthday is the next day so after the show we head over the bridge and go for a couple of drinks at The Head Of Steam. David, our driver and very good friend, joins us here; it's great to see him.
4th November. Dover - Calais.
Today we make the journey from Dover to Calais. On the way we listen to 'I Partridge, We Need To Talk About Alan'. This becomes a welcome companion on our long van journeys. On the ferry we arm wrestle to find the strongest and weakest Lantern. The rules are: each challenger must wear a mitten and elbows can't leave the table. Turns out Paul is the strongest and I am the weakest.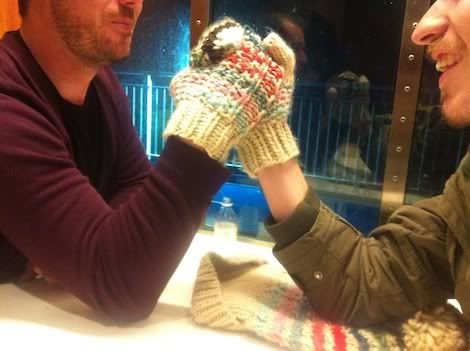 5th November. Boule Noire, Paris.
The traffic in Paris is pretty hectic and we almost get attacked by a window washer guy who demands we pay him even though we told him not to clean our windows. Eventually we get to the venue. This is our first European show on this tour so we feel a bit nervous and hope that some people come to watch us. The promoter treats us very well and we get an incredible amount of food and wine, maybe not ideal just before you go on stage but lovely all the same. The show itself goes really well and the venue is packed. The audience is a lovely bunch to play for too - quiet in all the right moments and loud clappers. We get the chance to chat to some of them after the show too. Some of us go for a wander around the streets of Paris. Outside the Sacre-Coeur a busker plays bizarre cover versions including Radiohead's 'Creep'. He's gathered quite a crowd of drunken teenagers who sing along. Inside the Sacre-Coeur it's entirely different. A choir of serious looking nuns sing in Latin before a silent audience; their voices fill the Basilica; it's beautiful.
11th November. Rolling Stone Weekender, Germany.
We are at Weissenhäuser Strand on the Baltic coast for the Rolling Stone Weekender. It's cold. A couple of hours before our stage time we meet up with some German TV folk who are going to film us play one of our songs acoustically and do an interview. Someone has the idea to film us on a kids' roundabout. We all squeeze on to the tiny red roundabout, the cameraman stays stationary as an assistant crouches on the floor and spins us round and we play the song. We keep getting the giggles due to the surreal-ness of it all so we have to keep stopping and apologising to the film crew. While we are playing I start to feel dizzy and I wonder how on earth we came to be on the Baltic coast being spun around on a children's roundabout while someone films us play our songs.
Later that night the show goes well and we spend a couple of days off here. Our good friend Andy has come to visit us and hang out. He's always great to have around. We have an awesome time skimming stones on the beach, cooking meals, going for walks and we even go swimming in the 'sub-tropical paradise pool'. We learn a lot about German pool and sauna etiquette here. We get a telling off from a naked German man. He says we are perverse for not being naked.
18th November. Den Haag, Holland.
Tonight we are playing in a beautiful old church as part of the Crossing Borders Festival. We arrive early to soundcheck. Sunlight pours through stained-glass windows and the pipes from the church organ tower above us. It's impressive. We get into a bit of trouble before soundcheck when we drop our canteen meal vouchers down the crack in the floor and pull up the floorboard to rescue them - not the done thing in such a precious old church apparently. It's worth it though, for the catering at this festival is one of the best.
Sarah's Granny is coming to the show tonight. She is Dutch and has recently knitted us all some jumpers which are the envy of everyone who sees us wearing them. We are all excited about seeing her and thanking her in person. Moments before we go on stage I peek around the corner to see the audience. The church is packed and I see an impressive light show across the huge walls and stage. We all go on stage and start to play our songs - the view from the stage is incredible. It's one of my favourite moments of the tour. Before we know it the show is over and we are loading all of our gear back into the van.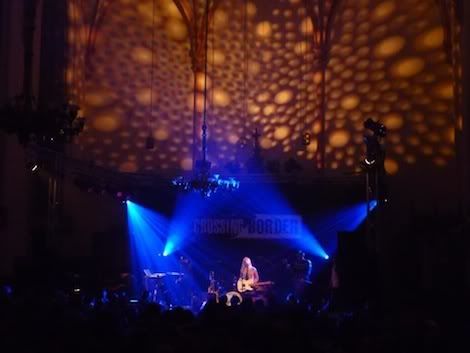 19th November. Antwerp.
Best beer in Europe.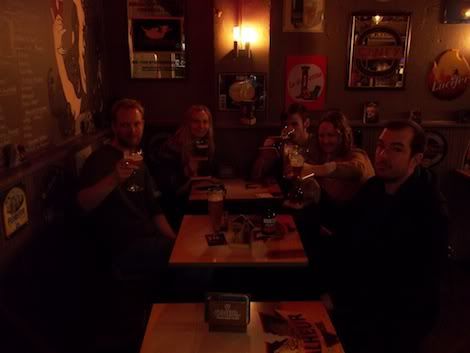 22nd November. The Lexington, London.
The Lexington is sold out and we've been looking forward to this show for a long time. The Pattern Theory are supporting us. We've been playing a number of dates with them including a couple in Germany and they are a lovely bunch of fellas. We watch their set then head backstage to wait. As the nerves build we spend some time reading the graffiti on the dressing room walls. It leaves a lot to be desired. Someone tells us it's time to go on so we head up the stairs and walk out on stage. The audience are very warm and welcoming. We play our hearts out.
23rd November. The Cooler, Bristol.
Before the gig we eat in a lovely Greek place next door to the venue. A couple of friends who we haven't seen for a while join us. Afterwards we head back to the venue and backstage Sarah treats us to some of her favourite 80's music videos. It's Adam and Brendan's Mum's birthday today. During the gig we phone her number and hold up the phone while the audience sing 'Happy Birthday' to her.
27th November. The Deaf Institute, Manchester.
This is one of our favourite venues and favourite cities to play so we've been looking forward to this show very much. David has been home for the last few dates while we drive ourselves but he joins us again tonight and it's good to catch up with him again - he's been a great miss. There has been a bug going round the Lanterns camp so a few of us aren't feeling too great. Ol in particular hasn't managed to hold any food down today so it's touch and go for a while. We manage to get through the gig and it's a very enjoyable one despite some of us feeling unwell. The audience is lovely, as they always are in Manchester and we briefly catch up with a couple of friends and family who have come down to see us.
30th November. Electric Circus, Edinburgh.
Here we are, the final night of the tour. After soundcheck some of us head to a little pub called the Jiggling Geordie and have a pint. We talk about how the past month has gone - all the highs, all the lows. The things we miss about home and the things we've loved about touring. We head back to the venue and there is quite a crowd gathering. It's the last date we play with Johnny & Lucy who have supported us over the past week and I'll miss seeing them play. Our backstage room is actually a private karaoke room. It has a black leather bench to sit on and painted on the walls are AT-ATs from Star Wars with balloons attached to them alongside half naked female warriors. Odd. The show goes well, we all enjoy every moment of it. As we play the songs I think to myself that it's the last time we'll play them for a while and I wonder how many times we've played them in total. After the show we load out all of our gear from the venue for one last time (that's one thing we won't miss!) We have a beer in the van on the way home and we play The Doors 'This Is The End' before falling asleep.