In February
Sad Day For Puppets
embarked on a successful tour of the UK and this is what happened.
Words from Anna Eklund
First show is in Nottingham. We are followed by our friend and sometimes tour manager John Lynch, who is kind enough to help us with some of the gigs this tour. He will not attend all shows, since he's having a gig of his own during the week, together with Damo Suzuki. The support bands of the evening are very nice people but the guy that borrows Micke's drums, gives them a severe beating.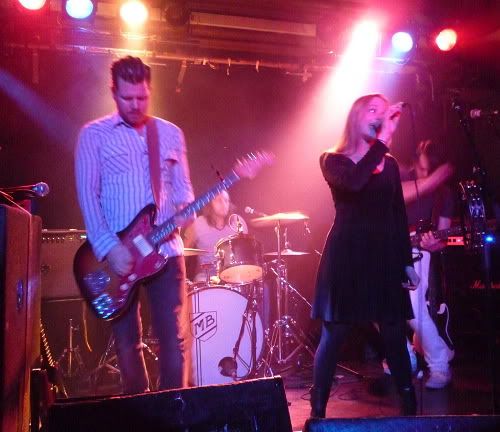 The Bodega Social, Nottingham
The hotel where we sleep is also a curry house, a new and interesting combination. In the night we are waked up by angry voices, a man is beating his girlfriend. Martin and Marcus tell the staff but the man is already thrown out and the police contacted.
Backstage in Leeds
Next gig is in Leeds. On our way to the club we see a group of 20 twelve-year-olds and a dog, chasing an older guy that seems to run for his poor life. After the gig we sleep at Hazel's house. (Hazel is the sister of another friend of ours, Elaine). She is just as pleasant as ever, even though we arrive to her house in the middle of the night.
Having a beer with friends in Glasgow. Clockwise; John (tour manager), a nice guy pointing at the ceiling, Biff and Nigel
In Glasgow we play at the Captains Rest. Alex starts the evening with bumping his head real hard into a fuse-box outside the dressing room. After that he's dizzy for at least an hour. We are playing together with The Starlets, good musicians and friendly people as well. After the shows are done, we continue to a club located in an old church and the Starlets singer offer us some fine whiskey. My voice is about to disappear so I try not to drink neither talk too much, (even though it's hard when the company is good). Next day I drink a lot of water and otherwise I try to keep my mouth shut. It doesn't help the least. The night's gig is in Manchester. What if I loose my voice during the concert? Luckily this doesn't happen and I get the feeling people appreciate the gig. The sound engineer of the evening is a kind man that knows what he's doing. The sound on stage is marvellous.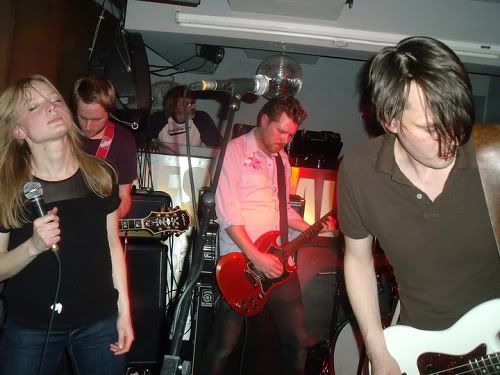 Sonic Cathedral at The Social, London (Photo by John Marshall)
When I wake up next day I try to greet myself with an encouraging "Good morning Anna" but no sound is coming from my lips. Ok. Tonight we will be playing at Nat's club at The Social in London, together with Harrys Gym, a nice band that we have played with before. Before the gig we meet Terry who hears about my score throat and immediately jump on to his bike, to find an open pharmacy. He cycles quite a long way and finds a chemist's shop just about to close. Then he tells them a heartbreaking story about a big American singer, in great need of their special throat-spray and so he is able to buy a bottle. When Terry arrives at the Social he meets Steve, our booker. It turns out that Steve is having the very same spray into his pocket; he too is suffering from a bad cold. The band enjoys the evening's gig a lot and the audience seems to like it as well. I don't loose my voice this evening either and after this my throat gets better. Afterwards everybody but me is having a night out. According to the stories, the evening ends with robot-dance and the Paul McCartney song 'Temporary Secretary'.
Early birds in London area. Clockwise: Martin, Alex, Marcus and Micael.
The day after, we are playing in London again: Music Week at Proud Galleries. Getting somewhere to park is troublesome and we have to walk a long way with the gear. When we get there, the staff is in a hurry, they are after schedule and everything is quite chaotic. Dan Treacy and Mike from Television Personalities show up, it's good to see them. Alex also says hello to Michael Francis, the former lifeguard who worked with people as Cher and Bon Jovi and then wrote revealing details about it. "You're not gonna punch me in the face are you?" Francis asks, but Alex just wants to say, that he found Michaels book interesting.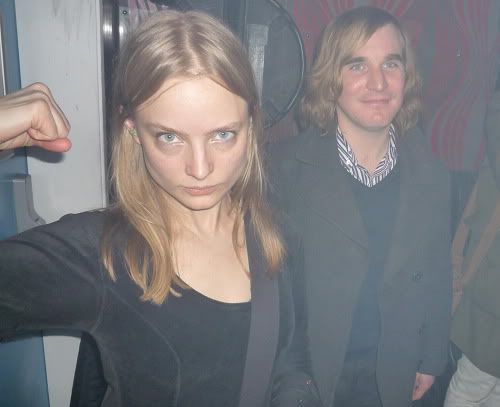 At the Music Week Breakout
The Music Week crowd is dressed for success and seem ready to party all night long. We had our party the night before and need to get home. Five or six band have there gear together in a small room and when we leave we pinch someone else's guitar by mistake. It looks just like Marcus's, the same case and everything. Luckily someone comes and asks for it, just when we are about to leave. We sleep at Elaine's house, just like many times before. She is a sweet and helpful friend of ours in London. In Portsmouth there is a really nice young woman taking care of us when we come to the venue. After the gig I speak some with a guy that work for an Internet radio station, Dandelion Radio. A pleasant evening.
Loading at the venue in Birmingham
In Birmingham we play at the same stage as Led Zeppelin and Black Sabbath once did, which make some of the guys in the band happy. Last gig is in Brighton and then the tour is over. A long ride back to Sweden awaits. 26 hours drive through seven countries.