We asked Stephanie Min to document The History of Apple Pie's recent mini-tour of France, and this is what happened:


We're approaching the Eurotunnel to Calais and all I can think about is "meat and cheese... meat and cheese." I'm fucking salivating, having psyched myself up for this particular trip for weeks now. I wasn't planning on coming back hungry, that's for sure.

 No matter how organised we try to be ("08.00 sharp meet up at the studio, guys! Don't be late!"), we've left London late again. I forgot my passport and Jerome's dad, Gordon, forgot the Hi-Vis jackets and breathalysers... the ones he's been adamant about us taking with us in case we get pulled over by the French Po-Po. Hmm, pretty sure Gordon didn't give a crap about authority in the late 80s, hehe… (Look up 'Junior Manson Slags' and 'Terminal Cheesecake' – the great ancestors of THOAP).


I'm god damn hungry. Jerome is massively excited about visiting all of the supermarchés and bringing back "shit loads of spiced sausages." James has got this really great new jumper. Kelly's had a haircut (she looks more like when I first met her, arrhh sweet). Aslam's bought his mix CD featuring a couple Phoenix tracks to celebrate our upcoming show with them at Shepherd's Bush Empire in April... Aww, I've missed these guys so much, even though it's only been a few days.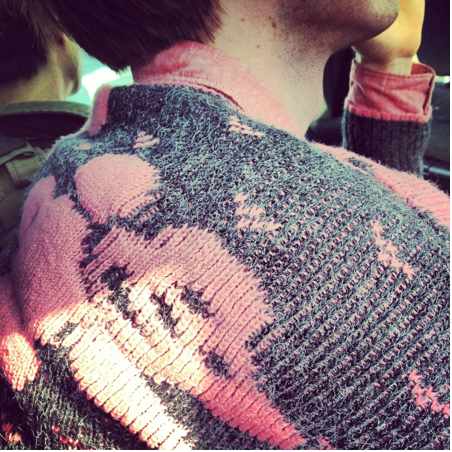 We've entered Paris and straightaway we're stuck in a traffic jam. Novella, our good pals and support for these French shows, text me. They're pretty late, too, mainly because Sophie (guitarist) had been partying it up in SXSW and only flew in this morning. God, rub it in why don't you? All I've been doing this week is working in the office, coming home and watching The Walking Dead in my PJs. I'm missing Episodes 14 and 15 for these shows. You better make it up to me, France... 
We finally arrive at Point Ephémère, but within seconds kidnapped by a French girl who forces us to wear fake pink and blue moustaches and sit on each other's shoulders. At this point, we've driven so many circles around Paris cramped up in the car for hours on end that this situation doesn't even phase me. Ha, nice try, France. Bring it on! Sophie Jarry (photographer) also met us for a band shoot with a grinning cat.


This festival we're playing is in aid of Pussy Riot, which subsequently means for the whole night, I cannot stop whispering into people's ears "Free Pussy Riot... Free Pussy Riot!" We're asked to dedicate a song to Pussy Riot. I dedicate our track 'The Warrior' to them (seems fitting). The crowd go wild. The French promoters are incredibly hospitable (they feed us lots) and the French fans lovely and enthusiastic. Lots of rum, Kelly doing a "Free Pussy Riot" speech (standard) and a really great show later, we find ourselves in a hotel that offers handcuffs and feather ticklers on its room service menu. Kelly and I are tucked up in bed, watching the new (awful) Snow White in our hotel room. There are two gigantic mirrors either side of our bed and V for Vendetta-style masks tied to the lamps... Goodnight, Paris.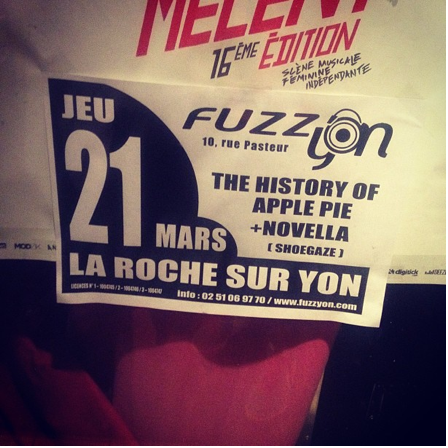 After another fun 'shoegaze' show in La Roche-Sur-Yon (Novella were brilliant, again… Especially love that track 'Mary's Gun' that our Jerome and The Horrors' Josh may have recorded…), we find ourselves in Gordon's girlfriend's 300 year-old house in the middle of the French countryside. It's 3am and we're being treated to a selection of sausages, cheese, pate and wine. "This is the fucking life!" - We scoff, whilst shoving some more garlic sausage in our mouths. What the hell is this music though? We check the CD. It's a band called Secret Chiefs. The mood becomes sinister... We're all sat in the kitchen of this beautiful French home, yet suddenly we feel threatened. There are zombies outside… We're the only humans left after the apocalypse. Aslam decides to tell everyone about his sleep paralysis experience where he was visited by a succubus. Great - I've got four band members too scared to sleep. After drawing straws, there's no choice left in the matter: Jerome and I have to go sleep in the creepy, haunted room. The lights go out and it's pitch fucking black. Fuck this!

It's morning. We survived the night, but I swear James has appeared in this creepy photograph in the upstairs hallway. Aline, our amazing host, makes us coffee and croissants before we go exploring.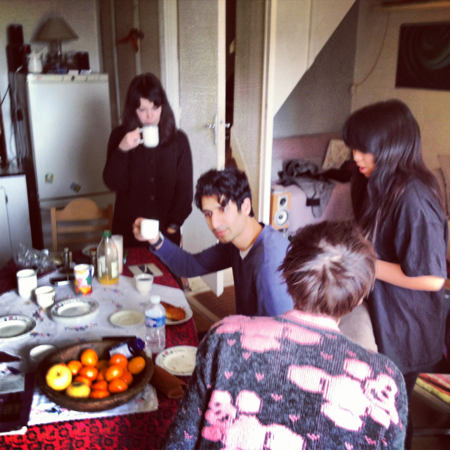 We find axes, chainsaws, a gigantic stone oven… It's all becoming a bit too Hansel and Gretel for us. It's beautiful, but we gotta get out of here... Not before James says goodbye to his new friend, though. Hmm, maybe he has been possessed after all.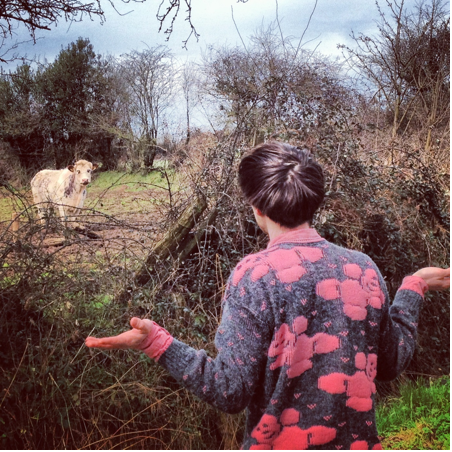 The History Of Apple Pie are releasing two records for RSD 2013 (full details here), and are set to play the following shows over the coming months:
22.04 O2 Shepherd's Bush Empire w/ Phoenix - London
23.04 White Heat @ Madame Jojo's - London
10.05 Comet Club - Berlin
11.05 Atomic Café - Munich
12.05 MTC Club - Cologne
01.06 Wychwood Festival - Cheltenham
08.06 Long Division Festival - Wakefield
22.06 Best Kept Secret Festival - Netherlands
06.07 Hop Farm - Tonbridge
19.07 Truck Festival - Oxford
04.08 Y Not Festival - Derbyshire
25.08 Victorious Festival - Portsmouth