Sam Genders, aka Diagrams, released his debut album Black Light yesterday through Full Time Hobby, and to celebrate we have a track-by-track guide for you, written by the man himself!
Remember, you can check him out at the album launch tomorrow at the Lexington, or at the following dates in March. Also, we recommend you head here to order your copy of the album.
March
6th Amsterdam, NL – Paradiso
7th Brussels, BE – AB
8th Paris, FR - La Fleche D'Or – PIAS night
9th Heidleberg, DE – Karlstorbahnhof
10th Berlin, DE – Magnet
11th Hamburg, DE – Kampnagel
14th Bristol, UK – The Cooler
15th Manchester, UK – Ruby Lounge
16th Liverpool, UK – Static Gallery
17th Leeds, UK – Brudenell Social Club
18th Glasgow, UK – King Tuts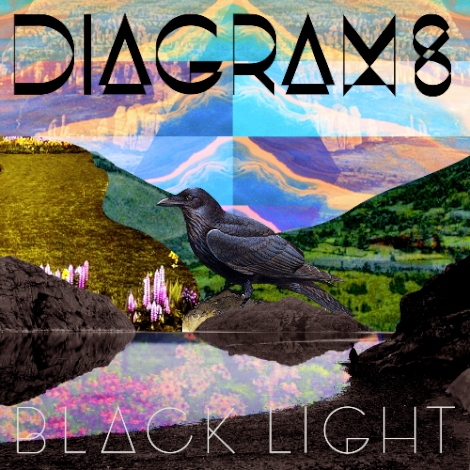 Ghost Lit'
It's about arguing with your better half...and how relationships bring up all those old ghosts and demons you thought were dead and buried. This was one of the first songs I wrote a couple of years ago (along with 'Night all Night' and 'Antelope') when I first had the idea that I'd like to make a record. It was also one of the first songs we recorded when I met my producer Mark Brydon. 
'Tall Buildings'
It's about the excitement of being young and with a group of friends travelling into the city from the country for a night out. It's also about moving to the city from the countryside and the inspiration that can bring. I'll probably die in the country but the city is a great place to meet interesting people and choose who you want to be.
'Night all Night'
It's about living in the moment and making the most of what you've got. And about taking a chance on a relationship despite being afraid to do so. I really wanted to experiment with layers of my vocal and this is the first song we tried it on. In fact I think it's the very first song we recorded. It's quite a departure from my previous albums with Tunng and the Accidental and I wasn't sure if I liked it at first, the recorded sound is much cleaner. I got into that sound quite quickly and it inspired quite a bit of the writing for the rest of the record.
'Appetite'
It's a distillation of all those self help books I've read, hymn to or parody of depending on what mood I'm in. Hannah Peel plays Trombone on this one and sings great harmonies.
'Mills'
This one's about that feeling you sometimes have when work is really getting you down and it feels really tough but you go in and do your best. It's about how at those times it can be the most wonderful thing in the world to meet a friend and have a pint or go for a walk in the woods. Sometimes you can literally feel your burdens lift as you talk and your perspective changes. Until recently I was working in a primary school and that's certainly a job from which you need to wind down once in a while!
'Antelope'
It's about a girl with magical powers and is kind of a metaphor for my girlfriend who I just got engaged to and who has seemingly boundless energy for work and people and kindness. Danyal Dhondy plays viola and violin on this track and the drums are played by Matt McKenzie who I was in my first band with aged 12.
'Black Light'
This was my attempt to write a pop song that people could dance to. It's just a really simple song about going out and having a good time with a girl you like. I love the bass line sound which I think is Mark's old Juno.
'Animals'
It's one of the songs I enjoyed making the most. It's based on some sounds and loops I recorded with Micachu. I spent a day at her house being recorded by her playing these amazingly weird and wonderful instruments that she makes out of spinning disks of wood, planks and wires. I wrote the song over some of those sounds and then took it into Mark to record the rest. It's about love and how it inspires everything at some level. The idea that even hate and violence could be seen as a means to win love or a reaction to a lack of love. The field recordings were made on a little hand held recorder along the Kensal Rd Canal near the studio.
'Peninsula'
It's a death bed song. The main character is dying and remembering these moments from his past life. Then it all takes off into a big ending that was one of my favourite bits of the record to record. Mark's eastern meets prog keyboard solo at the end is one of my favourite moments on the album. He recorded it one night after I'd left the studio and when he first played it me my reaction was pretty much 'What the hell have you done to my song!?' It grew on me!