In less than a month, Truck Festival starts up its engines for the 13th time. That's all well and good but we want some Truck action right now. Thankfully the Truck gods are generous and have come up with this little beauty of a gig.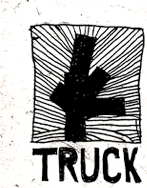 Truck Festival Warm-up Show
Monday 12th June @ Hoxton Square Bar & Kitchen Presented by TRUCK & Popular at Hoxton Bar & Kitchen Very special guest... NEAR FOG INN?? + DANNY & THE CHAMPIONS OF THE WORLD DOG IS DEAD TREVOR MOSS & HANNAH LOU DREAMING SPIRES BOAT TO ROW (SOLO) Tickets: £7 advance / £9 on the door. Doors 7pm.
www.hoxtonsquarebar.com
l
www.thisistruck.come