On first glance, Tyrone Griffin is your average, run of the mill rapper from Los Angeles, California. His single 'Or Nah' (featuring downbeat crooner The Weeknd and label boss Wiz Khalifa) is currently doing the rounds in the clubs and has become something of an underground hit. But upon speaking to Ty Dollar $ign, there's a lot more that meets the eye. His father was a member of funk band Lakeside (probably best known for their '80s hit 'Fantastic Voyage'), his uncle played with one of his idols; The Isley Brothers and he's also "cool" with R&B royalty Teddy Riley. Music flows through every vein and every strand of hair that makes up his usually perfectly styled locs.
On a pit stop to London during his European 'Beach House' tour, this interview was originally scheduled to take place at his label headquarters in London, ahead of a sold out headline show at XOYO across town. However, overrunning scheduling commitments and the great City traffic forced us to reschedule for the next day. Despite "turning up" a mere few hours earlier, Ty still sounds chirpy and chatty on the phone, trying to flip the interview on its head and ask me questions ("Have you eaten yet?" "You ever been to LA?") He even notices a TK Maxx and laughs and jokes about the similarities to its US counterpart ("Hey, look! Instead of TJ Maxx, y'all got TK Maxx! That's funny!"). When we do get back on track, we discuss his recent releases, touring, food and working with Rihanna on her upcoming studio album.
Hey, how are you?
I'm good!
How are you finding London so far? Are you enjoying your time here?
I love it! London's crazy, man! Beautiful girls, beautiful people, good food... That Nandos shit is incredible! I'd love to come back.
How was your gig at XOYO?
It was amazing. It was sold out, everybody went crazy! The crowd was live as hell, I've got no complaints.
Earlier this year you released the 'Beach House' mixtape and a few weeks ago you dropped the Sign Language mixtape. How has the response been so far for them?
They're loving it! When I performed the new songs from Sign Language, the people knew all the words! I even got cursed out by a fan last night, he was like "Yo, why you didn't perform 'Ni**as Don't Know'?" [Laughs] I was like "Next time, I got you man!" But I mean, we got Sign Language out, it just came out, everybody's fuckin' with it, the shows have been great, I just got off that Wiz Khalifa tour; 'Under the Influence', it was amazing. Now I'm just finishing up the 'Beach House' tour, I pretty much did the whole of Europe. I was surprised, especially in Germany because those people don't even speak English like that and they knew all the words to my songs. Afterwards when I'd hang out with the chicks or whatever, they're trying to speak English, cuz they don't really get it but they understand enough and we turnt up! I'm having fun, I love Europe!
Is that still weird to you? Going to countries where English isn't their first language yet they know all the words to your songs?
I love it! There's people all around that don't speak the same language, even in the states so I'm used to it, it's all good. It just feels good to know that people are partying to my music and having a good time. Beats getting into trouble! [Laughs]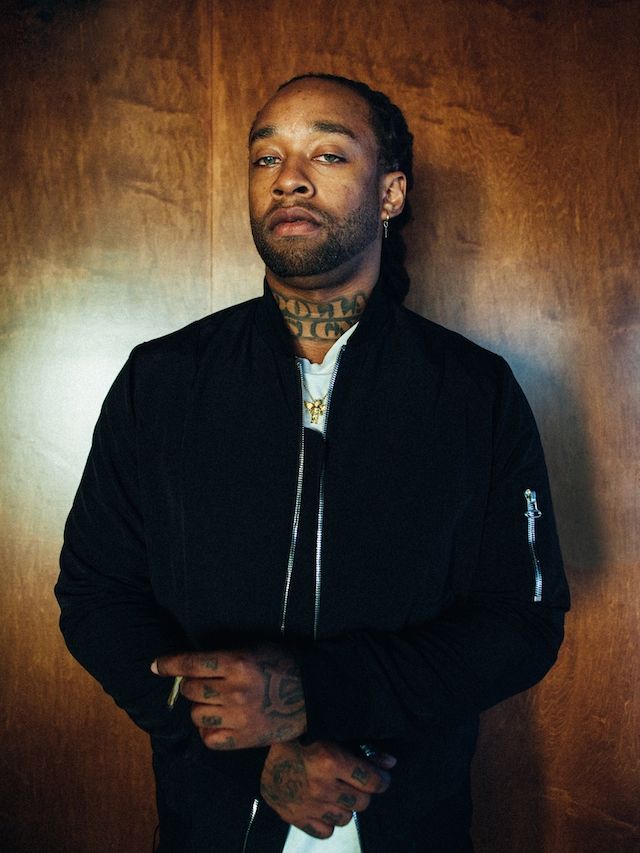 You mentioned there that you were on tour with Wiz Khalifa and the two of you have worked together a few times, something that he's spoken about a few times in the past. What's it like working with him, in your opinion?
He's one of the dopest artists I've ever worked with. He's super talented At first, I always loved all his raps, but I didn't realise that he does harmonies, he sings, he does a whole lot of shit on top of just being an amazing person. You know how you get with other rappers that think they're the shit, he's like... regular, chilled... like how I am! I'm chill, I can talk to anybody, be cool with anyone. I compare these other rapper and artists to like bouncers in front of the club who take their job too seriously! [Laughs] But Wiz, he's more like a regular person, he's just cool. It doesn't matter how big he gets or how much money he makes, he realises that we're all human and that's how I am as well. That's why I went with them in contrast to any of these other dudes.
Going off the back of that, have you had any bad experiences with other rappers?
People act funny n' shit! Now I know why nobody acts funny but when you're trying to come up people act funny. They hold you back. Or they're scared to put you on because you might pass them up. With my team, nobody acts like that. For instance, Pu$haz Ink, the label; me, YG & DJ Mustard; when I made that 'Toot It and Boot It' song that was my song featuring me, YG and my cousin TC4800. But then [YG] had the opportunity to get a deal with Def Jam Records so I just gave to him like "Here ni**a, you got it! Turn up!" I was doing all the beats for YG but I wanted to do my own shit as well and I wasn't able to work with him as much. So Mustard was like "Yo, let me get those sounds that you go!" and I gave him my sounds and now he's the biggest producer in the world off of my sound. So then when it came time for me to put out my first single 'Paranoid,' Mustard gave me that beat for free. We always put each other, we're not afraid to let the next man shine and do their thing. Now we have several other artists signed to us.
It's the same thing with Wiz, when he saw me on the come up, he was like "Yo, come out on tour with me bro!" He has 20,000 fans a night and he just put me on stage like "Go do your thing, bro! Love!" That's why I like to be around people who show each other love!
I spoke to DJ Mustard a few months ago when he came to the UK and he definitely speaks very highly of you...
Yeah man, he's that guy, man! He's one of the little homies that are just serious about life. You meet a lot of homies that just play video games and just fuck off and don't take life seriously! Him, he came in, he was just a DJ, like a couple years ago, like, literally, two or three years ago he was just a DJ and never made a beat in his life. He watched me, watched my recordings and soaked all that shit and now he's like everywhere.
How long have you known him?
I've known Mustard since like... '09. My homie Big D, who is YG's manager at first, he brought Mustard and YG to me and was like "Yo, I want you to work with them" and I was like "Ok..!" And then... shit, now we're here!
I have to ask since it's already out there, but you recently announced you've been working with Rihanna...
Yep! I've been working with Rihanna, man!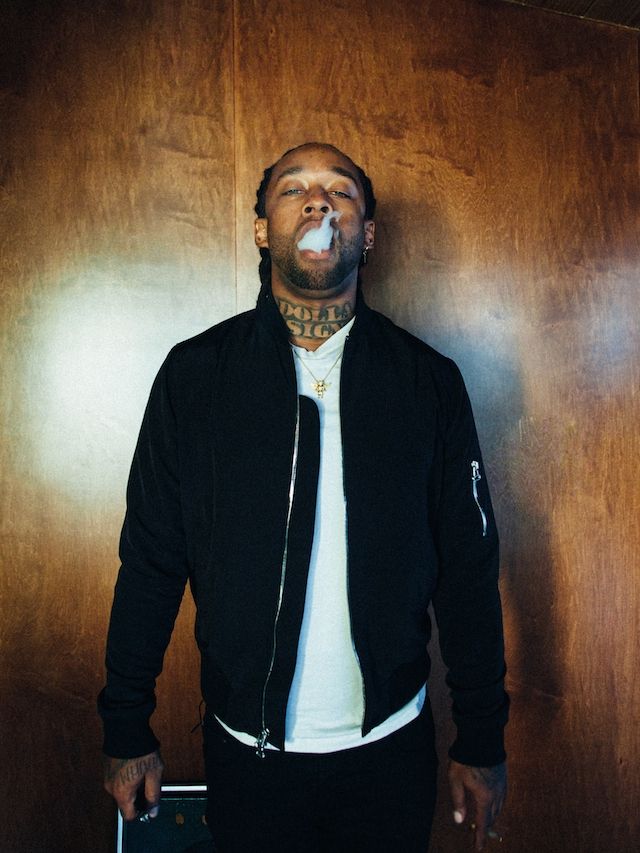 Did you get to go in the studio with her? How did that work?
Shit, one of her managers hit me up... And she's a part of Roc Nation and Mustard is part of Roc Nation as well. They called me in to write a song with her or whatever. The first day we just chilled n' shit and the second day we got in, she told me one of my songs she loves called 'Work' and I said "Let's do something like it!" So I called my homie D Mile, who did the beat on 'Work' and we did a new song for her. She was there the whole time just chilling. Me, because I do so much shit at once, in the middle of the session, my homie Dom Kennedy came though and we stopped that song and Dom Kennedy laid the verse for 'Lord Knows' right inside of Rihanna's session, dude. As soon as we were done with that, we got back to the song we were doing for her and we killed it. That was one of the best moments of my life. Shout outs to Rihanna and her whole team!
You're also working towards your own album too, right?
Yep! It's called Free TC.
Do you have an idea as to when that's going to come?
We're pushing towards January or February. First quarter of next year.
It is all done or are you still working on it?
It's not done. I'm working on it. It's not done until the date. [Laughs]
Do you have any collaborations planned?
There's going to be less collaborations because it's going to be my album, but I have done some. I have a song with Kendrick [Lamar], I have a song with YG, of course I have one with Wiz and I got a new one with my brother TC.
Is there a song out that you wish you made?
That always happens! Whenever a dope song comes out, I think "Fuck, how did I not think of that!" I like Jeremiah's 'Don't Tell 'Em'. I wish I wrote that. That's my song right now.
During your time in London, have you had a chance to check out any UK acts?
I love FKA twigs. She can be my girl! Tell her to hit me up! I'm on Tinie Tempah's album, he's my homie too.
What would you like your legacy to be when the music is all said and done?
When the music is all said and done, I just want to be as good as Michael Jackson, as good as Quincy Jones, as good as any of the greatest people you ever liked. Jim Morrison, I just want to be a legend, Marvin Gaye, Ronald Isley, Tupac... When you think of those people, you think of Ty Dollar $ign. I really do music, I'm not like these artists that come out with a song, you know about them for three months and you never hear from them again. My shit is always going up, getting better and it's real musical, it's a memory, it's a moment in your life like "Damn, I remember when I was here, I was listening to that Ty Dollar Sign, that was the shit! Matter of fact, put that shit back on!" and it sounds like new, y'know? That's it!
Ty Dolla $ign's new mixtape, Sign Language, is out now. Download it by heading here.