Ahead of the release of Findlay's in-your-face EP Off & On (released on April 29th via Joyeux Anniversaire) - we caught up with the singer to discuss the people that have influenced in her some way (musically speaking). From John Cooper Clarke to Amy Winehouse, and some dirty garage in between, this is Findlay 'Under The Influence':
John Cooper Clarke
My Dad introduced me to John Cooper Clarke when I was about 14, I've managed to see him many times since then and I've never been more crazy for a poet or a songwriter as I am for Johnny Clarke. To me he is the most creative, intelligent punk lyricist of all time and on top of that he's hilarious. He's still pulling in young audiences which proves he's still creating and speaking something very powerful and universal. One of the best experiences of my life was seeing John at a festival, the whole tent was silent except when we were applauding, his style of delivery and stage presence is mind blowing. My only wish is to see him live many more times, long live Johnny.
Regina Spektor
I probably wouldn't be writing and singing music if it wasn't for Regina Spektor. This may be an unlikely choice for me but I have to include her as she influential to me wanting to make music. I love her ability to cover so many styles of music, jazz, blues, classical, pop, hip-hop folk- yet her sound is unmistakably her. I love her unusual songwriting, her topics and lyrics, her beautiful tone of voice.. my favourite records of her are her very early records (11:11, Songs, Soviet Kitsch) the songs mostly sound like demos, just her and a piano all recorded in a take, i still listen to these records all the time and I have an embarrassing amount of boot legs and live tracks I went to lengths to find online… I've also seen her more times than I can count on one hand… I just wish she'd make another stripped back record like the early ones.
The Velvet Underground
To me The VU are the epitome of rock 'n' roll. They are probably one of the most influential bands of all time and I don't know any other artist or musician that wouldn't cite them as an influence. The lyrics, the sound, the innocence of some tracks and the ferocity of others makes this band untouchable to me. They released so much perfect music, never a bad record and I listen to them probably every day and have done since I discovered them in my teens. There's something so pure about the music, the vocals and the melodies in those records I can't put my finger on what it is but I'm always in love when I hear it and I've had the best ever trips listening to these records.
Amy Winehouse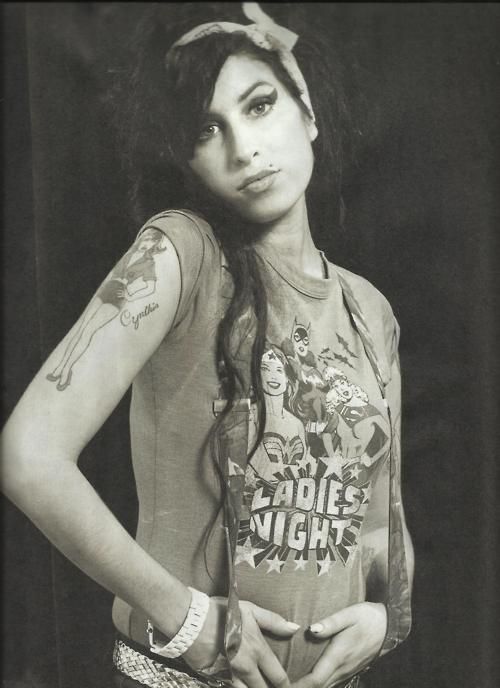 I've never mourned the loss of someone I've never met more than Amy Winehouse. Put her problems aside she is one of the most talented women of contemporary music and a huge influence on me. Her honesty and autobiographical way of writing is so intense she'll forever be one of my idols. My biggest regret is never seeing her play a show and hearing that voice in a room, watching her perform. To be in her presence must have been a breathtaking experience, even when I watch clips on youtube I'm captivated, she knows everyone watching her is in the palm of her hand and I still am.
The White Stripes
I should probably say Jack White since everything he touches turns to musical gold but it all started with The White Stripes. I became obsessed with them very very young since dad used to play them to me a lot, they were also one of the first bands I went to see live which blew my tiny mind. I love how raw and exciting their recordings are, the simplicity of the recordings and the energy created with just drums and guitar. I love the country and blues influences in their music as well as the obvious Led Zepplin similarities and some of the more outfight bizarre music Jack has made not to mention the Bond theme is still genius, I hope he continues to make music as his evolvement as an artist is so inspiring and continuously impressive he still manages to keep everyone guessing what he's going to do next after all these years making music.
Findlay heads out on tour as of tomorrow. You can catch her at the following dates:
18/04 - London Electrowerkz
19/04 - Manchester Ruby Lounge
02/05 - Liverpool Sound City
03/05 - Stockton KU Bar
04/05 - Leeds Live at Leeds
16/05 - The Great Escape
24/05 – Dot to Dot Festival – Manchester
24/05 – Dot to Dot Festival – Bristol
26/05 – Dot to Dot Festival – Nottingham
26/07 - Secret Garden Party