Mauro Remiddi, aka Porcelain Raft, releases his debut album 'Strange Weekend' on January 23rd 2012, and to celebrate we caught up with the man himself to talk about the films and soundtracks that have influenced his musical existence. Before we get into that, watch the video for 'Put Me To Sleep' and check out his forthcoming tour dates with M83:
Jan 17 - Trinity, Bristol
Jan 18 - Ritz, Manchester
Jan 19 - Arches, Glasgow
Jan 20 - Cockpit, Leeds
Jan 21 - HMV Institute, Birmingham
Jan 22 - Concorde, Brighton
Jan 24 - Academy, Oxford
Feb 16 - Shepherds Bush Empire, London
Blade Runner (Ridley Scott)
When I first watched Blade Runner I was 16 or 17. Apart from the amazing love story between the two replicants (...Deckard was a replicant, yes it took me a while to realize that) what really got me at that time was the soundtrack, how the music was part of the visual texture. To me the music felt like a big futuristic orchestra playing in a spaceship made of ice heading to the sun. It's fearless. Vangelis puts a sax in the middle of a romantic scene. I mean a saxophone! Anybody else would have thought 'no way, too obvious and cheesy', not Vangelis, he's fearless, he can make you cry even with a saxophone...Deckard gets close to Rachael, she's playing the piano, she let her hair loose on her shoulder, she is beautiful, he tries to kiss her...the sax kicks in and I never felt so much into a romantic scene before, ever.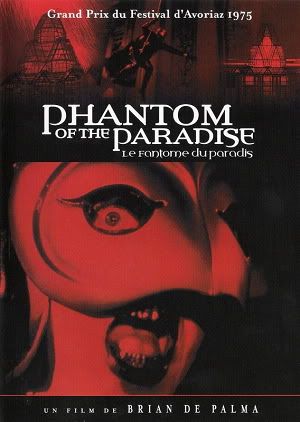 Phantom of the Paradise (Brian De Palma)
My father had Phantom of the Paradise's soundtrack at home, since I was 8 he used to play it quite a lot. Still now I know all the songs by heart and I can play most of them. Throughout out my childhood I kept playing that record. I didn't get it was a soundtrack. I didn't speak English at that time and for me the word 'soundtrack' written on the front cover was like 'sjdhfgjktj'. Meaningless. I thought it was one band with many singers and the music would change style song after song. Soul, ragtime, heavy rock, Surf music, piano ballads, you name it. Amazing songwriting (by Paul Williams, one of my favourites). To me that's how records were made, different styles and emotions, it didn't have to make sense straight away. It all made sense in my head anyway, it was like a 'unity' without being one. 
Stalker (Andrei Tarkovsky)
Probably the movie that influenced the music I'm making now the most, this isn't about the soundtrack, which was minimal and to be honest marginal. This is about a weird and beautiful journey into our inner desires. The atmosphere that Tarkovsky manages to create in Stalker is a strong silent force that can only elevate you. 
Opening Night (John Cassavetes)
For me the greatest gift an artist can ever have is the ability to tell a story. Of course the story has to resonate with you and the author has to be honest with himself/herself but what makes a masterpiece is the ability to tell a story and tell it all. What Opening Night showed me was that a story has so many layers and these layers sometimes do not make sense with each other. Coherence sometimes isn't a virtue, especially if you are telling a heartfelt story. You understand that the picture in front of you is way too big for you to see, yet that doesn't stop you in having a glimpse and feel lucky about it. Once a friend of mine asked me 'What is Opening Night about?' I replied 'life'. I couldn't have been more specific. 
2001: A Space Odyssey (Stanley Kubrick)
Oh boy the opening scene. Pitch dark. A cluster of voices slowly and quietly moving in the dark. The screen is still pitch dark after 10 secs. You think 'oh nice...it really creates a great suspense here, so looking forward to the see the first image'. The voices increases and a weird feeling creeps in, these voices don't sound they are carrying any good news. The screen is still pitch dark after a minute. You are really paying attention by now, you understand that that darkness is the first image. That pitch dark was there before you started watching the movie.