The amazing Ronika released her latest single 'Only Only / In The City' this week, and to celebrate we got our favourite pop star to talk about five records that have influenced her career.
Madonna – Like A Prayer
This is probably my favourite pop album. It was written long before the murky pop climate we live in now when pop music means having catchy mobile phone ring-tone hooks written by professional song-writing idiots. With some reference to a club. Every song wallows in its own brilliance but highlights for me are the beautiful power ballad 'Spanish Eyes', the blisteringly cheerful 'Cherish', the epic and magnificent 'Like a Prayer', the heart-wrenching cello-choked 'Oh Father' and Madonna and Princes collaboration of bored, fidgety funk on 'Love Song'. Songs rule and lyrical content ranges from fun and throwaway to confessions of painful abusive family relationships. There's a wide variety of musical styles and influences on this album which I love - there's no paranoia about 'having a cohesive sound' which you get with so many pop albums meaning every track sounds mind-crushingly the same. 
Stevie Wonder – Fulfillingness' First Finale
This album blisses me out of my mind. Stevie does it like no other and here he mixes some of his darker more melancholy moods on songs like 'They wont go when I go' with delicious warm songs like 'Smile Please' and the gospel truth of 'Heaven is 10 zillion light years away' Stevie was a synth pioneer and this is one of his albums where he teamed up with a couple of German Moog programming geniuses and created his unique sound of soul with synthesisers. If you look at old photos of them together, synths back then were entire rooms. I would have loved more than anything to have been an oscillator on the wall when they were making it.
Boards of Canada – Music Has the Right to Children
Combine the most mind-blowing, meticulous production with the most evocative melodies, field-recordings and analogue dreamscapes and Boards of Canada created the soundtrack to another planet. Some music can make your soul travel and this is one of those albums. Makes your mind slip out of itself. You get totally drenched in the analogue synth sounds which add a hazey 70's lens flare to everything. A totally original masterpiece.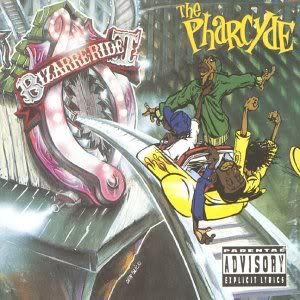 The Pharcyde – Bizarre Ride II
This is one of my favourite hip-hop albums, it often gets over-looked because the lyrics are funny and it's not a serious album but that's exactly why I love it. It's a brilliant stupid party of an album. The lyrics are surreal and clever and the beats are a perfect collection soul, funk and jazz samples. My favourite track is Passing Me By which samples Quincey Jones' sublime cover of 'Summer in the City'. I saw them play a few years ago supporting Nas on tour and was so happy because I've loved them long time. 
Daft Punk – Discovery
Daft punk daft punk daft punk daft punk daft punk daft punk daft punk. I love them. I love this album. 'Harder Faster' is one of my favourite tunes ever.