We spoke to Julie Ann Bee of dulcet-toned, multi-instrumental music project, Sea of Bees to discuss her strongest musical influences.
Jeremy Enigk
I remember being in church at the time at 18 years old, and a girl who was a friend of mine introduced me to his music. The album that got me was World Awaits. It was dark and lonely but yet uplifting and brought some sort of hope in the end. The drums and melodies, and the PASSION IN HIS VOICE! I believed in his abstract stories and related to most of all, his words. Everything really: melodies, sounds, orchestration. How he orchestrated everything in all his albums was either really big and passionate or extremely minimal like 'Explain', from the album Frog Queen. His music is genuine, I'd never heard anything like it.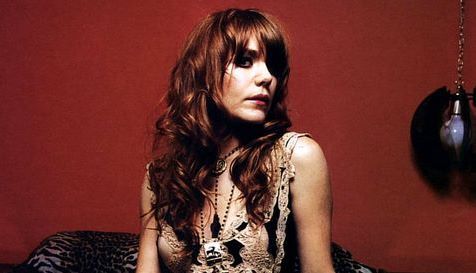 Jenny Lewis
Anything she does is fucking great to me. My manager John, showed me this album from Rilo Kiley The Execution of all Things, when I was first starting out in music. I was living in a world of dreams, with a house full of musicians, and played this album on repeat. I love hearing her honest voice, it could be so soft or so full of angst in the sweetest way. Her stories related to my experiences in life. I would always wait for the next word in the song 'Silver Lining'. I don't know thatt many female singers (past or present), but I have always felt she was and is classic, TIMELESS…like a female version of Bob Dylan.
Conor Oberst
Fuck, he is so badass… Makes me want to bite my lip and just do what ever the hell I want. As an artist he has always had his own way I'm guessing. I like genuine, I like honest. From what I have listened to, he has had no fear of trying whatever he wanted - from experimenting with sounds or writing what he really feels. He tells his stories with no hesitation. I have always admired that. After listening to songs like 'Classic Cars' I would place myself in the song and would always feel a little older. He never tries to be anyone else, like Nike's motto - he just does it! I love the lyric, "You think about yourself too much and you ruin whom you love," from the song 'Gold Mine Gutted'. He is his own person and I admire this more than anything, [be]cause there are so many people that are fake. He inspires me a sh** load.
Ben Gibbard
I remember at the same time I was listening to Jeremy Enigk at 18 years old, I had bought th Plans album from Death Cab for Cutie. I was my first time hearing his music. I was unable to sleep at that age so I would listen carefully not knowing anything about music, 'till the break of dawn. I just liked the sounds and the words. I would zone out in another world listening to songs like 'Marching Bands of Manhattan.' I felt like I was being nurtured by his poetry, and still am. His writing is poetry I can't stop listening to, it's addictive. I always want to know what he is going to say next or write next - he is like a Steinbeck of our time.
Kurt Vile
I have recently just got into Kurt Vile, it was in SF 2011 at the Hardly Strictly Festival San Francisco holds every year. 'In my Baby's Arms' was the song that got to me. I had been there in the song - "Just like a tom thumb in my baby's hands," he says. The sound he has is honest. The fact that it is not technical, but so simple, is so perfect to me. Simplicity speaks my language. I admire him a whole lot as well as all the songs he sings.
****
Sea of Bees is currently on tour in the following cities:
November

7 – The Shakespear, Sheffield
8 – Dutchess, York
9 – Night & Day, Manchester
10 – Erics, Liverpool
11 – Hare & Hound, Birmingham
12 – Bodega, Nottingham
13 – Cornerhouse, Cambridge
14 – The Blind Tiger, Brighton
15 – Roadmender, Northhampton
16 – Railway, Winchester
17 – Jericho Tavern, Oxford
18 – Louisiana, Bristol
19 – Union Chapel, London