Say what you will about MTV and their steady decline from music video powerhouse, to Tumblr-hungry .gif mongers, but the VMAs are always interesting, aren't they? I mean, when you draft in Miley Cyrus to host an event, you're guaranteed butts in seats and a healthy dose of "wackiness", but this year's event really felt "on brand". But enough about the platform, and onto a roundup (nobody wants to read 8 different articles about the awards):
Kanye receives award from Swift, announces he'll be running for President
As mentioned numerous times in the lead-up to the event, Kanye West was set to receive the Michael Jackson Video Vanguard Award last night, which he did. It came with a nice speech, which referenced the "Taylor Swift incident" (he was presented the award by Swift), his problem with awards shows, and this nugget:
"I don't know what I'm finna lose after this it don't matter though because it ain't about me, it's about new ideas bro people with ideas people who believe in truth. And yes, as you probably could've guessed by this moment I have decided in 2020 to run for president."
He's probably joking, but still, it's nice to dream.
.@taylorswift and @kanyewest together once again at the #VMAs http://t.co/TF8kWtkcTb

— MTV (@MTV) August 31, 2015
Does he have your vote America? @kanyewest accepts the Video Vanguard award http://t.co/pyg3SBh8gq

— MTV (@MTV) August 31, 2015
Miley Cyrus releases Flaming Lips collab album
Yeah, that's right: Miley Cyrus has released a new collaborative album with the Flaming Lips called Miley Cyrus & Her Dead Petz. It features appearances from Ariel Pink, Mike Will Made-It, Sarah Barthel (Phantogram), Billy Ray Cyrus, and Big Sean. Listen to it below.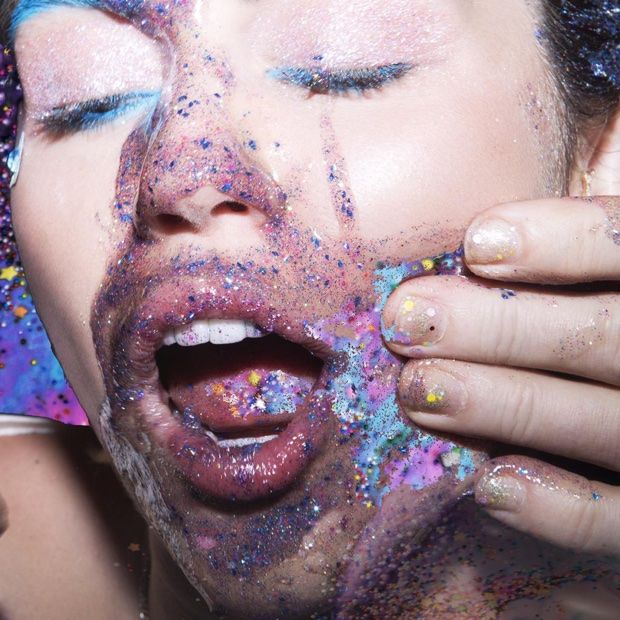 Nicki Minaj had some interesting words for Cyrus
Remember when Nicki fell out with Taylor, then they made up, then Miley jumped in, and everything went silent? Well last night, it was back on. Sort of... Taylor ended up performing with Nicki ('The Night Is Still Young' and 'Bad Blood') - which probably resulted in #teamlove, #burythehatchet, and #worldpeace to trend - but the real piece of non-news happened during Minaj's acceptance speech for Best Hip-Hop video for 'Anaconda':
"And now, back to this bitch who had a lot to say about me the other day in the press. Miley, what's good?"
Think pieces at the ready and/or find and replace the hell out of an old one.
I suppose you want to watch some performances
MTV fully embraced social media by posting a bunch of performances on their Twitter account. Most of them were pretty dull though, so you'll have to click that link if you want to watch them. However, here's four that were interesting enough for us to repost:
Freedom and @Pharrell light up downtown LA at the #VMAs http://t.co/RcWJsRdL8P

— MTV (@MTV) August 31, 2015
Love this collab! @twentyonepilots + @asvpxrocky #VMAs http://t.co/6Y9erK6cyX

— MTV (@MTV) August 31, 2015
.@NICKIMINAJ just killed it opening the #VMAs and so did her special guest! http://t.co/Xpl2djiKQ4

— MTV (@MTV) August 31, 2015
I suppose you want to see who won
Best Rock Video: Fall Out Boy, 'Uma Thurman'
Best Pop Video: Taylor Swift, 'Blank Space'
Best Male Video: Mark Ronson featuring Bruno Mars, 'Uptown Funk'
Best Hip-Hop Video: Nicki Minaj, 'Anaconda'
Best Female Video: Taylor Swift, 'Blank Space'
Best Video With a Social Message: Big Sean featuring Kanye West & John Legend, 'One Man Can Change the World'
Song of the Summer: 5 Seconds of Summer, 'She's Kinda Hot'
Best Collaboration: Taylor Swift ft. Kendrick Lamar, 'Bad Blood'
Best Direction: Kendrick Lamar, 'Alright' (Colin Tilley & the Little Homies)
Best Choreography: OK Go, 'I Won't Let You Down' (OK Go, air:man and Mori Harano)
Best Cinematography: Flying Lotus feat. Kendrick Lamar, 'Never Catch Me' (Larkin Sieple)
Best Art Direction: Snoop Dogg, 'So Many Pros' (François Rousselet, Jason Fijal)
Best Editing: Beyoncé, '7/11' (Beyoncé, Ed Burke, Jonathan Wing)
Best Visual Effects: Skrillex and Diplo feat. Justin Bieber, 'Where Are U Now' (Brewer, Gloria FX, and Max Chyzhevskyy)
Artist to Watch: Fetty Wap
Video of the Year: Taylor Swift featuring Kendrick Lamar, 'Bad Blood'