Pulp Fiction 20th Anniversary Collector's Edition Blu-ray boxset. It's a bit of a mouthful, but saying each word is important because it is all of those things, unsurprisingly. What am I talking about? Not sure. But the main gist of this is to say that, celebrating the 20th anniversary of Quentin Tarantino's 1994 classic, semi-legendary film, we are giving away TWO of these extra special ultra-super-luxury boxsets. It's literally a giveaway. You don't have to answer arbitrary trivia here.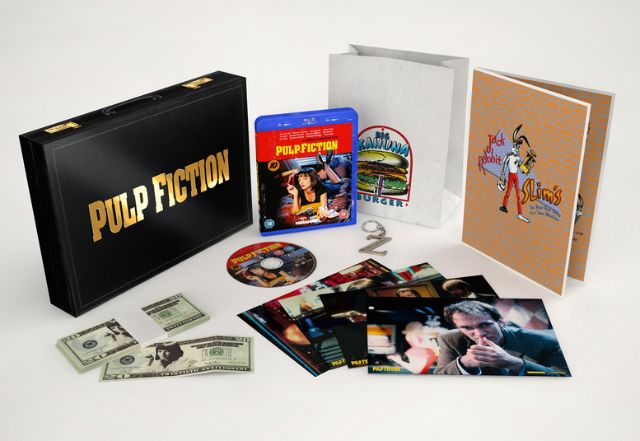 Enter below for your chance to be one of two winners. You might not even wanna keep it – you can re-gift it or something; perfect Christmas gift, especially for the discerning Tarantino fan.
For those that don't enter the giveaway, or don't win, don't worry: it's out 1st December available for you to buy.
Physical Stuff you get with the boxset:
A rigid, hinged suitcase-style box
Jack Rabbit Slim's menu
Zed's key-ring
Big Kahuna Burger bag
20 Pulp Fiction bank notes
Four art cards
Pulp Fiction on Blu-ray
BLU-RAY WITH OVER 6 HOURS FANTASTIC EXTRAS?!
Stunning 1080P transfer approved by Quentin Tarantino
New 5.1 Lossless DTS-HD Master Audio™
New interviews with cast including: John Travolta, Samuel L. Jackson, Rosanna Arquette, Eric Stoltz, Tim Roth and more
New 'Critics Retrospective' on the movies place in film history
Behind-the-Scenes footage
'Pulp Fiction: The Facts' featurette
Production Design featurette
Siskel & Ebert 'At the Movies' – 'The Tarantino Generation'
Independent Spirit Awards footage
Cannes Film Festival Footage
'The Charlie Rose Show' Tarantino Interview
Stills Galleries
Trivia Track
Deleted Scenes
Also… Check our feature from earlier this year, In Celebration of Pulp Fiction!